Back To Previous Page
1-2-3-4 I Declare a Cheese War
Published: May 15, 2013
I went against the doctor's orders last weekend. I ate cheese. A lot of it. And I don't regret it one bit. A lactose intolerant girl like me should have steered way clear of Cheese Wars V. But, I simply couldn't resist.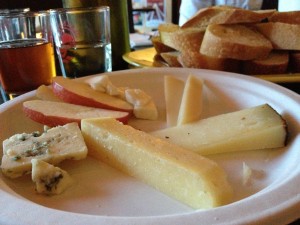 16 Tons, the mastermind behind Cheese Wars V, hosted the $25/person five-course beer, wine and cheese pairing as a finale to 2013 Eugene Beer Week.
I went for good food, good wine, good beer and great company.
I came away a) full and b) with a remarkably new understanding and appreciation for two things I never thought I'd want on my grocery list – pilsner and blue cheese.
note: I'll focus on my two favorite courses. Scroll to the bottom for the complete list of pairings.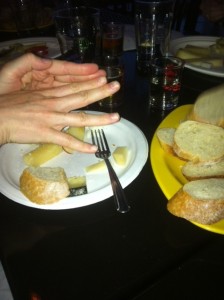 I sat down, and Mike Coplin, owner of 16 Tons, set a plate of creamy goodness right down in front of me. I immediately dug in, devouring bites of each of the five cheeses. It wasn't until my co-worker Janis gave me a "friendly" nudge that I snapped out of my fromage fantasyland and remembered this was a pairing, not a cheese eating contest.
Living in Eugene, I opt for hoppy and dark beers. I stock up on Ninkasi Sleigh'r in the winter and think Oakshire's Espresso Stout goes with just about everything. So when round two of Cheese Wars V included Breakside Pilsner, I hesitated. Pilsner? Why not just drink water? I had it all wrong. The pilsner plus the Tumalo Pondhopper (a tangy, sharp cheese made with local hops) was awesome! This was a match made in heaven. I learned that pilsner just needs a strong food for you to fully appreciate the light and refreshing flavor.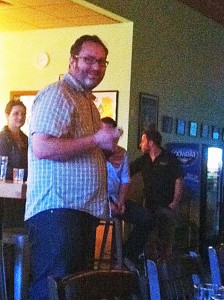 The second and biggest surprise of the night came with the fifth and final pairing, blue cheese with Breakside's India Golden Ale and Raptor Ridge Tempranillo. Imagine this combo - blue cheese and Tempranillo, two boisterously bold flavors that you either love or you hate, sharing precious tastebud space. BCWV (Before Cheese Wars V) I tended to LOVE Tempranillos and "not-so-love" blue cheeses. In this case, a wrong plus a right made a REALLY RIGHT. The spicy, smoky flavors of the Tempranillo coated the blue cheese with a soft layer and took the cheese down a notch to a level that still makes me weak in the knees.
If you get a chance to go to the next Cheese Wars, do it! The pairings are perfectly picked. The pours are beyond generous, and I guarantee you will come away with a better appreciation for the foods and drinks you likely already love.
Now excuse me, while I head to the grocery store for my pilsner and blue cheese. I'm sure my doctor will understand.
Here's a complete list of the pairings:
PAIRING 1: Palhais (Soft Goat's Milk Cheese from Portugal) + Breakside Brewery's Apizza Alt + Raptor Ridge Winery 2012 Gruner Veltliner
PAIRING 2: Tumalo Pondhopper + Breakside Pilsner + Raptor Ridge 2012 Pinot Gris
PAIRING 3: Pecorino Ginepro + Breakside IPA + Raptor Ridge 2012 Rose
PAIRING 4: Manchego cheese + Breakside's Ampersand Chinato Barrel-Aged Saison + Raptor Ridge's Pinot noir
PAIRING 5: Rogue Smokey Blue + Breakside India Golden Ale (collaboration with Ninkasi Brewing Sasquatch Brew Fest) + Raptor Ridge Tempranillo 2011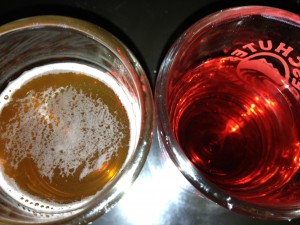 Breakside IPA & Raptor Ridge Rose
16 Tons has two locations in Eugene, Oregon, a taphouse and a café. The 16 Tons Taphouse is consistently voted one of the best beer places in Eugene Weekly's Best of Eugene. Check their website for a list of events and what's on tap.
Comments