Back To Previous Page
Give Your True Love A Vacation To Remember
Published: December 15, 2016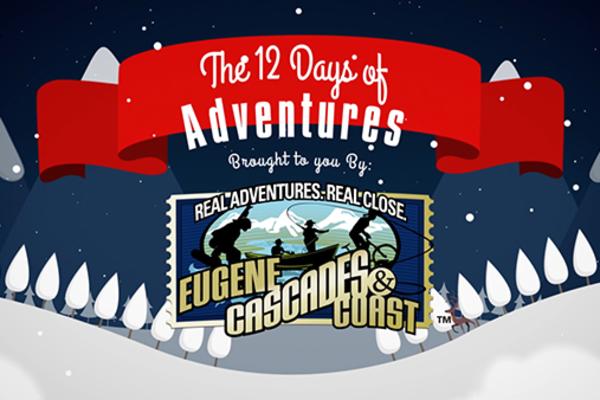 Twelve Days of Adventures

Come to the heart of Oregon, where the ocean waves, the fertile valley and the towering mountains are all within a day's drive. Adventures abound from the sand slopes to the ski slopes - enough to fill the holiday season, if not the whole year. So instead of partridges and pear trees this Christmas, spend twelve incredible days together. Isn't that the best gift of all?
Click to play adventure video.
First Day of Adventures
Hiking to a Scenic Waterfall

Oregon is resplendent with waterfalls. Among the many waterfalls in the Eugene, Cascades & Coast region are seven wonderful falls that are consistently spectacular and fairly easy to see. Several are accessible and close to the road, a few appear at the end of short and scenic trails, and a couple require more vigorous effort but promise a glorious reward. Want to go now? We recommend snowshoeing to Salt Creek Falls for a unique winter-time look at Oregon's second tallest waterfall.
Second Day of Adventures
Pinot Wine Tastings

Wow. The Willamette Valley - known as a French rival for excellent Pinot Noir - was just declared "Wine Region of the Year" by Wine Enthusiast magazine. Take your sweetheart deep into Oregon wine country along Territorial Highway, a gentle scenic road rolling through vineyard-covered hills and farmlands. A dozen wineries are within 30 minutes of Eugene and there are even tasting rooms right in town. Pick up a Pinot Bingo card and play for prizes, or delve deep into the intricacies of the Pinot grape with a local winemaker.
Third Day of Adventures
Whitewater Rafting

Does your sweetheart have a wild streak? Paddle the ultra pure waters of the beloved McKenzie River with an experienced river guide. Nothing makes the heart beat faster than the rush of whitewater, the crisp mountain air and magical glimpses of wildlife along the riverbanks. Splash, hoot and holler. 
Fourth Day of Adventures
Touring Covered Bridges

Cottage Grove is the "Covered Bridge Capital of the West." With a half dozen preserved beauties encircling the All America town, this is an ideal starting place for a covered bridge tour. Some of the bridges are still used for vehicle traffic, others are open for foot traffic and make an ideal picnic spot. Go on to see all twenty historic covered bridges across the Eugene, Cascades & Coast region.
Fifth Day of Adventures
Craft Beer Tastings

When in Oregon, do as Oregonians do...drink craft beer. A visit to the Whiteaker neighborhood showcases an array of local favorites, including the nationally recognized Ninkasi Brewing Company. Follow the Eugene Ale Trail to outliers like Agrarian Ales Brewing Company on a family farm, or Brewers Union Local 180, pouring authentic cask ale in a small mountain town. Cheers to your true love!
Sixth Day of Adventures
Dune Buggy Riding

I would climb mountains for you... on a dune buggy! Explore a surreal world of shifting sand piled 500 feet high on the vast expanse of North America's largest coastal dunes. Feel the wind (and the sand) in your hair as you fly up and over the terrain. Guides can point out the surprising eco-system thriving in the sand lands from dune lakes and pine forests to the wide open ocean beaches. The beauty, and the thrilling ride, will take your breath away.
Seventh Day of Adventures
Drift Boat Fishing

It's not just another fish story - fishing from the classic McKenzie River Drift Boat, a boat design that originated on the McKenzie River in the 1920s, is a special experience. Year-round the angling is excellent here. Fish for wild and hatchery trout, spring salmon and Steelhead. Then fry up dinner on a campfire or in a cozy cabin kitchen.
Eight Day of Adventures
River Path Cycling

Meander the hours away peddling along the Willamette River Trail. Twelve miles of paved bike paths pass through parks, a rose garden, urban centers and quiet, leafy stretches made for contemplation. Rent a bicycle built-for-two or electric bicycles. The region is popular for cycling, with three official Scenic Bikeways, bike-friendly buses and plenty of bicycle lanes. Happy riding!
Ninth Day of Adventures
Sandboard Riding

Try something totally new. Florence is home to Sand Master Park, the world's first sandboarding park. What is sandboarding? It's snowboarding on sand! Take lessons on the park's groomed runs, then head out on your own to conquer the mighty dunes. 
Tenth Day of Adventures
Eighteen Holes of Golf

Oregon has numerous golf courses in unexpected and magnificent places. Swing your club on a mountain slope or on an ocean dune. Play championship courses overlooking vineyards and valley. The largest on-course pro shop is right outside Eugene. Did someone say "shopping spree"? 
Eleventh Day of Adventures
Horseback Riding

Giddy-up! Christmas is almost here! Ride off into the sunset with your true love...yes, that's right - you can go horseback riding on the beach. C&M Stables offers a variety of trail rides that showcase the scenic coast.
Twelveth Day of Adventures
A Vacation to Remember
Wrap it up with a big bow! Visit the Eugene, Cascades & Coast Adventure Center in Springfield to plan your trip. Our Adventure Specialists can help with maps, brochures, recommendations and select permits. Plus there is a gift shop featuring local artisan souvenirs, local craft beer, local wine and logo gear.
With so many things to do in the Eugene, Cascades & Coast region, choosing just twelve was the challenge Sally McAleer faced when planning this vignette. She and Angie Riley worked with Attic Media to collect the film footage and pair it with the lyrics. There was singing too. And finally, the twelve days of adventure were celebrated.
Comments