Back To Previous Page
Cherry Poppin' Daddies to Headline 2014 Sasquatch Brew Fest
Published: March 27, 2014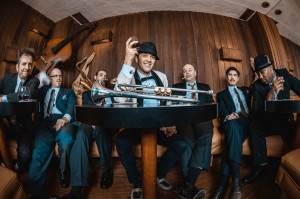 Eugene's own Cherry Poppin' Daddies will headline the Sasquatch Brewfest as it moves back outdoors for 2014! The June 7 event will cap off Eugene Beer Week, which will feature 40 craft beer events in Eugene and Springfield.
From Flying Ink Media
Eugene, Ore. – The 12th annual Sasquatch Brew Fest will move back outdoors on Saturday, June 7, 2014 to the 'Fermentation District' in the Ninkasi Brewery distribution parking lot located at 155 Blair Boulevard in Eugene. The craft beer festival will feature live music by The Cherry Poppin' Daddies, Tatiamo, the Hank Shreve Band, and the Douglas County Daughters.
Besides featuring an opportunity to taste unique, craft brewed beer, some batches brewed specifically for the festival, the Sasquatch Brew Fest will also feature food booths, a silent auction, raffles, a beer dinner, and a home brew contest sanctioned by the American Homebrewer's Association and the Beer Judge Certification Program, administered by the Cascade Brewer's Society. Winner of Best of Show will be announced during the Sasquatch Brew Fest.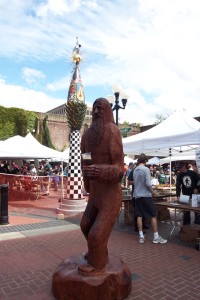 Tickets to the Sasquatch Brew Fest will be available when the gates open at 12 p.m. for $10. Entrance includes a commemorative glass, two taste tickets and live music. Additional taste tickets will be available for purchase throughout the festival grounds for one dollar. The beer festival is open to everyone 21 years of age or older. Last call will be announced at 10:30 p.m.
Produced by the Northwest Legends Foundation, the Sasquatch Brew Fest is dedicated to the memory of Glen Hay Falconer. Born during a celebration of life of Falconer, a popular and leading Pacific Northwest professional brewer, the Sasquatch Brew Fest is dedicated to Falconer's love of the rich beer and brewing culture in the Pacific Northwest. Falconer was the skilled head brewer at the now-closed Wild Duck Brewery in Eugene as well as a mentor and resource for home brewers and professional brewers until his untimely passing in 2002.
Proceeds will benefit the Northwest Legends Foundation, a non-profit organization designed to produce the annual festival, as well as area non-profits dear to Glen Falconer, and the Glen Hay Falconer Foundation, a non-profit organization set up and maintained by Glen's brother, Quentin Falconer. The Glen Hay Falconer Foundation provides opportunities for professional and aspiring brewers to further their knowledge and expertise in the field by awarding brewing school scholarships to worthy candidates each chosen by a committee.
Comments