Back To Previous Page
4 Spots to Grab a Bite on a Downtown Eugene Walking Tour
Published: June 26, 2015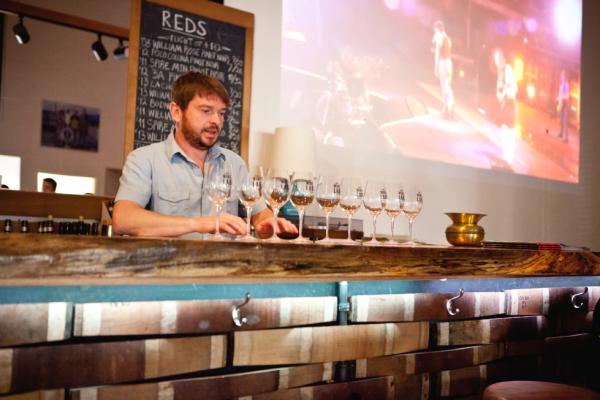 Exploring four of downtown Eugene eateries with former Adventure Specialist Maria Peters and friends. Discover more spots to sip or grab a quick bite on the Eugene, Cascades & Coast restaurants page.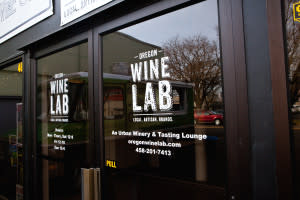 When my husband and I were in college, one of our favorite ways to spend a beautiful, softly glowing evening (although we took a few treks in some icy Oregon rain as well) was 'out on the town' by foot. With campus so close to home, we could easily split a meal and a pitcher of our favorite local microbrew on the east side of campus followed by an evening coffee on the west side of campus (with the perfect stroll across the University of Oregon in between).
Few years removed from our UO days, we still love being able to spend an evening leisurely walking from one 'bite' (destination) to the next. Thankfully the Eugene, Cascades and Coast region is so incredibly giving to our desires – whether we are on campus, near any one of our beloved cities' downtown areas, or even on Bay Street of Historic Old Town, Florence, we are always set to explore and eat.
Most recently I took an early spring afternoon walk with a fellow Adventure Specialist and a great group of front line staff from the Inn at the Fifth. Our goal – eat. Eat well. And reach each destination by foot.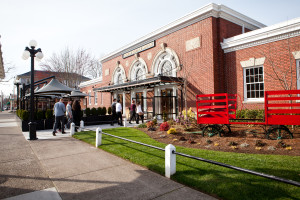 Not wanting to overwhelm anyone with the task of eating four complete meals, we chose four local downtown restaurants with the idea that we could try a 'bite' from each one to sample their signature dish. On our path to pleasing the taste buds this particular day: Oregon Electric Station, Oregon Wine Lab, The Vintage and Noisette Pastry Kitchen.
Bite #1 | Oregon Electric Station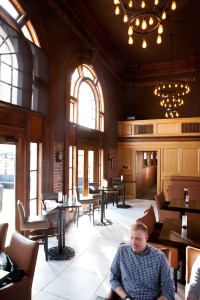 The first thing that I noticed when we walked into the Oregon Electric Station (OES) was the incredible light that bathed the interior of the restaurant. A national historic landmark, OES is newly remodeled and the atmosphere was light, open, and elegant by day, and incredibly romantic by night. Fresh breads and spread met us the moment we sat down, quickly followed by our 'bite'. Boasting an Italian-inspired menu with an emphasis on local sources, the personal-sized plates of raviolis that were placed before us were truly amazing.
Try a bite: We were a big fan of the veal and pork stuffed raviolis with a mushroom cream sauce.
Bite #2 | Oregon Wine Lab
Stop number two on our tour was a mere three blocks away at the Oregon Wine Lab. If you want to sip wine but don't want to hit the hills, this is the place to go. The proprietor, Mark Nicholl, welcomed us into the tasting lounge with a selection from his large collection of vinyls playing in the background, and a corresponding video projected on the bar wall.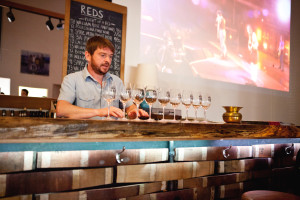 Mark created great conversation from behind the bar as he described the wines we were drinking and his vision of/for the Oregon Wine Lab. The atmosphere of this urban tasting room is full of an energy that will make for many incredible afternoon/evening jaunts out for a sip of wine close to home (I am already planning to return many times this summer).
Try a bite [sip]: Stocked with local artisan wines, it's hard to choose a favorite! But when you stop, sipping a glass of the William Rose Wine [Mark's own wine] is a must.
Bite #3 | The Vintage
Full of a 'bite' and a 'sip,' we led our convoy to a  charming vintage home turned restaurant. If you are looking for a cozy, relaxed setting – The Vintage is the place to be.Whether you sit upstairs, downstairs, or out on the patio, each setting is intimate. On this particular day our group was led upstairs and sat next to the windows where we were bathed in sunlight and able to overlook the street.
I realized The Vintage was made for small groups as we quickly used up our time cheerily chatting and reaching across each other to dunk small bites of fresh bread and vegetables into divine cheese fondue.
Try a bite: Sweet or savory, there is a fondue or crepe here for you. We loved the cheese fondue and accompanying spread, as well as the spinach, veggie, and feta cheese crepe.
Bite #4 | Noisette Pastry Kitchen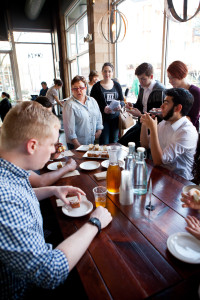 Our last stop on our 'bite tour' was the fabulous Noisette Pastry Kitchen. Noisette,which means hazelnut in French and relies on local seasonal ingredients, provided our sweet tooth's with the perfect afternoon spread of pastries and iced tea.
The pastry chef, Tobi Sovak, greeted us with warmth and softly talked about Noisette while we fought over seconds and thirds of each pastry. With casual counter service, a charming sitting environment, and a little something for ANY time of the day [coffee, pastries, breads, sandwiches, desserts] – I know that I will be returning. Often.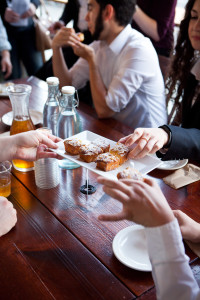 Try a bite: Sweet fans be warned, once you try Noisette's almond upside down cake or their coconut cream cake paired with an afternoon iced tea, you won't be able to help falling in love with this bakery.
Comments