Back To Previous Page
6 Hikes with Kids in Eugene, Cascades & Coast
Published: September 30, 2021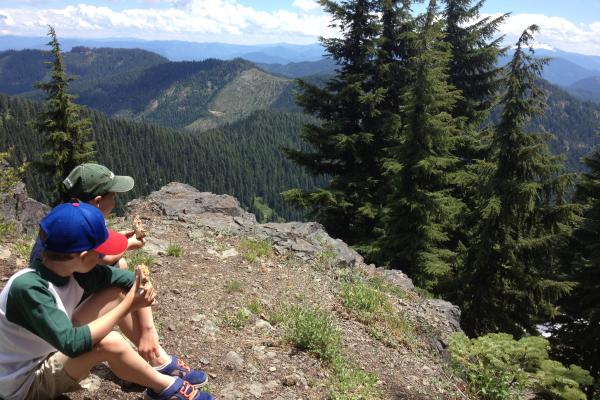 Whether in the hills or along the coast, get the entire family outside with hiking trails along Eugene, Cascades & Coast.
Water and hiking safety tips plus family-friendly trails from the Coast to the Cascades
These hikes with kids get the whole family moving, introduce young children to the joys of the outdoors, and enable quality time. Even better? Lane County abounds with family-friendly hikes. Here are six to put on your bucket list, plus tips to safely enjoy trails and waters.
Waxmyrtle Trail, Florence
A great walk in Oregon's world-famous dunes awaits just seven miles south of Florence.
Waxmyrtle Trail is a moderate, 1.5-mile loop that's also part of the Siuslaw National Forest. Watch for wildlife and views of the Siltcoos estuary. During parts of the year, snowy plovers use the area for nesting.
The dune walk also gives the kids a chance to romp in the sand and marvel at old-growth forest, the ocean, and the mouth of the Siltcoos River.
Constitution Grove, Westfir
Here's a hike for Hamilton fans.
The family friendly Constitution Grove Trail takes you through a 0.4-mile loop of old-growth Douglas fir trees, along with views of the North Fork Middle Fork Willamette River gorge. Thirty-nine trees bear a small plaque, each with a name you might recognize, among them George Washington, James Madison, Benjamin Franklin, and yes, Alexander Hamilton.
Each name and each tree commemorates the 39 signers of the US Constitution on Sept. 17, 1787. Two hundred years later, in 1987, this grove of trees was dedicated as Constitution Grove.
Constitution Grove is located off Forest Road 19 (Aufderheide Drive). Head there via Highway 58 toward Westfir, as access from Highway 126 is currently closed.
Salmon Creek, Oakridge
Does your family likes to add some roll to your stroll? Then check out the hiking and mountain biking options of the Salmon Creek Falls Trail. Just 4 miles east of Oakridge, kids can try out a smooth trail designed for beginner bikers. More advanced adventurers can head to a more technical trail.
Skinner Butte, Eugene
Sometimes you really just need to get the kids moving, but without leaving town.
Fortunately, Eugene's Skinner Butte is a bustling public park. Located just north of Eugene's Market District, Skinner Butte has a variety of trails, some as short as about a mile round-trip, with a panoramic payoff of views at the summit.
Head to the Market District after for a quick bite. (Or stock up before your hike, and pack a picnic to enjoy at the top.)
Clearwater Park, Springfield
With four miles of trail along the Middle Fork Willamette River, Springfield's Clearwater Park is an easy urban hiking getaway.
While the kids marvel at the tree-lined riverbanks, you can breathe some relief: The wide, paved path keeps a good view of the water yet is far enough back to keep the kids from getting too close. Wander the trail as far as you want, then turn around.
The 50-year-old park also contains picnic areas, boat launches, and a disc golf course, all within 65 acres of fresh air, tall trees, and burbling water. At Clearwater Park you'll be in town, but feel miles away.
Thurston Hills Natural Area
With 665 acres, the Thurston Hills Natural Area opened in 2017 as one of the Eugene/Springfield area's newest recreation and natural spaces.
Along with extensive trails for hikers of all ages, Thurston Hills began opening maintained mountain biking trails in 2021. Plus, five more miles of shared use hiking and mountain biking trails are under development.
The Thurston Hills Hike in particular offers family hikers up to two miles of wide, gravel trail. Have the kids keep an eye out for wildflowers!
Prepare, care, and connect for hiking trail safety
The safety precautions of our Adventure Checklist can help your family have a fun, safe, and memorable time:
Prepare: Plan ahead to know your route, fees, amenities, trail conditions, what to pack, and weather outlook.
Care: Practice Leave No Trace hiking. Stay on marked trails, pack out trash, and do your part to prevent wildfires.
Connect: Unplug from the day to day, and deepen your family connection.
For more on these trips, plus our packing list suggestions, check out our full Adventure Checklist.
Water safety with kids
Whether the mighty Pacific Ocean or the rolling Willamette River, Lane County waters are beautiful, awe-inspiring… but also cold and sometimes dangerous. Practicing water safety is especially crucial when hiking with kids:
Brings towels, dry clothes, and an extra pair of shoes. If little ones get soaked, get them dried off and in fresh clothes as soon as possible so they can warm up.
Waterways change all the time. Submerged logs, a new flow, a stormy sea: Don't assume an area is the same as the last time you visited, and try to understand current conditions before you go.
Areas around water are slippery. Keep kids on trail, or practice close supervision if going to the water's edge.
The path to family memories awaits on a hiking trail near you
Lane County abounds with beautiful, memory-making hikes you and your kids will love. Use the six hikes above as an adventure bucket list. Keep our Adventure Checklist and water safety tips in your back pocket. From the Coast to the Cascades, your family-friendly hike awaits. See you on the trail!