Back To Previous Page
7 Waterfall Wonders
Published: April 11, 2014
One of the most common requests that we get from people coming into the Eugene, Cascades & Coast Adventure Center is for information on waterfalls- and I totally get it. The power of the water, the thunderous roar as it crashes, and the soothing mist cause jaws to drop. Luckily, whether you are beachcombing the central Oregon Coast, wine tasting in the Willamette Valley or riding the epic trails of the central Cascade Mountains, you are never far from one of these cascading beauties, so we created a list of our favorite waterfalls in the Eugene, Cascades & Coast region.
Without further ado, here are our 7 Waterfall Wonders:
1. Sweet Creek Falls, Coast Range near Mapleton Why we love it: Sweet Creek Falls offers up an easy-to-access and uniquely enchanting waterfall experience year-round. In spring, wildflowers appear along the path. During the summer, the air is cool and refreshing. Fall leaves the trail ablaze with bright colors, and in winter the shady grottoes are lush and dripping.
2. Kentucky Falls, Coast Range Why we love it: Finding this remote waterfall feels like a triumph. The trail is lined with three spectacularly towering falls. The road to Kentucky Falls twists and turns- so make sure to get good directions and follow the map closely. The four-mile roundtrip is an exhilarating workout.
3. Trestle Creek Falls, Near Cottage Grove Why we love it: Combine this visit with the more challenging hike to Upper Trestle Creek Falls and be rewarded by the chance to walk behind a waterfall.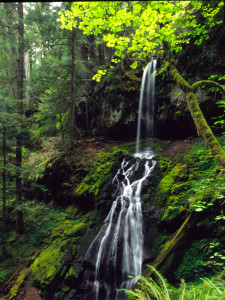 4. Salt Creek Falls, East of Oakridge Why we love it: This is a guaranteed wow and so simple. Easy-to-follow signs from Highway 58 lead to a concrete observation deck with an unobstructed view-line to top of the falls. A great destination in winter for all levels of snowshoeing.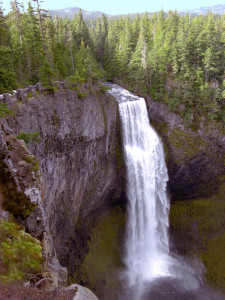 5. Diamond Creek Falls, Near Salt Creek Falls Why we love it: Diamond Creek Falls is a hidden gem! Many folks don't venture beyond Salt Creek Falls, but those that do are aptly rewarded with a serene up-close experience with nature. Sitting at the base of the Upper Falls is very zen.
6. Proxy Falls, Hwy 242 (Old McKenzie Highway) Why we love it: This is my pick for a family hike. Easy enough for the little ones and diverse enough to keep adults interest at a child's pace. This is a very popular summer hike so be prepared to share the trail with other adventurers.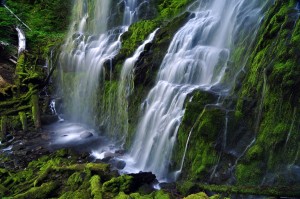 7. Sahalie & Koosah Falls, Why we love it: This is my favorite waterfall in Oregon. The air there is amazing, I can't explain it, but once you've stood in the viewing area you'll know what I mean.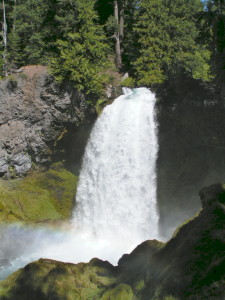 Find directions to the 7 Waterfall Wonders and a more waterfalls in the region on our website.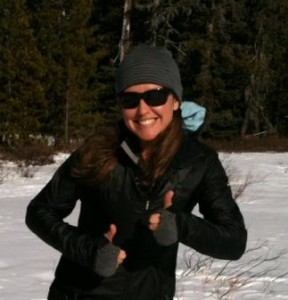 About the author: Samara Phelps is the Director of the Eugene, Cascades & Coast Adventure Center. A Eugene-native, Samara has hiked, run and biked hundreds of roads and trails throughout Oregon. She loves sharing her knowledge and passion for the region with locals and visitors. Come and see her and her team of experienced and welcoming Adventure Specialists daily from 9 a.m. – 6 p.m.
Comments