Back To Previous Page
A 14 Mile Expedition to Linton Falls
Published: March 29, 2016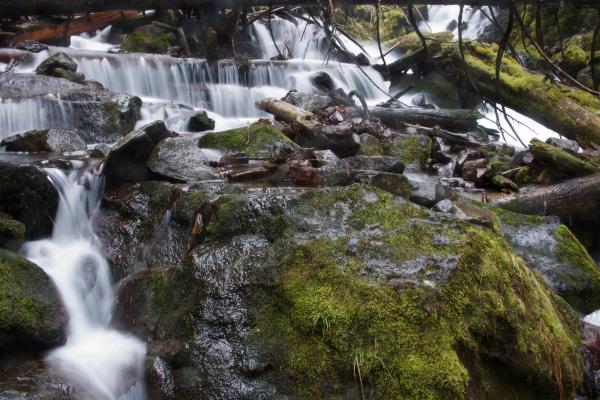 Follow Adventure Specialist Gabrielle Lent on her 14 mile expedition into Sisters Wilderness to find Linton Falls. Find out more about the many waterfalls in the Eugene, Cascades & Coast region.
Too late for early morning and too early for late night, there is something magical about the hour of 4 a.m. We awoke to this mystic spans of time, gathered our layers, our food for the day and hit the road to arrive at Linton Lake Trailhead before the dawn with the ultimate goal of Linton Falls before noon. Our lengthy drive out of town was an ethereal dream where we ate bananas and drank coffee as the sun stayed sleeping much longer than we did. Darkness welcomed us to the road closure at Highway 242 around 6 a.m. and we parked our car in the lot next to this hefty metal gate, beginning the day with a four mile hike on this paved road currently inaccessible to motor vehicles.
On this initial walk we gained 1,100 feet in elevation. Gradual changes in scenery included roadside banks of snow that built themselves from zero to two feet; visible walls that promised snowpack on the inner trails of the forest that lay ahead. We were counting on this snowpack to access our prized waterfall, the white blanket providing stiff footing over rushing streams and rough terrain that make the trail more difficult to forge during other seasons.
It was 7:30 a.m. when we reached the trailhead and by this time the day's brightness had effortlessly spread itself across the land. Signs at Linton Lake promoted the trail as a place for self-discovery and primitive recreation, encouraging travelers to "power-down" and leave behind the distracting buzz of modern convenience. After texting a copy of our mapped destination to friends and family, I put my phone in airplane mode. From this point on I'd be accessing it for camera use only.
The weather was cold, a true February morning and the night had been much colder. I ate one more banana as we speculated about the lone tent in the Alder Springs Campground directly across from our starting point, wondering if we would encounter its inhabitants on our trek.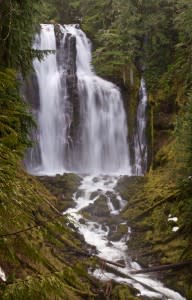 Volcanic, moss-covered rock flanked our sides as we tread upon soft dirt, the obvious path occasionally washed out by sneaky pockets of snow. Keeping our heads up would prove to be an integral part of maneuvering the trail as these pockets made it easy to lose sight of defined parameters. After a mile and a half, the path diverged and disappeared. We reached the lake, strapped on the snowshoes we'd been carrying on our backs and conquered the fog-strewn, snowy shores of the frozen Linton Lake.
Trudging through marsh and over large fallen trees, we soon reached Linton Creek. Channeling the spirit of true Oregon adventurers (we were like Lewis and Clark, and Sacagawea) we removed our snowshoes and followed this creek up the side of the mountain using only maps and our sheer human strength; digging in boot toes and planting poles, shimmying up the natural wall in the way that a goat might. Just before noon we reached Linton Falls and stopped for a lovely picnic lunch. A clear view of the falls was not available unless situated on the edge of the cliff so we all took turns in this position, making an effort to snag the perfect photograph.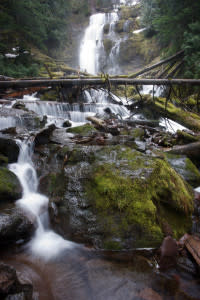 It was early still and we hungered for a greater challenge. We continued up the mountain, following the gentle wear of paths made by animals and the bold sounds of wild water. We soon turned a corner to see a bountiful falls, one that dwarfed Linton in size. This falls was Upper Linton; a truly marvelous gem of a water feature, waiting in serenity for all eternity to be praised in picture and illuminated by good company.
After properly hydrating (and after the failed rescue mission of a water bottle lost) we left the scene and made our way back down the creek in a hot sweat with cold feet. We crossed over marsh to the snowy shoreline and returned to the defined parameters of the Linton Lake trail. Our descent proved much faster than the climb – a distance that had taken us six hours to achieve was wrapped up in under three. By 4 p.m. we were traveling again by foot down Highway 242, the first and last leg of our 14 mile day. It was here that we would encounter the lone camper from the tent at Alder Springs, a resident of Rainbow who advised us to enjoy the area, "but don't tell anyone about it." We smiled and nodded as he giddily skipped away.
Back at the car, we changed into fresh clothing and just kind of melted into our seats, reviewing pictures, enjoying the last of our snacks. From the back seat I reflected on our experience and watched the sun slowly set over the small stretch of Cedar Flats, its blinding light silhouette reflected on itself in the cloud horizon like a glowing hourglass. There was something magical, something ethereal about this image in the sky that made me think back to the 4 a.m. start of our day which now seemed so far away. When we awoke, the sun was still sleeping. Now here we were at the end of our journey, putting it softly back to rest.