Back To Previous Page
A Wonderful Wine Weekend
Published: May 28, 2016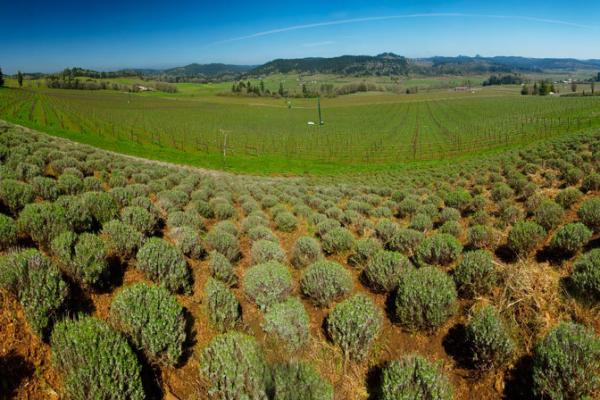 As Oregon Wine Month is winding down, don't miss out on spending Memorial Day Weekend out in the South Willamette Wine Country. Many wineries have planned ahead for a weekend full of  live music, special food  menu items and many other special activities.
Need a little help deciding which wineries to visit first? Make sure to grab your copy of Eugene, Cascades & Coast's Pinot Bingo game cards for some added inspiration! Read on, as Vice President of Stakeholder Relations, Andy Vobora, take his wife out to achieve their first "Pinot Bingo."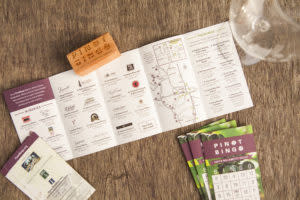 Friday the 13th produced rainfall reminiscent of the downpours my wife and I experience while visiting our granddaughters in Texas. Waking up Saturday morning to a similar forecast in the South Willamette Valley we decided it would be the ideal day to visit the wineries to pick up our wine club new releases. Like my black lab Zoey, who has her favorite spots to lay around the house, we would again venture out to our favorite "tried and true" wineries.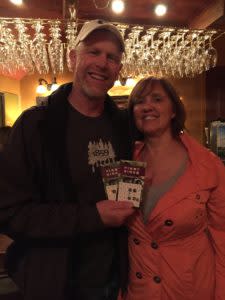 Like a lightning bolt from the night before, it occurred to us that we could have additional fun to be beautiful with the vineyard backdrop. We pulled into Sweet Cheeks Winery minutes before they opened and were surprised to find multiple cars already in the parking lot. Once inside we learned that a wedding party was setting up for, you guessed it, an outdoor wedding! A bold decision for the middle of May in Oregon, but sure to be beautiful with the vineyard backdrop.
We wished them well and before departing, we scanned our Pinot Bingo cards for the nearest and most strategic tasting room to advance us toward that coveted first bingo. Sure enough, Silvan Ridge would immediately help my wife in her pursuit. It would aid me in working toward the second and third level prizes, so by taking our Eugene, Cascades & Coast Pinot Bingo game cards and begin working our way toward completing a bingo.
It would aid me in working toward the second and third level prizes, so my only instant gratification would come from tasting a very good (91 points) 2012 Pinot Noir! I could handle that. While we were enjoying the wine, three visitors inquired about our game cards and soon, they too, were plotting the rest of their day in pursuit of a Pinot Bingo!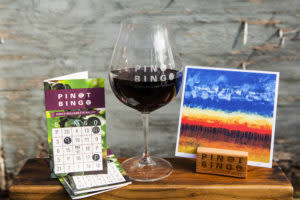 With subsequent stops at Sarver, Bennett, Valhalla and Pfeiffer, my wife earned her first Pinot Bingo that day. We had so much fun that on Sunday, we followed up with visits to Noble Estate and the Viking Braggot Company (which is a "pairing" destination). The Pinot Bingo game got us out of our routine and introduced us to wineries we'd never explored before. We tasted top notch wines and learned a lot from talking with the winery owners. We are still working toward winning "bottle" bingos and "full cellars" (which is the completion of the card); so we may be venturing out again soon. Meanwhile, cheers to the winery staff whom brightened our outlook on such a rainy weekend!