Back To Previous Page
Affordable Mother & Daughter Getaways
Published: April 21, 2014
Eugene and Oregon Wine Country made the Today Show's list of Affordable Mother and Daughter Getaways.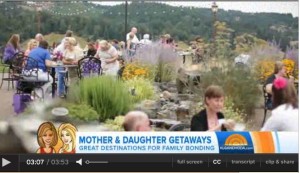 Sipping pinot overlooking the splendor of the Willamette Valley is just one of the reasons we made the list. Today's travel expert also boasted our charming farmers' markets, historic covered bridges, endless bicycling paths, and tax-free shopping.
Now, if only we would have given her a heads-up on the pronunciation of Willamette.
Watch video here:
Visit NBCNews.com for breaking news, world news, and news about the economy
Find lodging deals in the Eugene, Cascades & Coast region.
Comments