Back To Previous Page
All Aboard! Next Stop, National Train Day
Published: May 15, 2013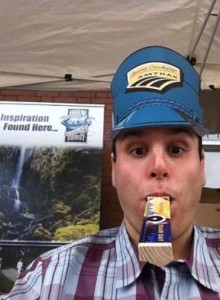 CONFESSION: I'm a transportation geek. Ever since I was a little boy, I've been fascinated by all modes of transportation. I drooled over a trip to the airport, couldn't wait to get home to play with my train set and, well, nothing's changed.
So it should come as no surprise that I celebrated National Train Day this year. Lucky for me, the Eugene Train Station was selected to host special events for longtime automotive addicts like me and amateurs simply looking for  free family fun.
I put on my 'junior conductor' hat, blew the giveaway train whistle and immediately felt 10-years-younger. The hat brought out the kid in me and the passion that I always had for the rails. Who knew a college senior could be so amused by a toy train whizzing around the tracks? And then came the main event, the big show that we'd all been waiting for – the arrival of the Coast Starlight.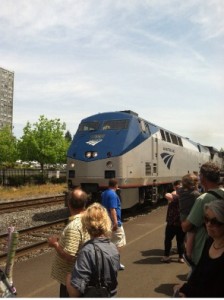 A giant crowd cheered, waved and welcomed the train into the station. The Coast Starlight's journey is impressive in its own right. Starting in Los Angeles, the Starlight links the West Coast's greatest cities, stopping in San Francisco, Eugene, Portland and ultimately in Seattle.
Seeing people young and old come together over a 'choo-choo' as I always called it was special. There were little kids jumping for joy from seeing the train roll into the station, older people who have devoted their whole life to ensuring Eugene is a thriving rail town and those simply stopping in after walking around Saturday Market.
I was fascinated with the Amtrak maps showing the train routes from across the nation. This is much like my experience on every flight I take – open up the airline magazine and immediately flip to the end where the map is lined with colorful route information.
After a day of geeking out over the history of trains in Eugene and around the country, I got the final boarding call – time to go home.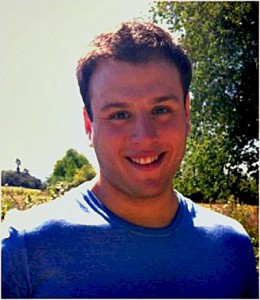 About the author: Grant Gurewitz is an Adventure Specialist and on the communications team at Travel Lane County. The San Francisco area native is finishing his time at the University of Oregon and is always ready for a great Pacific Northwest adventure. Find Grant cheering for the Ducks, sipping on craft beer in 'Brewgene' or finding a hidden gem tucked away in Real Oregon.
Comments