Back To Previous Page
Ant Farm Collective's Feast of Three Sisters
Published: February 04, 2016
Follow Adventure Specialist Gabrielle Lent as she explores this winter feast. Find out more about our local food here.
The fertile grounds of the Pacific Northwest bare a divinity of crops each harvest season. Though I am not a farmer, I have for the past year had the privilege of living among several in an intentional community bound together by a focus on sustainable living and a love of soil. My knowledge, tastes and appreciation of agriculture have flourished in this environment where the bounties of our land are humbly celebrated every day through a farm-to-table lifestyle and homegrown kitchen endeavors.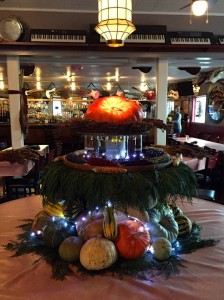 Last night in the dining room of Mac's at the Vets Club, a winter season's feast showcasing corn, beans and squash was organized by farm collectives and local individuals, some of whom I call my roommates.
For a sliding scale admission of $10 to $20, all were invited to enjoy live music and experience tastings, food demonstrations and a dinner starring these three dietary staples that together are affectionately known as Three Sisters.
The Feast of Three Sisters kicked off with a tasting of 20 squash varietals, each labeled with an identifying nametag and housed in bowls on a large, round table.
The table's middle boasted a three-tiered centerpiece comprised of various whole squashes, dried corn cobs and labeled jars of bean varietals.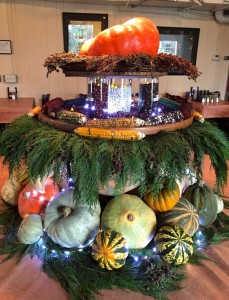 Flavor wheels and sheets of paper were provided for those wanting to take tasting notes on the different kinds of squash, an interactive opportunity I found quite exciting.
After much sampling, my favorites were the grassy, cantaloupe-like Winter Sweet and the creamy, brown sugar boldness of the Uncle David Dakota Dessert.
Yellow, red, white and blue corn tortillas were offered to guests on serving trays and proved an excellent palate cleanser between bites of squash.
A surprisingly green tortilla made of spinach and corn did not capture my interest as much as the experimental black chanterelle tortilla with its light but distinct notes of earthy flavor.
While waiting to order drinks at the bar we snacked on Trinity Nibbles, a delightful mixture of all three sisters. Whipple beans, mixed squash seed and corn kernels were deep fried in oil creating a rich treat. The little beans were mouthcoating pillow puffs; very fun to eat.
With beers in hand we took our seats at a shared table just in time to miss the first course of the feast, refried Arikara bean empanadas with corn relish and hot sauce, garnished with chimichurri and red guajillo pepper. They looked delicious. Many confirmed that they were.
Next came a broiled square of polenta, Candystick delicate squash and roasted red peppers drizzled again with chimichirri. The course was at once savory and satisfying, served hot and in abundance though we did have to fight for our share. There were limited seats in contrast with the number of people in attendance and servers were met by hungry, standing-room-only guests before making it to tables with trays of food.
A third course was presented to our end of the table on a triumphant, boat-sized plate harboring tortillas, fava falafel, a yummy tzatziki dipping sauce and three types of hummus. Each hummus was made from a different bean, including pureed Sweet Lorane small fava, black Beefy Grex and Kenearly Yellow Eye. The Beefy Grex was slightly transparent in flavor though I very much cared for the creamy accompaniment of the Kenearly Yellow Eye hummus with the blue corn tortillas.
The final course of the feast took a dramatic turn in content and presentation. Diners were encouraged to stand and be served as volunteers ladled healthy portions of pozole rojo soup into bowls. Adornments of fresh chopped cabbage, radishes, onion and tortilla strips were available as toppings for the mild red guajillo chile broth filled with hominy, chicken and pork. A hot liquid, the soup acted as a lovely aperitif to the dense fulfillment of corn, squash and beans; a pleasant, rounding night cap to a well crafted meal. A vegetarian option was also available.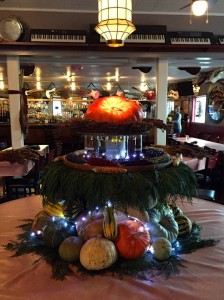 After the announcement of the evening's raffle winners, the consumption of a few more pieces of squash and the closing of our bar tabs, we bid adieu to this roomful of friends just before the commencement of dancing and dessert (green mole squash ice cream and gingersnaps).
The event ran longer than expected and though I had to cut my time short, I did not feel shorted.
In the end, a great time was had by all. There were a few hiccups in the event's execution but the inaugural Feast of Three Sisters was an inspired showcase of the versatility of Pacific Northwest crops, a humble celebration of farm-to-table lifestyle and homegrown kitchen endeavors, and a privilege to attend.
Comments