Back To Previous Page
Baxter Conquers Mount Pisgah
Published: June 01, 2018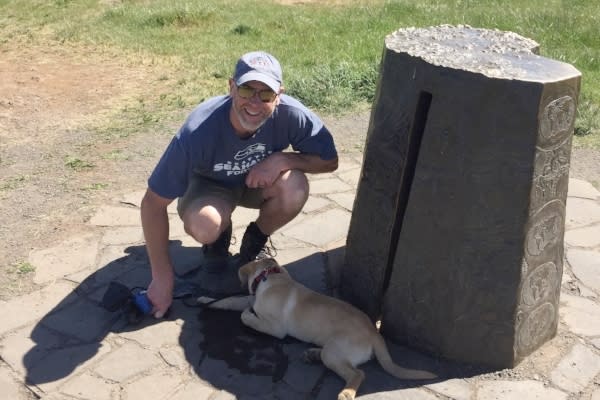 Andy and his dog Baxter hike Mount Pisgah's Beistel's West Summit Trail #1. A steep, rocky journey covering 3.3 miles round-trip with a rewarding panoramic view.
On a recent Sunday I was chatting with friends at church and the conversation led to our wives planning to catch a chick flick at the theater. With a couple of yard chores left on my weekend list, my friend Brad and I planned a different experience for the afternoon. With the yard work complete I picked up Brad and we talked about nearby hikes. We decided on Mount Pisgah, just south of Eugene, and made a stop by the Eugene, Cascades & Coast Adventure Center to buy the necessary county parking permit. Mount Pisgah has a self-pay station, but I prefer buying the annual pass and not having to worry about permits for the coming year.
With Baxter, my 12-week old yellow Labrador puppy, I'm constantly on the lookout for ways to get him exercise and interaction with people, other dogs and nature. Mount Pisgah was a good choice due to its proximity to Eugene, about a 20-minute drive from my house, its ample parking and a plethora of trails to choose from. 
It took some coaxing to get Baxter out of the crate in the back seat of my pick-up. He tends to fall asleep every time he gets in it!  Once out of the truck we selected the most direct route to the summit, which is shorter than other trails and yet is the steepest. Baxter, while on his leash, doesn't keep a fast pace and that was fine with us! 
The wide trails were filled with hikers and many dogs. People were respectful of the leash requirement and it appeared followed the "leave no trace" motto in terms of dog waste and other trash. Baxter had many positive interactions with humans and dogs while exploring the blossoming wildflowers and plentiful poison oak! Staying on the trail was the key to avoiding the poison oak and this year there seems to be a bumper crop. 
At the summit we viewed several Cascade peaks through passing clouds and following a short rest Baxter was ready to descend. Other than a few short stops, and a couple rides in my arms, he did a great. What I learned was to be better prepared with a water dish that can be used along the trail. We improvised with the cap of a cycling water bottle, but a collapsible dish will be a future purchase for sure. 
Dogs are welcome at the Mount Pisgah Arboretum, but please follow these dog guidelines.
Watch for more adventures with Baxter as he visits more destinations in the Eugene, Cascades & Coast region.