Back To Previous Page
Dipping Your Paws in the Deep End
Published: July 09, 2018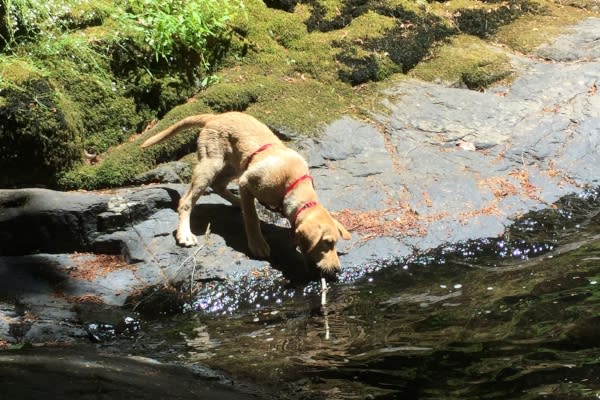 "Seeing the world while riding on the outside of the truck is really cool, but when are we going to be there Dad?"
Baxter, you've been a trooper riding to Florence. Being in your crate in the bed of the pick-up is something new and you didn't complain once. Now that we've arrived at Driftwood Shores what do you think?
"Boy there are a lot of cars and people around, which means more pats on the head and scratches of my belly!  And, what's up with the ground that shifts under my feet?"
It is busy today and that's because the Copa Cabana Beach Soccer Tournament is happening. The ground is different because we're at the beach and there's a lot of sand on the beach.
"I like the sand.  I can dig and dig and dig and I don't get scolded. Can I chase the balls those kids are kicking? Can I go visit those kids? Can I play with that big dog over there? What's flying in the air over there"
That's a lot of questions, Baxter. First, chasing the balls during the game isn't a good idea and so I'll keep you on your leash. Most beachgoers are good about using leashes and this keeps things safe and enjoyable for people and other dogs. It also allows me to have your waste bags with us since you did your business and I needed to clean up the beach, which also keeps things enjoyable for others. 
You can visit with kids who are comfortable with dogs and ask to meet you, and the same is true for other dogs. I find that most people are really good about this and it makes for safer beach experience.
The thing flying in the air is a kite and the beach is the perfect place to fly a kite because it's almost always windy. 
"Wow, that's a big lake over there and why is it crashing and making all that noise? C'mon, let's go see it. This is only my second time in the water and I'm not so sure about this water stuff. It keeps moving in and out. I do like the interesting things it brings in because I pretty much eat anything and what I find is salty and squishy.  Why won't you let me run around without my leash?"
There may be a time and place for you to run free in the surf, but this isn't it. Let's walk along the beach for a while. The beach here by Driftwood Shores is long and wide, making it great for long walks, riding a fat tire bike and some people even ride horses on the beach.
"What's a horse?"
It's an animal like you, but bigger, and humans are able to ride them and experience trails, fields and beaches. 
"Why did it get so dark and cool all of a sudden? I'd prefer that warm, blue sky to this gray stuff."
It's called fog and is common to the Oregon Coast, but it will probably be gone as quickly as it rolled in.  Let's head for the truck. I've got a surprise for you on the way home. 
"Do I have to go? Five more minutes please."
Okay, five minutes. 
"Thanks dad."
As we prepare to leave Driftwood Shores it's noteworthy to point out that a small Lane County park sits at the north-end of the property on 1st Avenue. This park requires a fee to park, so use the self-pay station or purchase a daily pass or annual pass before arriving. For electric vehicle drivers, Driftwood Shores has charging stations and so do a number of other hotels and businesses in the area. Check the Oregon Electric Byways website to learn what other EV charging opportunities exist throughout Oregon. 
"Where are we going now?"
It's going to be a surprise, so settle in for a short drive to Sweet Creek Falls. Sweet Creek Falls is on the way back to the valley and is a short 10 mile drive from Mapleton. Turn onto Sweet Creek Road right after crossing the Siuslaw River on Highway 126 in Mapleton. A small parking area and toilet facilities are available at the trailhead and no fees are required.
"It's really crowded here today."
You're right! I've never seen this many vehicles and I see vehicles from Wyoming, Ohio, Illinois, California and Oregon. 
"Wow, look at all the kids, older people and dogs along the trail. It's really fun to meet new people and the dogs are on their leashes too. What's that noise I hear?"
That's the waterfalls. Sweet Creek tumbles through a series of falls that grow larger upstream.
"Let's check one out. These rocks are slippery even for me, so watch your step.  Whoa, I'm sliding and oh my that water is cold! I'm still not convinced about this stuff you call water. It get in my eyes and nose and makes my fur wet. I think I'll stay on the rocks even though some people are playing in the water."
"The trails are wide and it's not very steep here. I like hiking here at Sweet Creek. Can we come again?"
We sure can, but did you know there are other waterfalls on the way home? Of course you didn't. You're only four months old! Well, Kentucky Falls is on the way home, but you will need to be a little older and stronger for that hike. It's longer and steeper, so we'll save that for another day. What do you say we pick up mom and go out to dinner?
"Did you say dinner?!  I'm always ready to eat, so let's do it. But, where can you go to eat where I'll be welcome?" 
That's a great question Baxter. Why don't you do a blog that helps people learn about dog friendly businesses in the Eugene, Cascades & Coast region? 
"I'll get right on it!"
Follow Baxter on Instagram at @Baxteradventuredog and if you're in the neighborhood stop by the Eugene, Cascades & Coast Visitor Center at 754 Olive Street. Ask for Baxter and if he's in you can meet him and grab a photo!