Back To Previous Page
Beer in Wine Country? Yes.
Published: August 31, 2018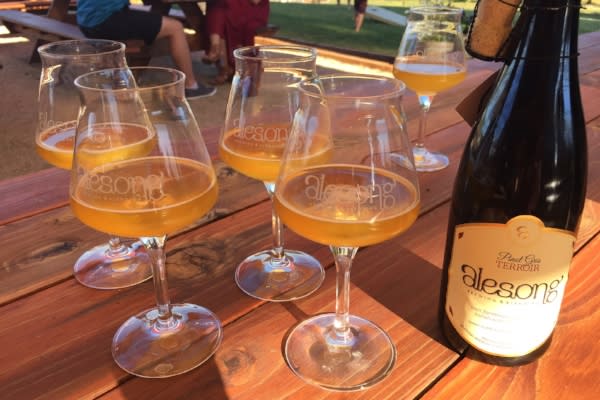 What to do when your husband likes beer and you like wine? You enjoy both beverages in South Willamette Valley's beautiful wine country!
We were able to do just that one warm summer night. About 30 minutes from Eugene, and within minutes of each other, are Iris Vineyards, Alesong Brewing & Blending and King Estate - the perfect cluster of wineries and a brewery.
Along with our friends Andy (he likes beer) and Debbie (she likes wine), our first stop was Iris Vineyards. This exquisite winery has sweeping views of Chalice Vineyard and the valley. I selected a glass of the Pinot Noir that I had tasted at previous visits. We sat out on the patio relaxing and talking. Our husbands saved their palates for the future beer tasting while Debbie and I lingered over the swirling aromas of raspberry, plum and blackberry. This is one of my favorite wineries probably because I knew the owners when the winery was just a dream. It has been fun watching them develop it into a fine winery.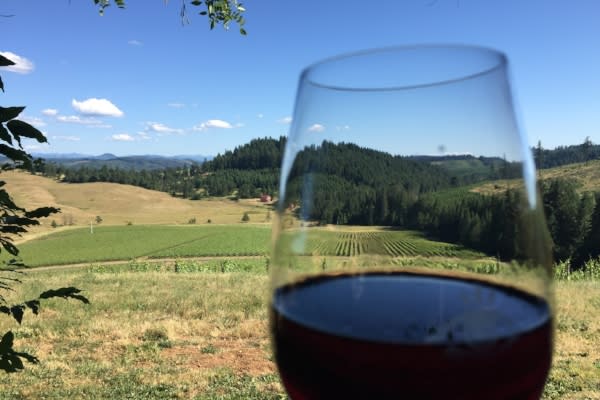 Now for the beer
After Iris, we headed to Alesong Brewing & Blending so the beer drinkers could have their turn. It was also time to eat. On the weekends, Marché provides tasty wood-fired pizza and great salads. People can bring a picnic, but we wanted to indulge in Marché's great offerings - it is one of Eugene's best farm-to-table restaurants. It was a real treat to enjoy it out here under blue skies and surrounded by rolling farmland.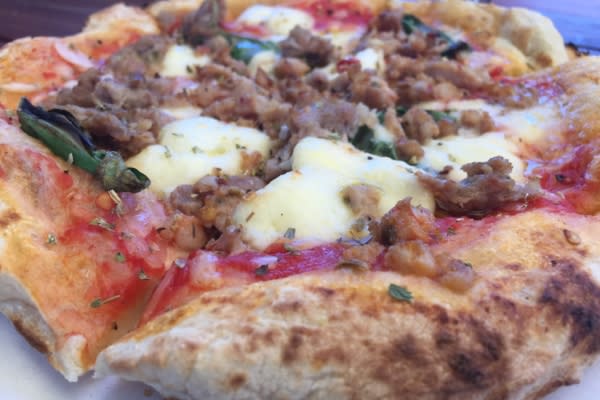 The brewmaster and co-owner Matt Van Wyk stopped by our table to describe their beer process. It is fitting that this unique brewery is in the heart of wine country because the majority of their beer is barrel-aged. Like wine, it takes more time to craft and the resulting batch is always different. Because of that, Alesong doesn't have a "flagship" beer and when the casks run out, that particular beer is gone for good. (I guess that means that if you taste something you like, you better stock up on it!) But there is always an exciting new beer in the works.
Our own beer aficionado, Andy explains it well, "The barrel-aging in wine barrels, along with the use of wine grapes in the processing, makes for unique and flavorful beer. Both the Terrior Pinot Noir and Terrior Pinot Gris appeal to my wife Debbie - a self-proclaimed beer hater. Well, hate may be a strong word and so maybe I'd say she dislikes beer. Both have a refreshing taste and the wine flavor is pronounced. For me, the darker the beer the better and so the Rackhouse Reserve, a combination of imperial milk stouts aged in barrels that formerly held Jamaican rum, Old Forester bourbon, Woodford Reserve bourbon and Early Times whiskey, is a beer I would highly recommend."
Another aspect of Alesong's beer is that most of it is bottle conditioned. When the beer is bottled, they add yeast and sugar, resulting in a carbonated beer that has smaller bubbles and better head retention. It also enhances the character of the beer.
This was my husband Craig's first time trying this style of beer (I abstained). Craig shares, "Being an avid craft brew drinker for many years I have seen many interesting combinations meant to enhance the taste. Alesong's use of wine grapes and barrels from King Estate takes it to a new level. Thankfully, the owner and staff are ready and willing to explain what they're trying to achieve."
Along with their ever-changing beer menu, Alesong serves wine from neighboring Iris and King Estate (which was our next stop), so in theory we all could have ordered what we preferred right here. But that would have made our wine country foray too easy!
Back to the Wine
To end the evening, we drove up the sweeping drive to the lovely King Estate. Perched at the top of the hill, the views are awe-inspiring. I ordered a 2015 King Estate Willamette Valley Pinot Noir and Andy tried one of their new ciders. Craig and Debbie chose nibbles from the dessert menu. Again, we relaxed outside on the patio with views of the Willamette Valley.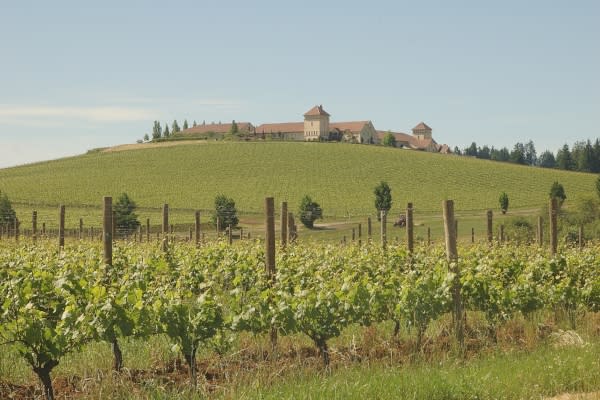 Sadly, the evening was coming to an end, but it was a great way to start the weekend. Good wine, beer, cider and food with great company in Oregon's magnificent wine country!
Note: While we selected this group of places to visit for beer and wine, many of the local wineries also serve beer.