Back To Previous Page
A Family Vacation at Village Green
Published: March 01, 2019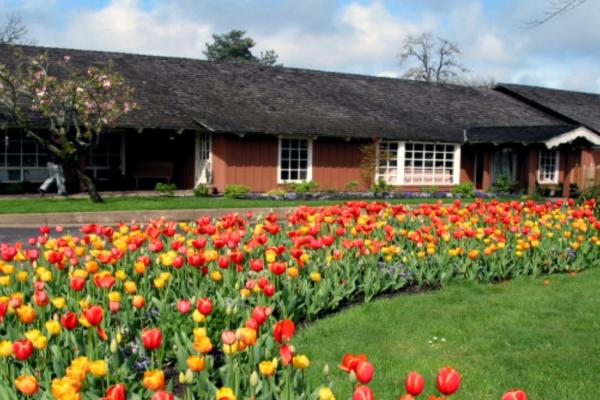 Craving alone time with just the family? Want to have a few glorious days apart from the daily rush of responsibilities and expectations? Find that idyllic family getaway in Cottage Grove, Oregon. Home to romantic covered bridges, colorful murals and the ghosts of the gold rush and Hollywood, this cheerful little town will fill up your days with used book stores, novelty shops, classic soda pop, family diners and bicycle rides. Here is inspiration for a treasured family vacation: 
The Village Green in Cottage Grove
Return to the golden era of family vacations by staying in this 60s motor inn – once the end-all in luxury family vacations! Today's Village Green resort is all updated, dog-friendly and aptly-suited as a family-centered spring break basecamp. Built around 14-acres of themed gardens, the spring grounds are bursting with new green shoots and early buds.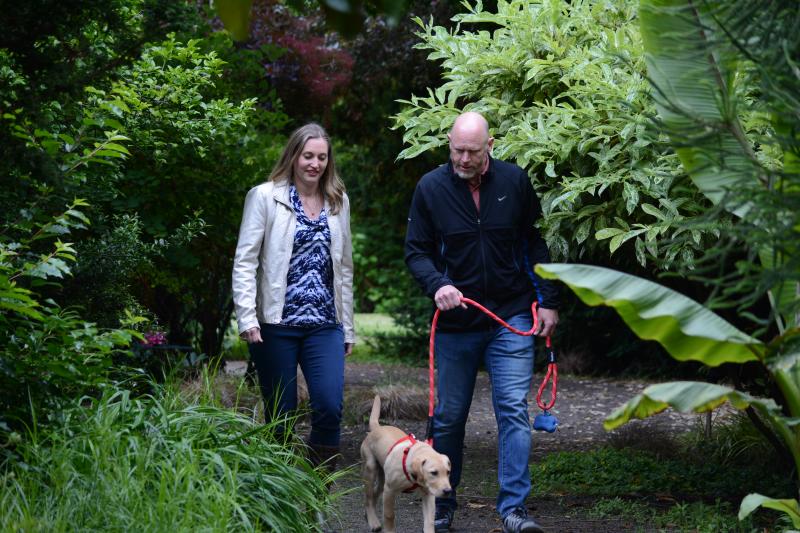 Dog walking in the Village Green gardens by Colin Morton
Open mailboxes tucked around the gardens for information sheets on garden trees and plants. Kids will love discovering the mailboxes, garden art, gazebo and a little picnic cabin. There is also an outdoor swimming pool and hot tub if the weather supports a spring dip. The on-site restaurant serves dinner and the lounge opens at noon for lunch; breakfast is complimentary. If the weather is blustery, relax in the lobby by the roaring fire with books and board games.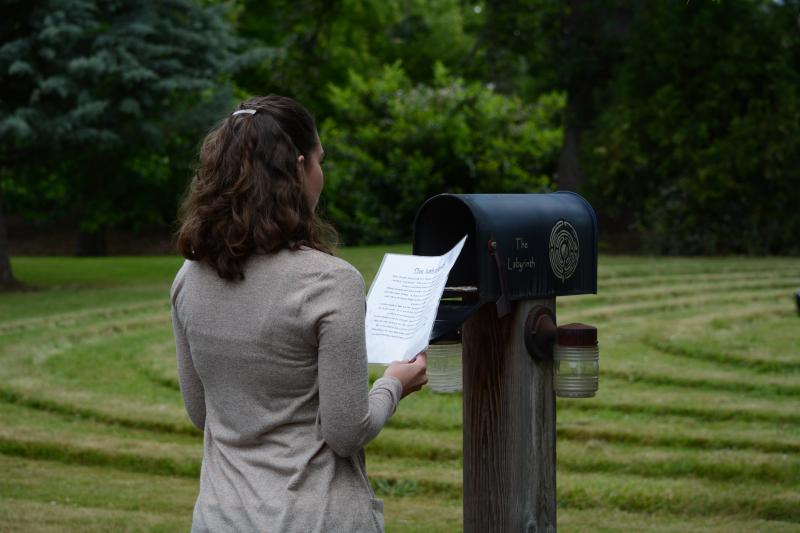 A Village Green gardens' mailbox by Colin Morton
Add pizzazz to your family getaway with adventures into Cottage Grove's historic "All America City" for shopping, dining and exploring. Here are some worthy family-friendly things to do:
Cycle the Row River Trail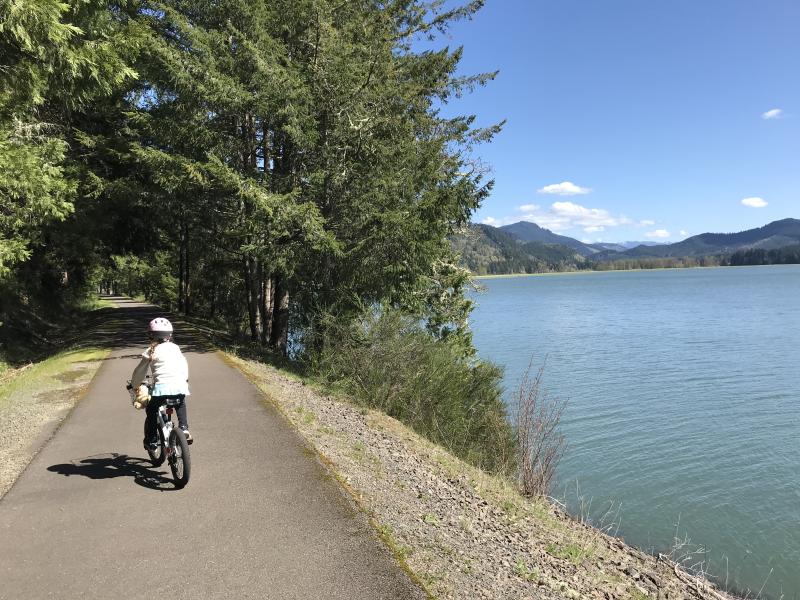 Row River Trail's Dorena Lake Views by Taj Morgan
The Village Green is close to the 14-mile paved bike path that encircles Dorena Reservoir. Row River Trail is a splendid cycling destination for families because the majority of the trail is buffered from traffic. Do note; however, that there are several places where the bike lanes cross roadways and require extra caution. You can rent bicycles at Rainy Peak Bicycles in town but that will mean some street riding to get to the trail.
Once on the trail, enjoy a peaceful cruise through meadows, along the lakefront and through shady forests. Restrooms are at several of the trailheads along the way. Of special interest is the historic Mosby Creek Covered bridge and the trestle bridge at Harms Park that was filmed in the film "Stand by Me". If you are interested in seeing all of Cottage Grove's covered bridges you can do a self-guided tour – easiest by car.
A Show at Cottage Theatre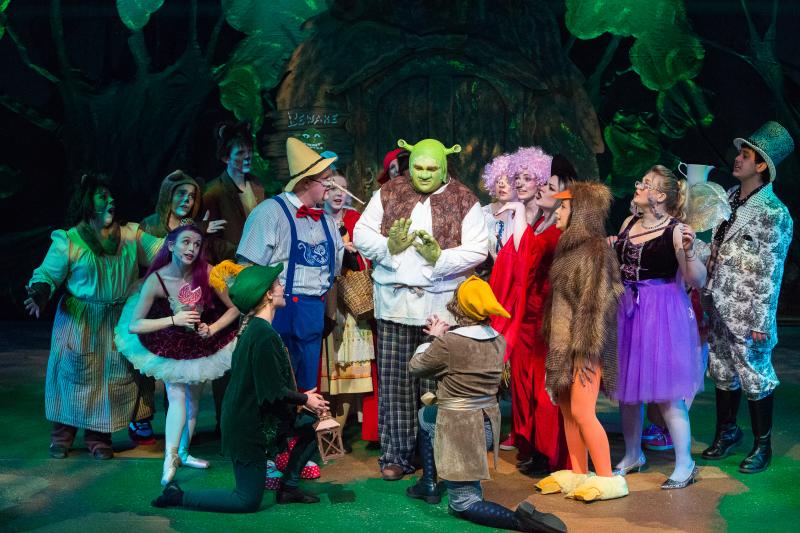 Performance at Cottage Theatre by Matt Emrich
One of the benefits of staying at the Village Green is that it is across the street from the Cottage Theatre. This very special community theater is known for producing excellent plays and musicals. If your visit coincides with a performance, purchase tickets in advance because the shows sometimes sell out early. Unfortunately for spring break of 2020 the theater will be between shows, but you may wish to plan a return visit to see "Mamma Mia" in early April.
Breakfast at Buster's Main Street Cafe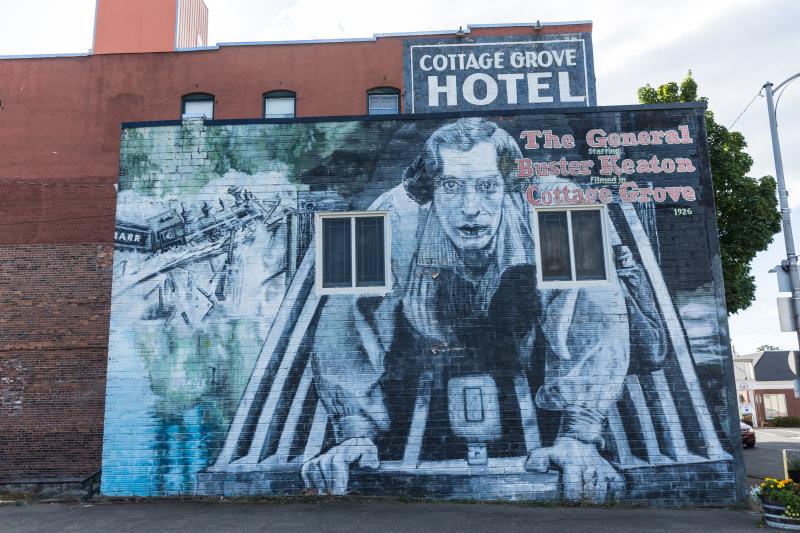 Cottage Grove Main Street The General Mural by Joni Kabana
A family-favorite place to eat, Buster's is named after film producer and stunt performer Buster Keaton. Housed in the historic Cottage Grove hotel, the actor stayed here during the filming of his 1920's silent film "The General". A gigantic mural covering one wall of the hotel building pays tribute to the movie. (One a side note, there are many murals about the town worth touring!) Best brunch bets include crab cakes Benedict, stuffed French toast, Monte Cristo, classic Reuben and the elk burger. Also enjoy traditional ice cream floats made with an amazing soda selection – because it just so happens that Buster's has an entire bottleshop next door where they stock over 250 nostalgic and hard-to-find sodas. Share with your kids the sodas you loved growing up!
Play Disc Golf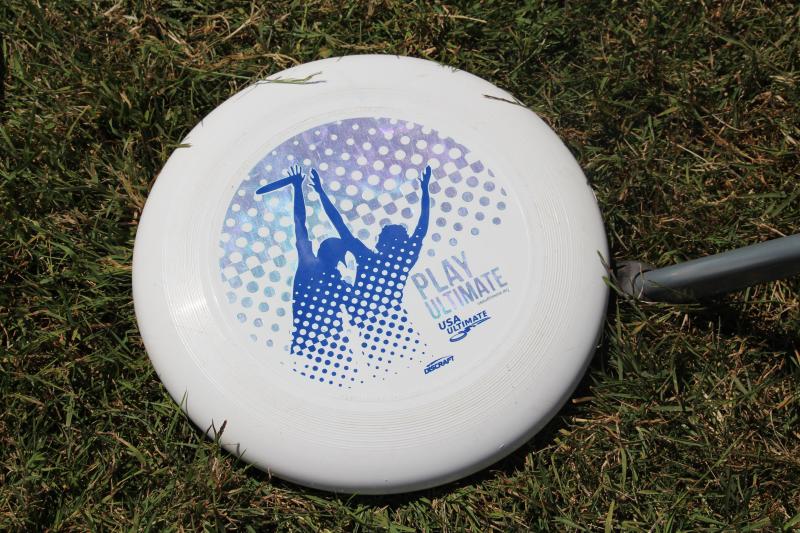 Summer Solstice Ultimate Frisbee by Joey Jewell
Finally you have the time to toss a disc around with the kids. Just minutes down the street from the Village Green is Cottage Grove Disc Golf, an 18-hole disc golf course with both open and forested fairways. Family-friendly, the course has straightforward and more challenging holes.
Trio of Waterfalls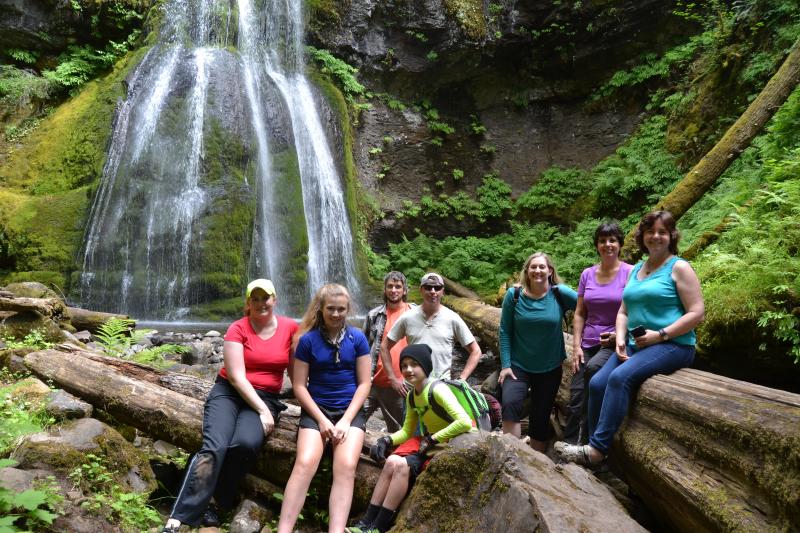 Spirit Falls by Sally McAleer
In the Cascade foothills outside of Cottage Grove is a cluster of three waterfalls, each with a distinctive look and all accessible with just a short hike. Moon, Pinard and Spirit Falls can be explored in one afternoon. There are restrooms near the trailhead at Spirit Falls. Getting driving directions and pick up a map at the Cottage Grove Ranger District.
Along with plenty of outdoor recreation, Cottage Grove has several museums worth checking out. The Bohemia Gold Mining Museum is in a large red barn adjacent Bohemia Park. Browse historical artifacts from the gold mining area, then take the children outside to the nearby playground in the park. The Oregon Aviation Historical Society & Museum is a great destination for aviation fans of all ages. Along with aircraft exhibits they have ongoing plane restoration projects and artifacts from Oregon's flight history. Watch hobbyist pilots take off and land at the neighboring airport.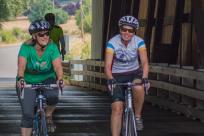 This All America Town is a recreational retreat with historic landmarks, natural wonders and a great Main Street…
More
›