Back To Previous Page
DIY Shawls at Create! Eugene
Published: August 02, 2013
Look what Travel Lane County CEO Kari Westlund is wearing! She JUST made that gorgeous shawl at the 2 Day Nuno Shawls & Wraps Workshop taught by Tylar Merrill of Thimbleberry Felt Design Studio.
Kari had never tried felting before today. She chose the colors to match the blue dress she's wearing to lead the First Friday Artwalk. Even better? Kari says she learned so much during the class that she can't wait to start felting at home.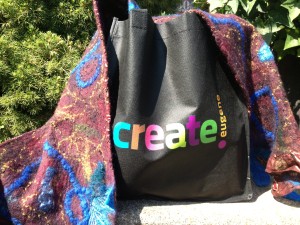 This is just one of the amazing 195 workshops during Create! Eugene, August's month-long celebration of the arts.
Check out Create! Eugene deals on lodging.
Comments