Back To Previous Page
Escape Room Fun
Published: January 28, 2019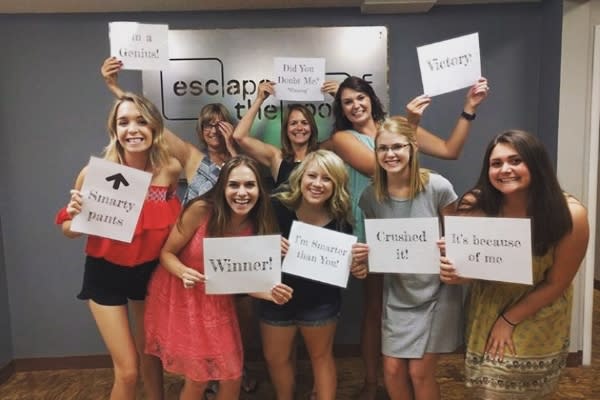 Doing an escape room is a thrill you'll never forget. Adrenaline takes over the moment you enter the room, the door shuts behind you and the clock starts ticking.
Before taking on the challenge, I gathered with seven good friends at Plank Town Brewing Company to strategize our approach. Over lunch we evaluated our strengths and weaknesses, choosing who would handle what tasks once we were locked in the room (I was relieved to learn that the door isn't actually locked, you can leave at any time if needed). I'm confident in my ability to solve riddles, so I volunteered for that. One friend chose puzzles, another chose filling in missing pieces and so on. Inside the room, we would need to use our collective brain power quickly and efficiently to escape in time.
We chose to do Escape The Room Oregon's "The Study." This room is set to the theme of the deceased archaeologist Dr. Jones' study where is assistant Pepe needs our help finding his most valuable discovery. It is rated medium in difficulty. You and your group of four or more have 60 minutes to find the missing artifact.
Upon arrival we stowed our phones and personal items in lockers since they aren't allowed in the rooms. After a set of ground rules and a brief video introduction to our mission, we entered "The Study." I don't want to give anything away with what the room looks like or the kinds of puzzles you'll need to solve to find the artifact, but the way the room was set up to conceal the clues was impressive. Here we were standing in an ordinary office and yet…it was far from every day. Items you thought were sure to be clues turned out to be nothing at all and items you passed over because you thought they didn't mean anything turned out to be some of the biggest clues.
It took all eight of us searching every inch of the room and multiple people working on the same clue to solve the mystery. Our intense concentration was interspersed with fits of laughter, frantic discussion and surprised whoops of success. After 53 of the allotted 60 minutes and all the available hints from the moderator, we finally found the missing artifact! I'm sure all of Springfield could hear our cheering and excitement as we completed the task and escaped the room – a feat we were very proud of because not all groups make it out of this room.
At Escape The Room Oregon you can choose from multiple themed rooms. In addition to "The Study," which we completed, you can try Spy vs Spy where you sneak into a Russian spy's apartment to recover stolen items for the government. Or you can explore their newest room the Bio Lab. This room offers two options, Bio Lab: Co-Op where two groups work together and Bio Lab: Head to Head where two groups work against each other to turn on scrubbers and unlock the door after there has been a contamination leak. Throughout the year there are also different holiday-themed rooms such as the Halloween Room and the Nutcracker Room. Most of the rooms are suitable for families with children six or older. In fact, I think this would be a great activity for families. After completing this myself, I can attest that it was a great bonding experience. On Escape The Room Oregon's website, they say children can be an asset to the group because they don't "overthink" and are great at finding things. And tweens and teens would certainly find the game-aspect appealing.
Originally published in January 2018