Back To Previous Page
The Eugene Ale Trail has officially launched!
Published: June 10, 2014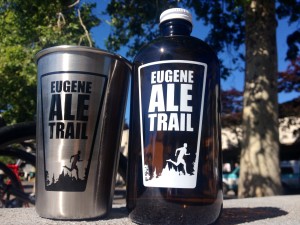 The Eugene Ale Trail is off and running! Download a passport and bring it to our breweries. Grab a taste, ask for a stamp and – boom! –  you're all set.
Visit eight of the ten Eugene area breweries to earn a 16 oz. amber growler. Do that AND go to the Brewers Union Local 180 in Oakridge to also earn a 16 oz. stainless steel cup.
The Eugene Ale Trail is an ongoing program that will continue while supplies last. Show your Eugene Ale Trail pride by purchasing a sweet t-shirt at the Eugene, Cascades & Coast Adventure Center. Shirts will also be available soon at several participating breweries.
Once you've filled out your passport, take your prized growler to one of our local tap houses to purchase a fill-up.
Download your passport here: www.eugenecascadescoast.org/eugene-ale-trail/
Plan ahead and check out these responsible transportation options.
Questions? Send us an e-mail at Adventures@EugeneCascadesCoast.org.
Comments