Back To Previous Page
Eugene Brewery Is Best Little Fish in the Big Pond
Published: December 18, 2013
Congratulations to Claim 52 Brewing! The Eugene brewery was just named the Best Nano Brewery in Oregon in the Northwest Brewing News 2013 Readers Choice Awards.

Claim 52 is one of Eugene's newest breweries. They're quickly becoming known for their European-style ales, such as a Kolsch brewed with a Northwest flair.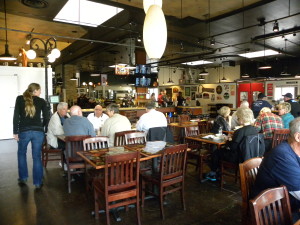 Visit their tasting to sample their award-winning beers. Be on the lookout for Olivia 9, a soon-to-be-released Belgian-style dark strong ale.
Claim 52 wasn't the only winner from Eugene's craft beer scene. The Bier Stein was named the Best Pub/Alehouse in Oregon by Northwest Brewing News readers. The longtime Eugene staple was also recently named the #1 Beer Bar on the West Coast by www.CraftBeer.com.
Cheers!
About Claim 52 Brewing Claim 52 is a 3 ½ barrel small-batch craft brewery in Eugene. Stop by their tasting room taphouse Fridays from 4 – 8 p.m. Claim 52 refers to the pioneer land claim in south Eugene where local homebrewer Trevor Ross set up his system in his garage five years ago.
Read more about Claim 52 in the Eugene Register Guard.
Comments