Back To Previous Page
Explore Eugene Bite by Bite
Published: September 06, 2018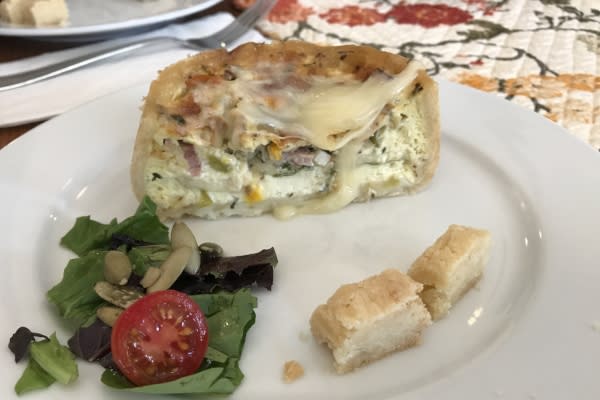 What's one of the best ways to explore a city? Through its food!
Rebecca, my fellow "foodie" friend and I joined an afternoon walking tour of downtown Eugene's best eats by America's Hub World Tours. A tour like this is crash course in knowing what locals know.
Instead of scrolling through endless TripAdvisor restaurant reviews, your knowledgeable local guide gives you an enjoyable tasting tour of the local food. And where you go is not always a fine dining restaurant - sometimes it's a food cart and sometimes it's a bar - and it is always amazing.
Our tour was led by Sandi Thompson, a Eugene area resident since 1976 with a wine and culinary background. She once worked under Chef Stephanie Kimmel, the Eugene chef who was a locovore before the 100-mile diet was even a concept. Chef Kimmel has shaped much of Eugene's culinary culture through her innovation and successful dining ventures. So it made perfect sense that our tour kicked off with a plate of macarons from Kimmel's Provisions Market Hall.
The moment that chai macaron seared my mouth with sweetness I knew we were in for a treat. Introductions were made all around as our group of eight assembled by the tinkling fountain in the 5th Street Public Market's courtyard. Sandi passed out bottles of water and advised us that our first stop would be five blocks away and the furthest destination in our tour. As we walked, she pointed out historic buildings and shared the local lore which always adds much more color to the beautifully worn facades.
At our first stop, Sandi whisked us inside the Oregon Wine LAB to a comfortable table. We were offered a choice between the William Rose 2017 Pinot Gris and the William Rose Demon Bird Red table wine. Oregon Wine Lab is an urban tasting lounge that pours its own William Rose wines along with other artisan wines from small local producers without tasting rooms. Therefore, it is the place to discover lesser known regional wineries and taste small batch wines. 
While we sipped, Sandi arranged a special mixed plate for us from "Da Nang" a Vietnamese food cart just outside. At the 2018 Eugene Food Truck Fest, Da Nang won the award for best world cuisine - so this was sure to be a great pairing. 
Sandi placed a heaping plate in front of each of us. Surprised, I asked how much I should eat so as not to fill up at the very first stop! She assured us this was one of the largest portions presented on the tour. 
As soon as I tasted the spicy Vietnamese chicken and beef (the spicy sauce was on the side) paired with the Pinot Gris, I knew I was going to eat all of it so I was glad I had skipped lunch. The accompanying salad was infused with mint and Thai basil which was a perfect palate cleanser. 
Our group began to share stories and introductions. The tour had obviously attracted others with a keen appreciation for food or wine - among us we had a sushi chef and several passionate wine connoisseurs. As we ambled on, conversation flowed from a discussion of spices and flavors to cooking tips to funny kitchen horror stories. When I looked up again we were at Le Cafè Maison. 
This French-style cafe is housed in the historic Palace Hotel, now called the Lane Building. The atmosphere is charming with fireplaces, bistro tables and an enticing pastry counter. Le Cafè Maison is known for its buttery shortbread which melts in your mouth. (They have bags of it to go!) But you can also enjoy Cornish pasties, croissant sandwiches and quiches. The owner greeted us warmly and brought us out a large half portion of warm quiche with a small salad, and of course, their famous short bread. Needless to say we could have settled in here for the afternoon. 
We roused ourselves finally and followed Sandi to our third stop - which surprised me. It was the 6th Street Grill. It's not that this casual diner isn't good, it's just that I've been here so many times I've stopped considering it as special. It's the most popular place for dining before or after Hult Center performances (which is just across the street) and it's the bar where I'd celebrated my 21st birthday decades earlier. (Some stories are best left untold.)
The restaurant still serves predictably good comfort food but now they have Tye Albert, a supreme mixologist and fascinating storyteller. He was holding court at an impressive whiskey bar that dominates the dining room. 
Our tasting tour bridged the shoulder between lunch and dinner so our group didn't have to compete with many other patrons for staff attention. Sandi had it so neatly coordinated that we felt like stars when we entered and service was swift. At 6th Street Grill, we quickly had Tye to ourselves.
As he mixed up his "Sugar Bug" concoction with Brown Sugar Bourbon from Heritage Distilling Company, he told us the backstories behind his drinks. 6th Street Grill has partnered with five local distilleries that have exceptional products and meaningful stories. And did Tye know his stories! He dived into local lore, legends and histories and had us spellbound until Sandi had to nudge us along. We pushed away the sinfully good baskets of fries tossed with 6th Street Grill's own Cajun spice mix and ate the cherries out of our drinks. I hadn't even known I liked whiskey - but by the time we were leaving I was considering taking one of Tye's Whiskey 101 classes offered on occasional Wednesday evenings.
For our final stops we returned to 5th Street Public Market where we had first assembled. Sandi ushered us to Blackboard at Provisions Market Hall. This casual, open bistro is near Provisions' demonstration kitchen so I've spent time here before, sipping a glass of wine while my daughter takes a kids' cooking class.
At Blackboard we were served a platter of French cheeses, gluten-free crackers, fennel seed salami, strawberry pickled rhubarb, local strawberries and white raspberries. Wine tastes were poured. At this point I was starting to hit my wall of satiation but bravely plunged on. The flavors were too good not to! I barely finished my wine before we scooted over into the Provisions' spacious marketplace for the grand finale. 
Alesong Brewing & Blending's Raspberry Gose was paired with a house-made vanilla ice cream dusted with ghost chili infused salt and drizzled with Oregon Olive Mill olive oil. I don't think I've ever had anything so divine - the combination mimicked a root beer float for adults. As we sat spoiled with tastes, I pondered which place I would return to for dinner. That is, of course, if I ever have room for food again!
The restaurant tour is offered by America's Hub World Tours on Tuesday, Wednesday, Thursday and Friday from 1:30 to 5 p.m. It is $80 per person. Stops and tastings are subject to change and substitutions.