Back To Previous Page
Holiday Shop 'Til You Drop at the Holiday Market
Published: December 16, 2013
*UPDATED* The 2014 Holiday Market runs November 22 - December 24.
Open 10 a.m. - 6 p.m. (closing at 4 p.m. on Christmas Eve)
Saturday -Sunday, November 22 - 23 Friday - Sunday, November 28 - 30 Saturday - Sunday, December 6 - 7 Saturday - Sunday, December 13 - 14 Saturday - Wednesday, December 20 - 24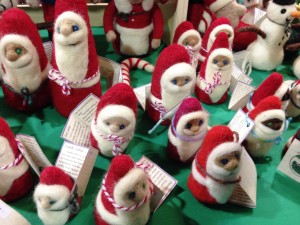 I was on a mission: find the perfect gift for someone who is hard to buy for. One that wouldn't trigger an eye-roll or a "she got me what?!", but one that she could tell I picked out just for her. I needed a present for my 15-year-old sister who lives in Alabama. Basically, I wanted to make her think I was a cool big sister.
After being snowed-in the previous weekend due to unseasonably cold temperatures, I made my way to the Eugene Saturday Market's Holiday Market, an annual gathering of more than 300 artisans at the Lane Events Center. The makers are the sellers, so not only do you get to browse endless aisles of handmade jewelry, pottery, textiles and paintings; you also get to meet the people who created it all.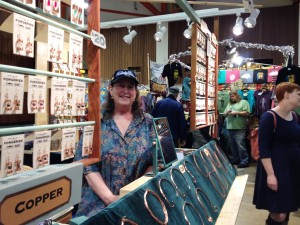 Terry and David Church have been selling jewelry made from recycled copper at the Eugene Saturday Market for more than 18 years. The husband/wife duo moved to Eugene 30 years ago and fell in love with the market community. They wanted to be part of it, so they started making jewelry.
"There is nothing like it," Terry told me. "And if there is, they got it from us, and it's okay."
It's true. The Eugene Saturday Market is the original "Saturday Market." Other Oregon cities are required to get permission from the Saturday Market Board of Directors before using the name.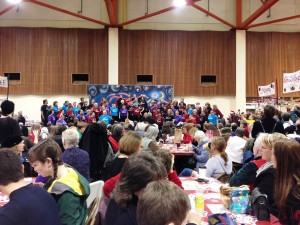 The place was packed with shoppers on similar missions. The holiday spirit filled the booths and the food court. Hundreds of people sang along (between bites) to the Soromundi Lesbian Chorus of Eugene's rendition of The Lumineers hit song "Ho Hey."
Last year I got my sister leaf imprinted earrings, which she loved. I know this because I still see her wearing them in her Facebook pictures. Should I go a similar route or try to wow her with something new? The good news was I had plenty of options; creative art for her walls, felted ornaments for her tree (perfect for animal-lovers like her) or a hip t-shirt. Of course, as I was looking around, I found 200 other things perfect for other people on my list. Sorry Mom, I already got yours.
I went with my gut and happily paid the artist for the "item," which I had actually spotted a few weeks ago and couldn't stop thinking about. More than excited to send my love for my city to the Deep South, I headed out the doors full of holiday spirit, sprite and pride.
So what did I get her? I'm not telling. You and she will have to wait for Christmas to find out.
About the Eugene Saturday's Market Holiday Market It's not too late! The Holiday Market will be open December 21-24, 2013. The hours are 10 a.m. -6 p.m. Saturday, Sunday and Monday, and 10 a.m. - 4 p.m. Christmas Eve.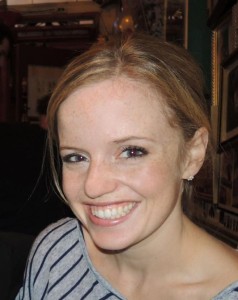 About the author: Molly Blancett is the PR & Social Media Manager for Travel Lane County. The Seattle-native considers herself a born-again Oregonian. Work brought her to Eugene, but her love for the city and the region kept her here. When not promoting the Eugene, Cascades & Coast region, Molly is out enjoying it - running Pre's Trail, sipping wine at Sweet Cheeks or hiking to a new waterfall.
Comments