Back To Previous Page
Falling Sky brewer's dinners dazzle the tastebuds
Published: January 07, 2015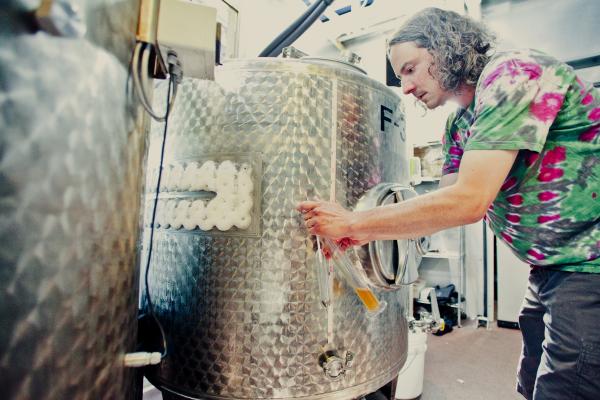 Falling Sky Brewing will hold a Winter Brewer's Dinner on January 25, 2015, to help kick off this year's KLCC Microbrew Festival. Adventure Specialist Gabrielle Lent attended the Fall Brewer's Harvest Dinner and wrote about the mouthwatering evening. Tickets to this year's Brewer's Dinner can be purchased on Falling Sky's website.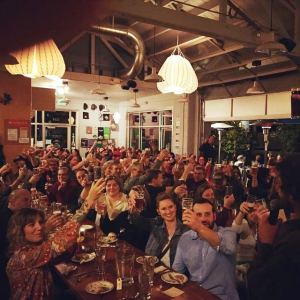 I've always liked Falling Sky Brewing. Last fall, my Facebook alerted me to their Fall 2014 Brewer's Harvest Dinner. I had never been to something like this before. I scanned the menu, accepted the reasonable fee of $39 a plate, and decided yes, I had to be there. The dinner sounded like an excellent excuse to get dolled up and enjoy a meal that aimed to dazzle my 'buds and sedate me through my stomach.
The atmosphere was casual. I grabbed a small plate from one of the community tables and lined up to receive the first of six courses; the Charcuterie Bonanza. The buffet-style mix and match of snacks allowed diners to experience pork carpaccio, smoked lox, kale and white bean bruschetta spread on a marbled rye crostini. There were sweet potato brioches and amazing pickled vegetables, as well as lamb ham, a hybrid meat unique to the brewery. These appetizers were paired with pitchers of Cloud Gazer Vienna Lager, and a new release, the Mandatory English IPA. Both beers worked well to refresh the palate between wandering bites, though I did favor the Lager.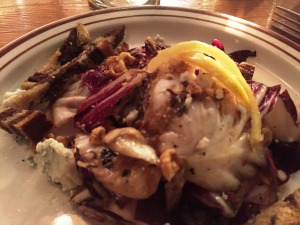 Next, a salad of grilled radicchio was served. Accompanied by toasted hazelnuts, strips of lemon rind, rye crouton and crumbles of blue cheese, everything was bound together by a smoked mustardo vinaigrette. When piled on the fork just right, the combination of tastes blended in harmony. The dressing, was perhaps too smoky, but found balance when followed by the Pourin Porter, a rich but easy drinking dark beer.
The acorn squash chowder, garnished with crispy guanciale (fried pork jowl) and a thin slice of sourdough bread, was hearty, bright orange, and the ultimate texture; creamy and smooth to the point of tasting whipped. Washed down with this year's last batch of Oregon Logger, the third course was my favorite of the night.
In between the soup and the entrée, a melon-ball sized scoop of farmhouse Gravenstein sorbet, topped with a frozen berry, questionably blue, was served. It had a fermented taste, and was a wonderful precursor to what was yet to come.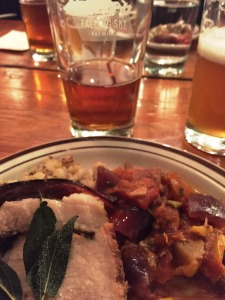 The main dish, a cherry quince scented porchetta with wild mushroom spaetzle and smoked ratatouille, was amazing. Paired with a graff, essentially equal parts beer and cider, it all boiled down to the fanciest pork chops and applesauce I've ever had.
By the time dessert rolled around, buttons were coming undone. The airy chocolate cheesecake, accentuated with crunchy pastrami chunks, and the gooey apple brown fennel crisp, were beautiful night caps. The Dark Reflection Aged Imperial Stout, with a whopping 9.5% ABV, was saved for last. And let me tell you, yum.
Falling Sky Brewing is the freshest, preparing food and drinks using ingredients from local farms, and directing them straight to your table. Last night, at the Fall 2014 Brewer's Harvest Dinner, generous portions of flavor fantasy were expertly paired with handcrafted beers that never ran dry. I am deeply satisfied with this experience, and I would recommend it to anyone.
About the author: Gabrielle Lent is an Oregon native and part-time Adventure Specialist at Travel Lane County. She is a May baby who divides her time between drawing comics, making coffee, and taking advantage of Eugene's vast network of bike paths. Gabrielle enjoys the mountains as much as the coast, loves to tell about her travels, and is always game for a new experience.
Comments