Back To Previous Page
From Sasquatch to the Thrift Shop
Published: May 14, 2013
Every road in Eugene leads to good beer. During Eugene Beer Week, every road leads to a good beer event. My Eugene Beer Week began with a brief detour and a sold-out show that had nothing to do with beer. I was headed to the Eugene Hilton, home of the Sasquatch Beer Fest, the kick-off event of Eugene Beer Week, when the tie-dye and Tofu Palace simply took over.  Call it the power of the Eugene Saturday Market. One Ritta's Burrito later, I was back in route to wash it all down with the best of Brewgene.
I made it to Sasquatch thinking I knew what kind of brews I liked. That all went out the window as soon as I started tasting. Sasquatch opened my taste buds up to beers from Lane County and beyond. The options to sip in my commemorative (and fantastic) tasting glass were vast and ranged from great IPA's to fruity ciders. Eugene's own Hop Valley stole the show for me and my tasting companion (aka my girlfriend, Hannah).
The smell of food wafted through the open room filled with the music of local bands. Friendly staff and other beer lovers created conversation perfect for a beer lover of any degree.
This could be seen as plenty for one day, but there was more to come – Macklemore, that is, and Ryan Lewis.
The duo performed the same night in front of a packed Matthew Knight Arena. While Macklemore admitted Eugene is a strange place—typical of the Real Oregon way—he talked about how much he loves it here for the diversity and tremendous culture. The Seattle native found no harm in raising the Oregon 'O' several times.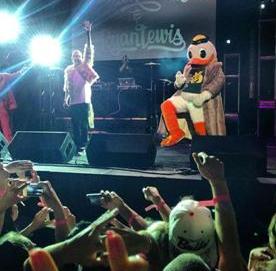 His performance was great and he played his hit Thrift Shop and many other songs to keep the crowd dancing all night. The highlight of the night was when everybody's favorite duck shared the stage, wearing the signature Macklemore fur coat.
I drank the best beer I've ever had and rocked out with one of the biggest performers in the country. How could I ever top this day? With only one thing of course – an encore they call Eugene Beer Week.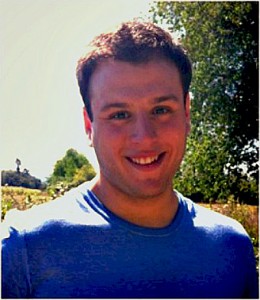 About the author: Grant Gurewitz is an Adventure Specialist and on the communications team at Travel Lane County. The San Francisco area native is finishing his time at the University of Oregon and is always ready for a great Pacific Northwest adventure. Find Grant cheering for the Ducks, sipping on craft beer in 'Brewgene' or finding a hidden gem tucked away in Real Oregon.
Comments