Back To Previous Page
Go from Bored to Boarding at the Kids' Adventure Club Summer Family Day
Published: July 12, 2013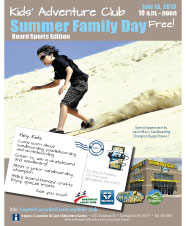 The Eugene, Cascades & Coast Kid's Adventure Club Summer Family Day is tomorrow, July 12, 2013 at the Eugene, Cascades & Coast Adventure Center.
As a mother of two active kids, I'm always looking for events and places for them to experience and explore—and of course, burn some unbridled energy in the process. Lucky for us, we live in a region packed with options. Just when I think we've been there, done that, up pops up another opportunity.
Of course, working for Travel Lane County and heading up our Eugene, Cascades & Coast Kids' Adventure Club definitely helps.  I don't think I'll ever run out of ideas when it comes to planning and promoting the bounty of family-friendly festivals, sports, arts, recreation, attractions—you get the point. Activities seem endless here.
Every season the Kids' Adventure Club showcases those activities, providing the chance to discover, learn, and more importantly, get inspired to get out and do what there is to do in the local area. Whether it's mountain biking in the Cascades, rafting on the McKenzie River, or going on a geocaching treasure hunt along the Oregon Coast, the club is designed to motivate and equipped families with what they need to know before they go. What it costs, where to rent, special events, deals and discounts.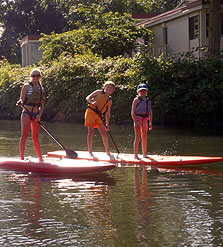 Tomorrow's Kids' Adventure Club Summer Family Day will be theme around board sports. Why not? You can literally "board" your way from the coast to the Cascades. This free event will explore the region's sand boarding, skate boarding, and even stand up paddle boarding opportunities for kids and families.  Community partners from Sand Master Park, the City of Eugene River House Program, Tactics board shop and Northwest Canoe Tours will share information about venues, camps, lessons, special events, and show off the latest gear and equipment.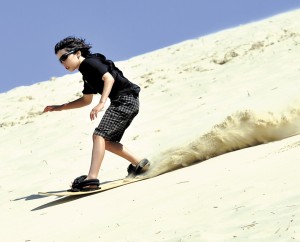 Speaking of equipment, kids can also enter to win a skateboard and sandboard, as well as other fun prizes. Junior Sand boarding Champion Diego Chaves will join the fun to sign autographs and talk to first-time boarders about what it's like to cruise down sandy slopes.  To top it off, we'll have some professional sand sculptors carve up some fun sculptures—perhaps a cool looking boarder of some kind.
Board-themed craft activities will also take place throughout the morning, fueled by complimentary fruit, pastries, juice, and of course, coffee to help us parents and grandparents keep up.
Of course, now that my kids will most likely be adding paddle boarding to their bucket list after this Kids' Adventure Club event, don't be surprised to see me wobbling and splashing my way around the Alton Baker canal later this month. In the meantime, I hope to see you at the next Kids' Club!
See more family friendly events in the Eugene, Cascades & Coast region.
Find family friendly deals in the Eugene, Cascades & Coast region.
About the author: Lisa Lawton is the Director of Community Relations at Travel Lane County, where she heads up the Eugene, Cascades & Coast Kids' Adventure Club. When she's not planning, talking or writing about adventures in the region, she is out doing them—especially with her family. Whether it's skiing in the Cascades, hiking to a waterfall, or sightseeing along the Oregon Coast, she loves exploring the region with her husband Jeff and kids Ryan, 11 and Hannah, 10.
Comments