Back To Previous Page
Hilarity Ensues on the Pacific Pub Cycle
Published: September 28, 2013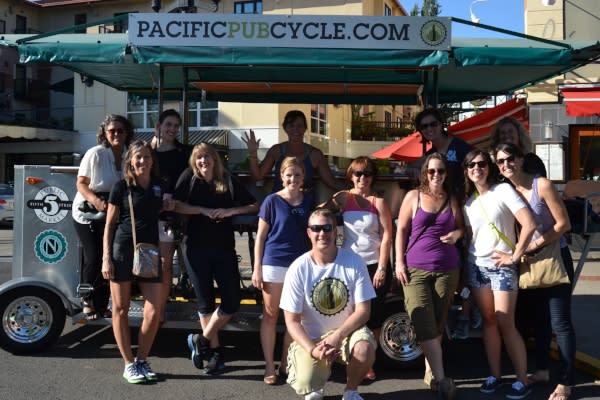 Hilarity ensued. That about sums up my experience on the Pacific Pub Cycle, the newest way to explore Eugene's (aka Brewgene) robust craft beer and fermentation scene.
My friends and I met the multi-passenger community bike at the Fifth Street Public Market on a balmy September night. The contraption looks like a caterpillar on wheels, whose legs are made of twelve stationary bikes, two without pedals. For the not-so-mobile folks- (like my colleague who underwent knee surgery two weeks ago), there is a bench as well.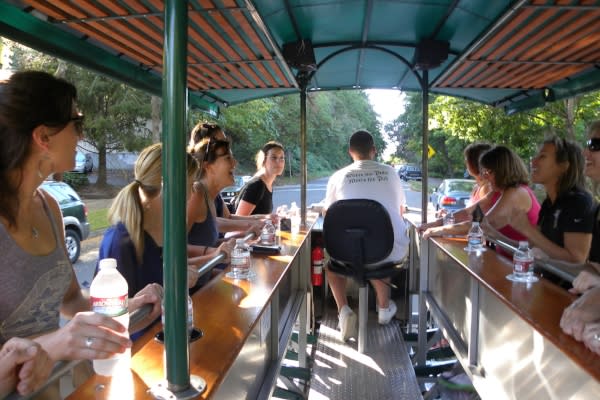 Our chauffeur for the evening, Pacific Pub Cycle co-owner Tom Baimbridge, turned up the tunes and we were on our way. We all started pedaling and quickly realized we would be earning our IPA's.
Feeling the brew-inspired burn, we made our way to the first stop, Steelhead Brewing Company. Steelhead is one of Eugene's oldest breweries, marking more than twenty years of brewing in the Willamette Valley. You'll find their bottled beer under the McKenzie Brewing Company label. While sipping my Barracuda Blonde, all I could think about was getting back on the cycle pub. Our journey had just begun.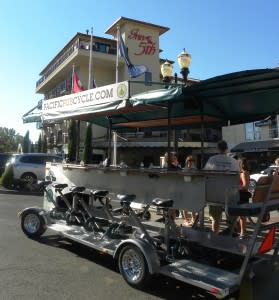 The cycle pub looks pretty ridiculous, so it attracts lots of laughs, waves, hoots and hollers from anyone who sees it. We reveled in that attention, cheering back. Tom rang the trolley bell.
Around the base of Skinner Butte Park we went, by the Willamette River and into the Whiteaker neighborhood (aka The Whit), the hub of Eugene's brewery district.
We pulled into Oakshire Brewing, and Tom listed off the single batch beers on tap. I heeded his advice and went for the Big Black Jack Imperial Chocolate Pumpkin Porter. Delicious! What I love about Oakshire is that they always have single batch beers, and the only place you can find them is at their tasting room on Madison Street.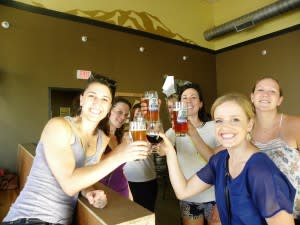 Like climbing onto a carousel horse, we boarded our bikes and started pedaling. Before beer, the Whit was known as a mecca for art and culture.
Our next stop took us to Ninkasi Brewing Company, who many feel put Eugene craft beer on the map. Nikos Ridge and Jamie Floyd started brewing in the Whit in 2006. Since then, Ninkasi's Total Domination IPA has helped them totally dominate their way into restaurants and stores across the country.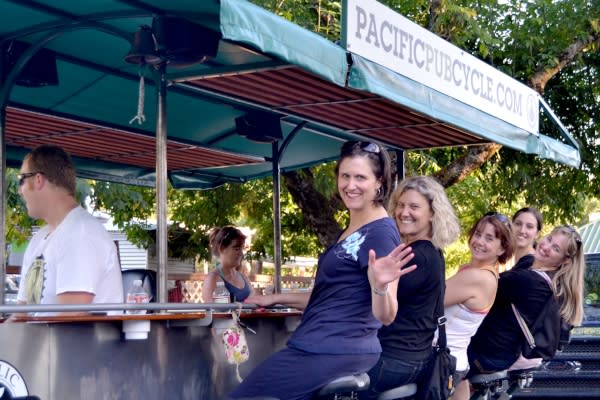 Last, but definitely not least, we rounded the corner to Hop Valley Brewing Company. Divided into three distinct tasting room experiences, Hop Valley's brand new tasting room is by far the biggest in the neighborhood.
The joy ride continued as we made our way back to the Fifth Street Market where the next group, made of several Ninkasi staffers, was waiting for their turn.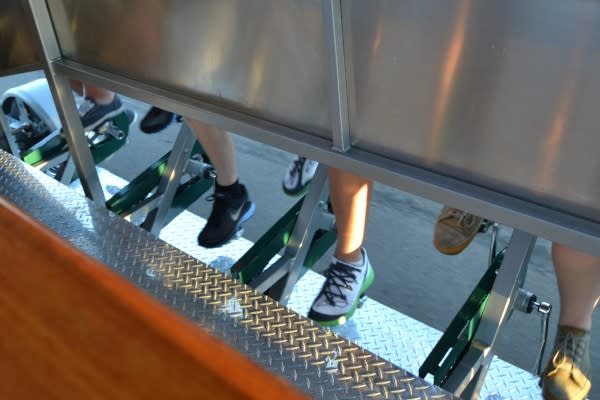 Pacific Pub Cycle offers brewery tours seven days a week in Eugene. A two-hour ride runs $300. At fourteen rider capacity, that's $21 a person.