Back To Previous Page
Holiday gifts for sale at the Adventure Center
Published: December 02, 2014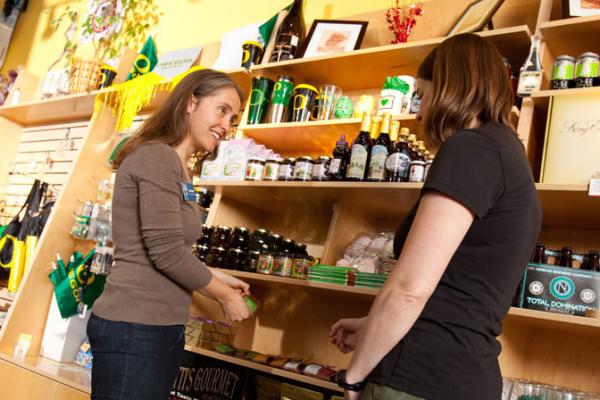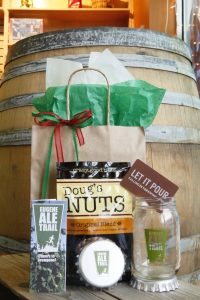 Share Oregon adventures, locally-made gifts, craft beer and South Willamette Valley wines with your loved ones this holiday season. The Eugene, Cascades & Coast Adventure Center is the go-to place for products made in Lane County and Oregon-inspired presents.
Craft beer enthusiasts will love the Eugene Ale Trail gift packages. Priced at $15 - $30, each includes either a $10 or $25 gift certificate to a local brewery, a branded mason jar, a bottle opener magnet, a bag of Doug's Nuts and a Eugene Ale Trail passport. The passport guides beer travelers to 11 of the area's best breweries, from Agrarian Ales, whose tasting room is in a 1920s dairy barn on an organic hop farm, to Falling Sky Brewing, an urban gastropub that nails it with stellar food, beer and hand-crafted sodas, to Oakshire Brewing, whose single batch beers can often only be found in the tasting room.
"From lavender and alpaca products to local beer and wine, people are often surprised by the wide array of locally-produced gifts we have available," said Samara Phelps, Adventure Center Manager. " We carry items that represent Lane County and Oregon as an extension of our brand. Visitors and residents often want something to take home or send to friends and relatives that genuinely reflects our region." In addition to gift packages, the Adventure Center also offers a selection of 53 different Lane County wines and beers. More than 20 different types of food products are available ranging from jams, jellies, nuts and sauces to fish, chocolate, and cinnamon.
Books, guides and atlases make great gifts for adventurers, inviting them to explore area hiking trails, waterfalls, wildflowers, birds, lighthouses and local history. Include an annual forest, recreation, or park pass to help them on their way.
Create your own holiday memories by embarking on a Christmas tree hunt in the Willamette National Forest. The $5 permits are sold at the Adventure Center.
For more holiday gift ideas, see our photo album on our Facebook page. Save 20% of your purchases with our Winter Daily Deals. Each day of the week offers a different Daily Deal.
The Eugene, Cascades & Coast Adventure Center is located at 3312 Gateway Street in Springfield and is open seven days a week from 9 a.m. to 6 p.m. For more information, call 541.484.5307 or visit www.EugeneCascadesCoast.org/Adventure-Center
Comments