Back To Previous Page
Your guide to a holiday weekend in Cottage Grove
Published: December 10, 2014
I saw a gorgeous light display, wondered the aisles of a used book store, checked out a new (to me) restaurant and enjoyed a fabulous holiday show all in one place last weekend – Cottage Grove. This All-America City is 22 miles south of Eugene and known for a rich gold mining past and historic covered bridges.
My sister had read rave reviews about the Cottage Theatre's production of "She Loves Me,: so I built my Saturday around the show. I invited a friend to join me and couldn't have come away with more holiday cheer and wonder.
Here's a recap of where we went:
Village Green Resort & Gardens We started our evening with a walk through the Christmas light display at the Village Green Resort & Gardens. What a treat! The resort is decked out for the holidays. We sipped delicious mulled wine and hot chocolate from the lovely outdoor bar as we walked through tunnels of twinkling blue and green lights that made us feel like we were underwater. Coils of rope lights hung from the trees to look like ornaments. My only regret was that my daughter wasn't with me, because the display is perfect for families. She would've loved sitting around the fire pit and munching on s'mores from the packages available for purchase. A roaring fire in the lobby added a nice seasonal touch.
Kalapuya Books After visiting the Village Green Resort, we headed to downtown Cottage Grove. I'm a sucker for used bookstores. So, despite the galleries, museums, restaurants and boutiques around us, we ended up browsing Kalapuya Books. It was my first time there and definitely not my last. It was such a cool atmosphere! Plus, they had a great selection of books about Oregon. I bought one about pioneer women. There was a treasure hunt going on, so folks were coming in looking for clues, which only reaffirmed Cottage Grove's small town charm.
The Axe & Fiddle Public House The bookstore opened up into the Axe & Fiddle Public House, a local favorite. We found a quiet table at the very front of the restaurant with windows out onto Main Street. The bartender excitedly told us that her friend was the male lead in the play we were going to see. We had spent too much time at the bookstore, so we ordered a quick round of nachos before we were on our way.
Cottage Theatre We hopped back in our car and headed to the main event of the evening - the Cottage Theatre's performance of "She Loves Me." Right away we were welcomed by friendly staff. Our seats were in the front row. They weren't kidding when they said "pull your legs in during the show" because actors walked continuously in front of us. It was quiet entertaining and enjoyable! Plus, the costumes and set were first rate. The female lead did an excellent job singing. It was set to live music so you could see the musicians up above the stage – very cool. The show runs Fridays – Sundays through December 21. You can purchase tickets on the Cottage Theatre's website by clicking on "Get Tickets."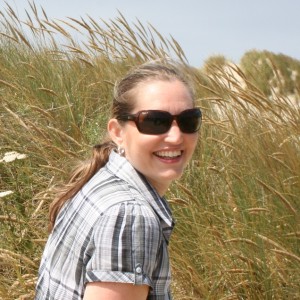 About the author: Taj Barnhart Morgan is the Web Content Manager for Travel Lane County.  A journalism graduate from the University of Oregon, Taj has two decades of special event management and hospitality marketing experience in San Diego, CA, and Maui, HI. Passionate about mothering, and back to her Oregon roots, she is discovering Lane County all over again through the eyes of her daughter.
Comments