Back To Previous Page
Homeschooling Guide to Lane County
Published: September 03, 2020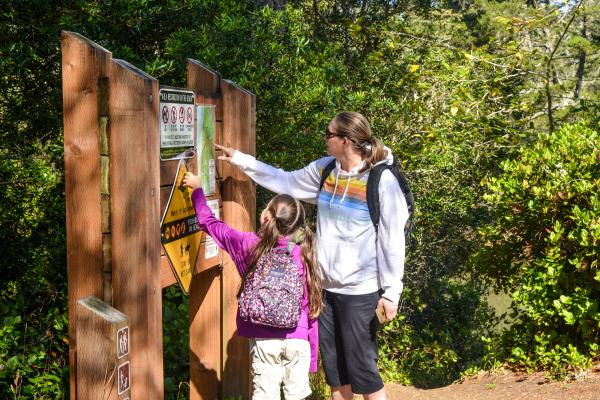 Enrichment opportunities for school children, both virtual and in-person, are plentiful across Lane County. If you are looking for educational activities or "field trips" for your homeschooled children, or to augment distance learning; here is a guide to helpful local programs. Some are free and some require paid registration.
Enhance the experience by creating an "education staycation" for your family— simply select a Eugene - Springfield hotel as your basecamp and then pick two or three activities from the list below. The kids won't forget this homeschool!
Cascade Raptor Center
Learn all about raptors with Eugene's amazing raptor rescue, rehabilitation and educational facility. The Cascades Raptor Center offers a personalized virtual program where you can schedule a Zoom session with a raptor "ambassador" and their handler. Choose an encounter with an owl, hawk, osprey or kestrel. You can also plan an at-home project using the resources and activities listed on their website. From making a paper mache owl, dissecting owl pellets to building a barn box, there are plenty of engaging educational things to do! Cascades Raptor Center also partnered with Eco Kids Village, a local preschool, to create a birds of prey craft kit for further home learning. If you want to tour in-person, please note that due to COVID-19 restrictions, entrance is limited—so advance reservations are required. 
Expand your study exploring the Oregon Department of Fish & Wildlife's birding resources. Meander the West Eugene Wetlands for family "fieldwork".
Whole Earth Nature School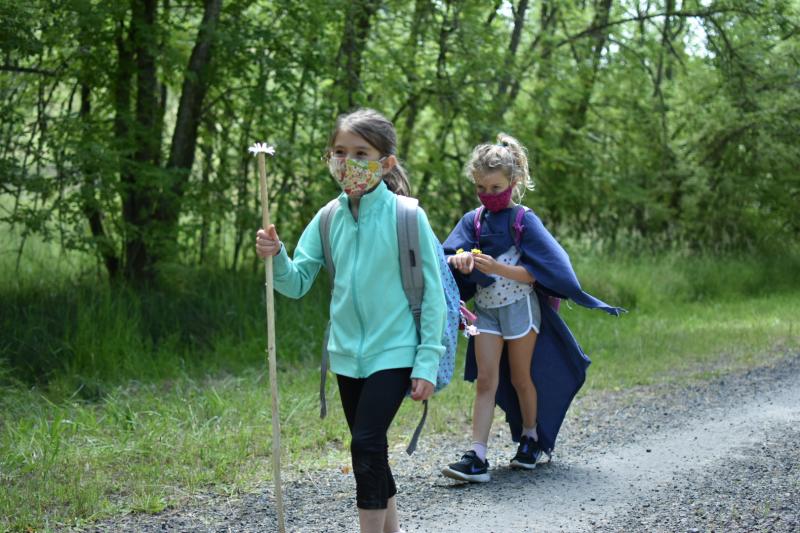 The purveyors of one of the most popular local camp and after school programs — Coyote Kids — is bringing a homeschooler's version to Mount Pisgah. For one day a week, your homeschooling student, along with a small pod of students, spends time immersed in nature learning new outdoor skills and quiet observation. Choose courses that highlight stealth and forest integration, naturalist studies or socio-emotional community building. But that's not all — Whole Earth Nature School also offers an extensive online curriculum designed to augment or integrate with distance learning. You can also enroll your child in an after school remote program that provides online supervision for outdoor exploration activities. With all the variations, there is no excuse for your child not to have a little "dirt time" every week! 
Nearby Nature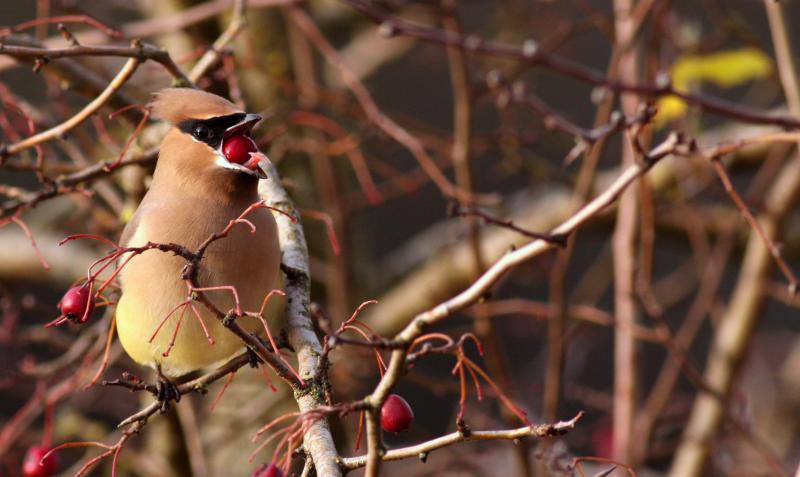 Waxwing bird with berry by Quentin Furrow
Nearby Nature is offering Nature Schooling for families looking for activities they can do right in their neighborhood. For Fall 2020 you can also register for small group in-person programs designed to complement the Eugene Online Academy or homeschool. These half or full-day sessions are held once or twice a week at Nearby Nature's "Learnscape" in Alton Baker Park, or at other park locations. There is also a pre-school option prioritizing enrollment for essential workers. 
Even if you don't enroll in Nearby Nature, take the children to Alton Baker Park to explore the park's interpretive plaques and art installations. From the Kalaypua Talking Stones to the Nobel Peace Laureate Project memorial, there is a lot to explore in the park.
Eugene Science Center
The Eugene Science Center is a great place to augment homeschooling topics on astronomy and science. While the exhibit hall remains closed, the planetarium has re-opened with new guidelines. Learn about the Earth, Moon and Sun or about planet Earth's volcanos, earthquakes and tsunamis on a 360-degree screen. You can also browse their website for online science resources. After a series of successful summer camps with COVID-19 protocols, stay tuned for more offerings.
Adventure! Children's Museum
Just because the museum at Valley River Center remains closed, doesn't mean kids can't continue adventuring! Promptly at 3 p.m., login in for an Afternoon Online Day Camp for painting, writing and crafting. Even learn how to create dollhouse miniatures! Participants will receive a delivery of needed camp supplies the week prior.
Museum of Culture & Natural History

Explore the Museum of Culture & Natural History in-household groups of ten or less during limited viewing hours or virtually via their online collections gallery. Homeschooling families can utilize the museum's extensive teaching resources for lesson plans and activities designed to complement a museum visit. Augment unit studies on Oregon with a deeper dive into the climate, landscapes and natural events that shaped our state. Study the archaeology that tells the stories of the First Nations through the present day.
Singing Creek Educational Center
Located in the historical Snapp House in Cottage Grove, this non-profit offers multiple educational programs including classes made for homeschoolers. This fall they are rolling out an entirely online history curriculum. Watch videos on how to churn butter and how to write with a quill pen. 
Sea Lion Caves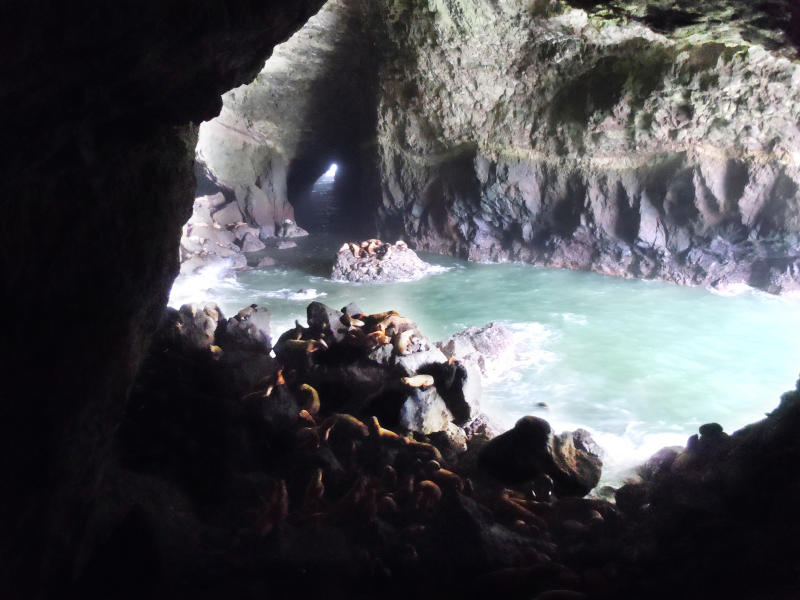 Inside the Sea Lion Caves
Take a day trip to the Oregon Coast to see the sea lions. Information-rich packets designed for school field trips can be downloaded on the Sea Lion Caves website. These packets are easily adapted for homeschool. Along with helpful planning tips for the visit, there are pre and post activities and worksheets to help students assimilate the experience. From learning about scientific principals to geology to history, there are many opportunities to tie-in grade school and middle school curriculum. One fun exercise requires an ice cream sandwich (pick one up in Historic Old Town Florence at Milk & Cookies) to simulate plate tectonics — the kids will love that for sure! 
The Sea Lion Caves are open daily but due to COVID-19 capacity limits, there may be a wait. Masks are required. 
More Coastal Education
Participate in Oregon State University's self-guided "Quests" along the Oregon Coast. There are two of these educational explorations right in Lane County: Siltcoos Lagoon Quest and Historic Florence Quest. Purchase a Quest book ($10) at the Florence Area Chamber of Commerce or Books 'n' Bears in Historic Old Town Florence to get started. 
Cape Perpetua is also a great place to explore from its tide pools to its stunning views. Their website provides pre-visit information for hiking and beach access.
Extend your marine studies and drive further up the coast to the Oregon Coast Aquarium. They have also compiled an extensive library of online educational resources. For younger kids, add-on an Eco Kids Village craft kit on ocean life.
Eugene Public Library
Don't forget the Eugene Library for homeschooling resources! Curbside pick up is available for physical items and they offer online access to books, videos and music. Some in-person services will be resuming with limited hours and new protocols for this fall.