Back To Previous Page
I'm King of the World
Published: August 08, 2018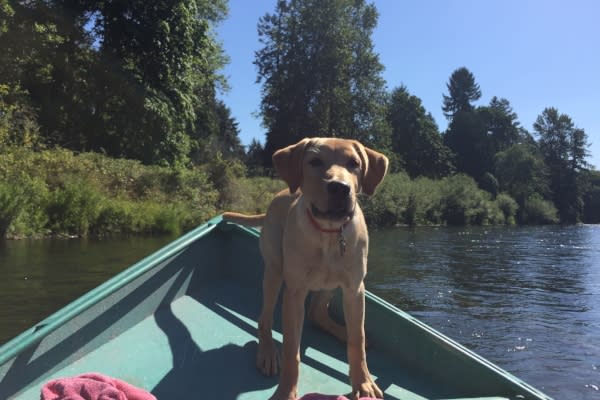 What's this thing you're hooking up to the truck?
It's called a drift boat.
Are we going back to the lake where I went on a kayak?
No, today we'll be heading to the McKenzie River. It's a beautiful river that starts in the Cascade Mountains and joins the Willamette River just north of Eugene. 
The drive to the river was pretty short.
That's the beauty of where we live. With two rivers running though Eugene - Springfield it's super easy to get out on the river without a long drive.
Why are we leaving mom's car parked here?
We will leave her car so that we can shuttle back to get the truck and trailer. You can hire people to shuttle your truck to the landing where you will take out, but this was a spur of the moment decision and I didn't have time to arrange a shuttle today.
This drift boat is a lot bigger than the kayak we paddled at the lake and this river is bumpy compared to the lake!
You do have a good view from the bow Baxter and while it's bumpy the ride will be pretty smooth. Now, upriver is a different story because that's where the whitewater is big and it feels like a roller coaster. Not sure I can take you whitewater rafting but someday we'll take the boat upriver and give you a taste of it.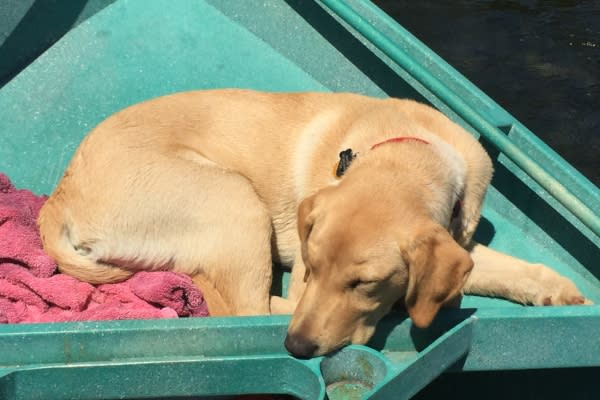 It's really peaceful and the sound of the river makes me sleepy. 
That's the great part about this stretch of the river. We won't see a lot of people at this time of day, but we will see Osprey, Blue Heron and trout eating flies on the water.  
What's that stick you're swinging around?
It's called a rod and I use it for fly fishing. Fly fishing on the McKenzie River is very popular, as are other types of fishing. Fishing is open year-round, however some sections of the river are protected and so people fishing need to be aware of current regulations.
Standing here at the boat landing, why did you take a picture of that tree?
The sign is a warning to river users that there is a dangerous situation downstream. Everyone should pay attention to changing river conditions and the state hosts a webpage that provides information about these situations.  
That's a good idea, since we want everyone to be safe and have a good time.
That we do Baxter.  
What's our next adventure?
I have a couple of ideas. How does a jet boat ride sound? Or maybe another waterfall hike? We'll come up something fun for sure! 
Follow Baxter on Instagram at @Baxteradventuredog and if you're in the neighborhood stop by the Eugene, Cascades & Coast Visitor Center at 754 Olive Street. Ask for Baxter and if he's in you can meet him and grab a photo!