Back To Previous Page
Celebrate July 4th in the Eugene, Cascades & Coast
Published: June 18, 2014
Riverside festivals, fireworks, and epic road races reign supreme during July 4th in the Eugene, Cascades & Coast region.
Check out our top picks for ways to celebrate freedom.
40th Annual Aquafina Butte to Butte - Oregon Track Club July 4, 2014 They don't call Eugene TrackTown for nothing. Locals start the 4th off with a 10K run. The 40th Annual Aquafina Butte to Butte starts with a grueling one-mile climb near the base of Spencer Butte in South Eugene, then winds through the streets of downtown Eugene, and finishes at the base of Skinner Butte.  Random prizes are given to runners and walkers in the 10K and 5K runs and walks. Extra cowbell rings go to the most festively dressed participants.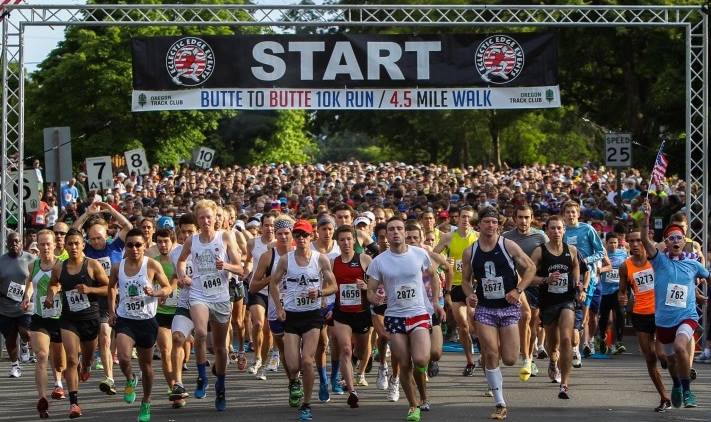 Creswell July 4th Celebration July 4, 2014 Looking for the quintessential 4th of July parade? Go to Creswell. The small town, located 12 miles south of Eugene, puts on a big time parade to celebrate the 4th of July. A fireworks show is held at dusk.
4th of July Light of Liberty Celebration in Springfield July 4, 2014 Watch fireworks reflected over the scenic Willamette River at Springfield's Light of Liberty Celebration. Island Park will fill with live music, food and family fun for this longtime local tradition. Gates open at 4 p.m. Live music starts at 5 p.m. The fireworks go off at 10 p.m.
Dexter Lake 4th of July Celebration July 4, 2014 Celebrate the holiday by supporting local firefighters at the Dexter Lake 4th of July Celebration. Venders, food, live music, and, of course, a spectacular fireworks show over the lake make this an evening not to miss.
Eugene Pro Rodeo July 4 – 6, 2014 Fireworks, cowboys and motorcycles. It doesn't get much more Americana than a trip to the rodeo. Eugene's famous Pro Rodeo is back for an unprecedented 23rd year. Yeehaw!
Art and the Vineyard and Freedom Festival Fireworks July 4 – 6, 2014 Wine, dine, and wonder through the art-lined aisles of the premier art and wine festival in the South Willamette Valley. Art and the Vineyard attracts more than 25,000 visitors annually during the Fourth of July weekend. The event is a fundraiser for Maude Kerns Art Center.
Willamettans Fourth of July Celebration July 4 – 6, 2014 Ring in freedom in your birthday suit at the Willamettans 4th of July Celebration. There will be fireworks on Friday and a 'rock and roll' dance on Saturday.
Read more about our 4th of July events.
Comments