Back To Previous Page
Kentucky Falls Makes Me Smile
Published: January 10, 2014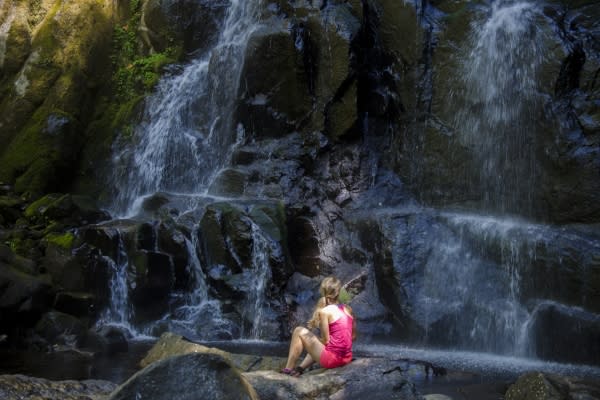 So off I went with my friends, Jill and Jesse.
It takes about two hours to get from Eugene to the Kentucky Falls trailhead, but the adventure begins way before you even get there. The drive leads you 33 miles west along Highway 126, high up into the Coast Range, on steep logging roads, and along white-knuckle inducing cliffs (my heart is racing just thinking about the drive). The best way to get there is to follow the directions on the Siuslaw National Forest website. Note: it would be VERY easy to get lost, so track your mileage carefully.
Once you get there, the trailhead is across the street from the information booth.
So why did I seemingly risk my life on crazy logging roads for a hike? I found my answer less than a mile in. That's when you descend through Douglas firs and find the first of the three huge waterfalls that this somewhat strenuous trail has to offer. Upper Kentucky Falls is majestic. Few people know about this trail, so you feel like you've discovered a new wonder. Jill, Jesse and I almost forgot to keep walking. All we wanted to do was stare at the cascading beauty in front of us. But we knew there was more to come, so along we went.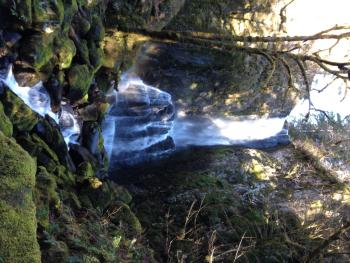 Lower Kentucky Falls
At 2.2 miles in, you turn a corner and are greeted by twin 100-foot waterfalls, with North Fork Falls on the left and Lower Kentucky Falls on the right. I couldn't help but smile. Natural beauty that stunning has that effect on me. It makes me happy and fills me with joy. Jill, Jesse and I crawled over rocks and along the river to the perfect place for our picnic. We devoured our turkey sandwiches and ate up the view before us.
While steep, the hike back to the car was satisfying. Our quads burned as we climbed the trail, but we had an extra spring in our steps. We were surrounded by billowy ferns and towering firs; eye candy that I couldn't get enough of.
We got back in the car and made our way back to Eugene, each of us thinking, man, this will be hard to beat.
About the Kentucky Falls Trail The Kentucky Falls Trail is a moderate 4.4 miles round-trip hike in the Siuslaw National Forest. Upper Kentucky Falls is 0.8 miles into the hike. Two more waterfalls are 2.2 miles from the trailhead. The Kentucky Falls Trail intersects with the North Fork Smith Trail, which continues for another 6.5 miles. Find the best directions on the Siuslaw National Forest website. Please note, the drive is steep and complicated, so follow the directions carefully.