Back To Previous Page
Kids Create! Eugene offers a creative way to sample the arts
Published: July 18, 2014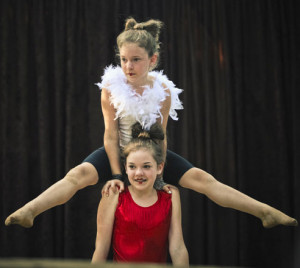 Summer is far from over, yet back-to-school supplies are already bombarding store shelves. While I refuse to succumb to the retail push to purchase pink erasers and No. 2 pencils—instead of sun block and flip-flops—I can't help but think of those fond childhood memories of checking off my school list. My favorite supplies—a new set of watercolor paints and a box of 64-count crayons. You know, the one with the built-in sharper. I imagined all the art projects I could make.
While I'm by no means a professional artist today, I still love to create. And as a mom, I enjoy seeing my kids engage in the creative process. Watching my daughter's play practice or watching my son build a digital, sleek modern house on the computer, there's a certain joy and discovery in creative expression. After all, it's quite fascinating when you think about how random notes can be transformed into a song, how a script can evolve into heroes and villains, or how reclaimed trash can be made into treasures.
Though the creative process is certainly lots of fun, it goes far beyond the end result. It's more than the year-end recital or the framed work of art. It's also about gaining confidence, focus and discipline. Learning to collaborate and communicate.
Finding the right creative outlet for your child, though, can be difficult with so many choices—especially with the vast options in our local region. That's why I'm so excited about an upcoming event called Kids Create! Eugene on Saturday, August 16. It will be like a four-hour buffet of art—a sampling of theater, dance, music, painting, drawing and more. Everything from create and take projects to live youth performances. And, while the kids are digging their hands into clay or learning a few dance moves, you'll have a chance to explore programs, classes, lessons and other opportunities to get your child involved in the arts.
Open to all, the event is free and will take place both inside the Hult Center Studio and surrounding outside plaza, as well as the outdoor space at the Hilton Eugene and Conference Center. So make a plan to join the fun. Come and get your hands on a paint brush, write some poetry or sketch a cartoon. Just get there early if you want to be the first to crack open a new box of crayons.
Learn more online about Kids Create! Eugene, the schedule of events, and the participating arts groups, or call event organizers at 541.953.6604 or 541.743.8762.
About the author: Lisa Lawton is the Director of Community Relations at Travel Lane County, where she heads up the Eugene, Cascades & Coast Kids' Adventure Club and is a key organizer of Kids Create! Eugene. When she's not planning, talking or writing about adventures in the region, she is out doing them. Find out about events and activities you can do with your family at www.EugeneCascadesCoast.org/family. 
Comments