Back To Previous Page
Locals' Guide to the World Athletics Championships Oregon22
Published: July 11, 2022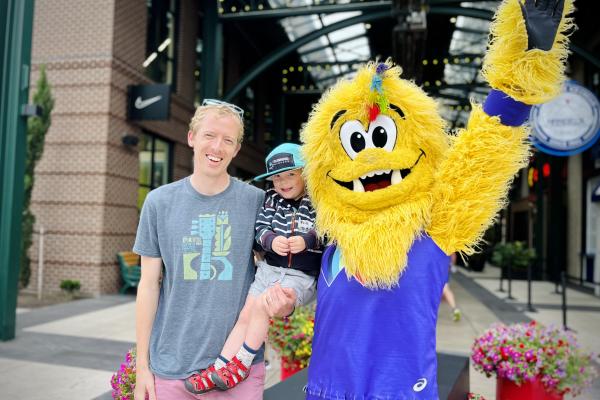 While Eugene and Hayward Field at the University of Oregon are not new to hosting the world, the World Athletics Championships is new to Oregon — and to all of North America! From July 15 - 24, TrackTown USA will be center stage for sports fans everywhere as the world tunes in to watch the greatest track and field athletes compete.
While the event is record-breaking in importance, the number of people in attendance will be well within the range of what Eugene is accustomed to hosting at sporting events. Whether or not you have a ticket to attend a session, there are a lot of fun things happening all around Eugene and Springfield that you won't want to miss! We encourage you to come out downtown and mingle with our international visitors and help welcome the world.
Here's our handy guide to what you should know about the World Athletics Championships Oregon22.
Events and tours
Local businesses are ready to roll out the red carpet for our guests with a full lineup of events and happenings in Eugene and Springfield. Check the community event and tours calendar to stay in the loop on free live performances, group tour opportunities and expanded hours in July for local favorites like the Lane County Farmers Market.
If you're a track and field fan, you won't want to miss themed events like the Prefontaine Look-A-Like Contest at Thinking Tree Spirits and the MOWA Track & Field Heritage Exhibition at the EMU on campus. But there are plenty of other types of events too: live performances by The Jazz Station at the new Farmers Market Pavilion and summer favorites like the Lane County Fair and Eugene Emeralds baseball. Ninkasi Brewing has crafted a special Heart & Home Pale Ale available at The Better Living Room for a limited time. And restaurants will be staying open later — so enjoy the nightlife!
Eugene Riverfront Festival
To celebrate this historic event, the city is throwing a big party! From July 15-24, Eugene's Downtown Riverfront Park will be the place to be as it transforms into the site of the Eugene Riverfront Festival. This free event features daily food and drink vendors, an artisan market, a Kids' Zone and a live stream of WCH Oregon22 events.
The only available parking at the festival will be for those with an ADA placard, so plan ahead to walk, bike or bus to the event. The City of Eugene has incorporated a Trip Planning section into the Eugene Riverfront Festival website to make it easy to plan alternate transportation options.
What about crowds and congestion?
An expected 20,000 people are expected to move through our region daily, which is expected to be easily assimilated within our community due to the careful preplanning that has been done. (Remember that the University of Oregon's approximate student population is around 20,000, the Oregon Country Fair attracts approximately 35,000 people and Autzen Stadium holds approximately 54,000 people — our community is experienced with these influxes.) Athletes will be housed primarily on and near UO campus, while spectators will be staying as far away as Portland. Traffic impacts should be minimal, but read below so you're prepared for temporary alterations.
A looping free shuttle service will be offered between Valley River Center and Hayward Field. Private transportation providers and the City of Eugene are encouraging the use of active transportation including bike share, bicycle rentals and walking from bus stops and rideshare parking lots. 
LTD is expanding their EmX service during this time period; however, all LTD passengers are encouraged to plan accordingly as there may be detours and potential capacity limits on specific routes. This could delay usual transit trips. Ride free by showing your WCH Oregon22 tickets or official meet credentials. View LTD service alerts online or follow @LaneTranist on Twitter.
Hayward Field on the University of Oregon campus will see the largest volume of people. Traffic management strategies include road closures, designated parking lots, drop off and pick up locations and bike valets. If you are planning to visit the University District or the South University Neighborhood, please note that Agate Street will be closed between E 18th Ave and Franklin Blvd, while sections of E 18th Ave, E 19th Ave, E 17th Ave, E 15th Ave, E 13th, Moss St and University St in the immediate perimeter of Hayward Field are restricted to accredited and University of Oregon vehicles only.
On two days, July 17 and 18, marathon races will temporarily impact roads around Alton Baker Park in the morning. If you live or work in the vicinity of the marathon route, plan ahead.
Watch the event
WCH Oregon22 has two road races that will be free to spectate! On July 17 and 18, the men's and women's marathon will wind through Eugene and Springfield. The start and finish line are located at Autzen Stadium and the course features sections previously tread in the Olympic Trials. Also on July 17 is the ASICS Uplift Oregon 5K, where runners can register to run on part of the Marathon course. The 5K ends at Autzen in a fan festival so runners and spectators can celebrate as the WCH Oregon22 athletes finish the marathon. On July 15, 22 and 24 there will be a race walk — a unique event where the world's top competitors speed walk faster than many of us can run!
Of course, for the ultimate once-in-a-lifetime experience you'll want to consider buying a ticket to one of the sessions of the big event. While several sessions are sold out, you may be able to snag tickets for others. Every ticket is guaranteed to come with a piece of that Hayward magic that makes us so proud to get to live here in TrackTown USA!
There are also two opportunities to watch the action unfold at Hayward Field without being there: the competition will be live streamed at the Eugene River Front Festival and at Oakway Center in the Heritage Courtyard.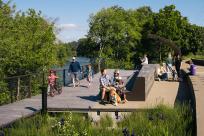 The Eugene Riverfront Festival is the primary celebration hub during the World Athletics…
More
›