Back To Previous Page
Lowder Mountain Wildflowers
Published: July 01, 2016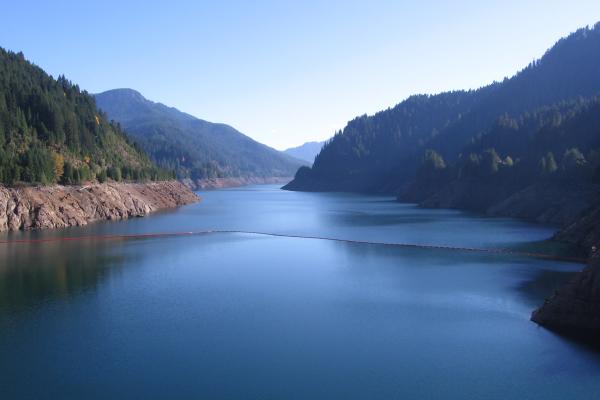 As the Eugene, Cascades & Coast region transitions into summer the snow in the Cascades has melted and been replaced by a rainbow hillside of wildflowers! Follow along with Adventure Specialist, Gabrielle Lent, as she explores the Western Cascades and Lowder Mountain.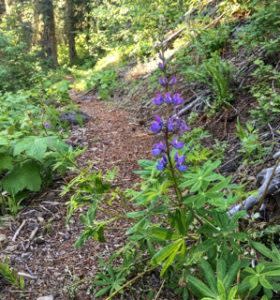 I have been having a lot of fun in the Western Cascades. This week I made the trip to Lowder Mountain where spring is warming to summer, ushered in by the blooming of high altitude flowers in hotter weather. Indian paintbrush and Tolmie's Cat Ear currently run rampant at the summit.
To reach my destination I traveled east on Highway 126 to Blue River, continuing right on the Aufderheide until arriving to Cougar Reservoir. My, did that water look inviting – a liquid sapphire glinting in the sun. I wasn't there to swim, however, and turned left to cross the dam.
Passing Echo Day Use Area I soon came to Lowder Mountain's secluded trailhead. The lack of other cars in the gravel lot made this access point feel very deep forest as I realized that no service is a real thing. I had two and a half miles ahead of me making for a five mile out and back trek. I crossed my fingers for no snakes and began to walk.
The trailhead for Lowder also marks the start of Walker Creek and beyond that, Quaking Aspen Trail. Over the course of my chosen path I would gain 900 feet in elevation, making this a relatively flat and easy hike. This being said, the trail was slightly overgrown in some areas and my ankles did have to do some bush pushing. For your comfort, I recommend higher boots with thick socks to keep debris from climbing inside of shoes.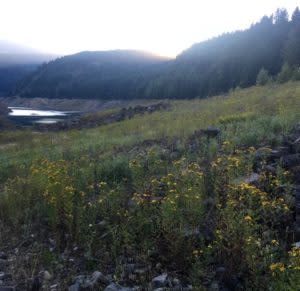 Reaching the top of Lowder Mountain was kind of obscure, the reward of this hike being the walk itself and not the summit. The apex can be found at the end of a lightly worn path branching off to the right just before the path descents and is interrupted by a rippling stream.The flat rock surface of cliff is covered in succulents and colorful blossoms knit together like a Pendleton blanket.
It seemed so sudden but the sun began to set. I headed back down the mountain, returning to my car, never once bothered by anything more than the gentle sound of birds in trees. 
Driving away, the motion of my wheels flushed a pheasant or two out of the brush. Something about seeing their bodies so close to the ground made me feel better about the snake population, like maybe there wasn't one. I smiled as the songs on the radio took me home.