Kudos to Kelly Clarkson! Ring the cliché bell, your song "Stronger" got me through the longest bike ride of my life, a ride that took me 38 miles through high desert, Ponderosa pine forests, lava fields and a cathedral of Douglas fir lined switchbacks.
On Friday, my co-workers/friends and I rode the McKenzie Pass Scenic Bikeway, which follows Highway 242 from Belknap Hot Springs to Sisters. Each spring, ODOT clears one lane of traffic and allows cyclists free reign while the second lane melts. This year, the road is closed to cars until June 16, so this was the chance for us novice riders to give our go at one of the most scenic rides in the state without having to dodge cars. We booked a shuttle through McKenzie River Mountain Resort. They dropped us off at the eastern most starting point.
Samara, Natalie and I went the "wimpy" way, starting in Sisters and ending in Belknap. Wimpy my left toe. The ride, while more gradual (2,000 feet gain in 15 miles) than the other direction (3,600 feet in 20 miles), is still challenging and hard and trying and rewarding... in all the glorious ways that a good adventure should be.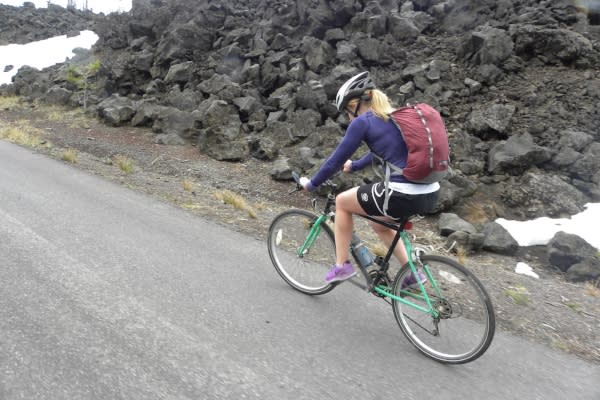 Twelve miles in, just when I thought my thighs couldn't take another orbit around the gears, we came upon Windy Point, a vista overlooking 1,500 year-old lava fields.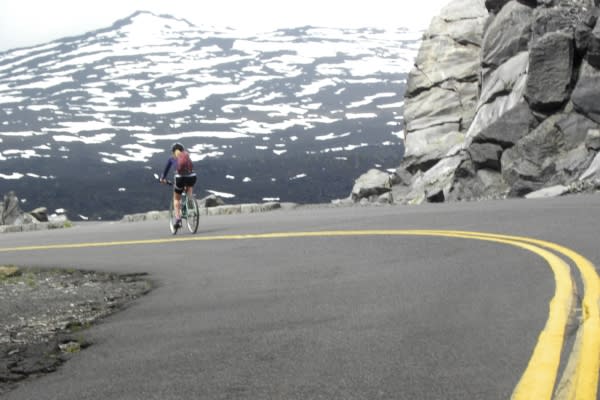 The higher we climbed, the worse the weather got – first rain, then snow then sleet. This is a good reminder to check the forecast and pack layers JUST IN CASE. It may be 60 degrees when you start, but weather patterns change with elevation. You are climbing a mountain, after all. Lucky for me, we were warned before we left that it was nasty up top, so I stuffed my fleece, parka, wind pants and mittens into my backpack at the last minute. Best decision of the day.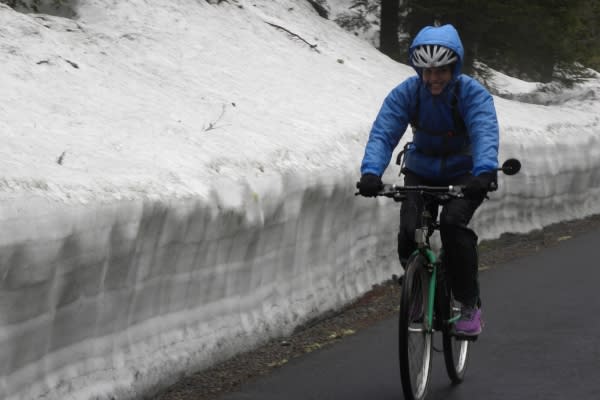 We rounded a snow-lined corner to Dee Wright Observatory and found our first (and only) towering snow wall of the day. Amazing, yes. But even more amazing for me was the fact that we were there! – McKenzie Pass Summit, elevation 5,325 feet – Booyah!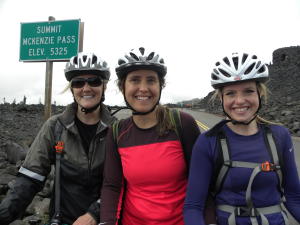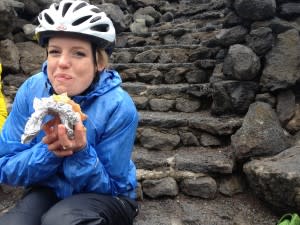 Not even the plummeting temperatures and horizontal sleet could dampen our elation at elevation. I layered up and started devouring my turkey/hummus/avocado sandwich.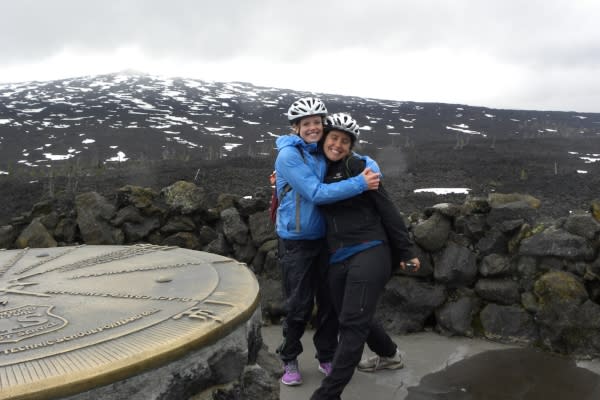 Rested, hydrated, clothed and fed, we started the 23 mile journey down the other side of the summit to Belknap.
I want to say this is where the fun shifted to mega fun, but to be honest, the first six miles of the decline were hilariously miserable. The sleet would not stop. Again, a reminder to ALWAYS PACK LAYERS.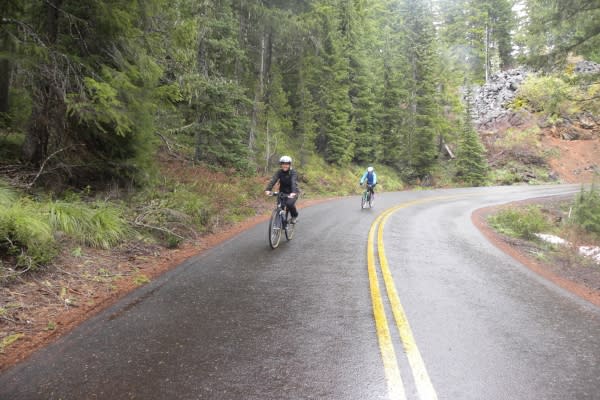 I was cold and wet but still smiling! How could I not? I was pushing myself mentally and physically and experiencing our glorious state in a brand new way. The lava always looks cool, but imagine having to work for that view. Imagine watching, smelling and seeing first-hand the climatic and ecologic changes as they happen mile by mile, pedal by pedal.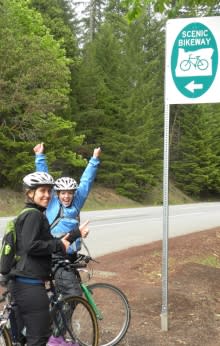 My "misery" didn't last long thanks to the next stage of the ride. 25 miles in, you hit forested switchbacks, the roller coaster of Highway 242. I flew down those puppies.
We coasted down to the finish line – where Hwy 242 meets Highway 126. We made it! Yay us!
Exhausted, blurry-eyed, and unable to walk, we cheered,celebrated and treated ourselves to the perfect nightcap for a 38 mile ride over a mountain pass – a soak at the Belknap Hot Springs.
Nature's ibuprofen. Ahhhh…
The ride is hard but definitely doable. Neither Samara, Natalie nor I are big bikers. We simply went because we'd heard about how amazing the ride was, and we knew that we'd make it eventually.
What better time to try it than when Highway 242 is closed to cars, so you can take your fancy time and enjoy every pedal of the journey.