Back To Previous Page
Mountain Bike Oregon - Trails, Craft Beer, Camping & Fun
Published: July 05, 2013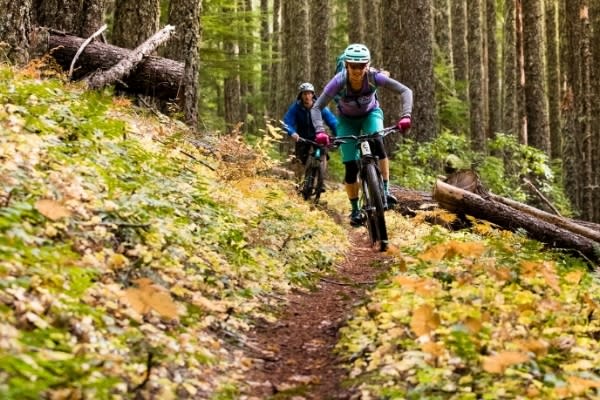 All too often I hear people say that they wish they rode their mountain bike more, or camped more, or tried new beers with new friends. Mountain Bike Oregon is the place to do all those things.
My snowboard is packed away with my snowshoes, I've located my sunglasses and tank tops and I'm back to commuting by bicycle just about every day. It's SUMMER! and time for my other favorite outdoor activity- mountain biking. When I moved to Oregon in 2004 I had no idea that I would fall in love with mountain biking. My first ride ever was on the illustrious McKenzie River Trail... since then I've gotten the rubber on the trail all around Central Oregon and even up at Whistler in Canada. I live for the moment when I am cruising on a trail and take my fingers off the brakes and just let gravity take me on a roller coaster ride. Sometimes I crash, but I just get back up, dust off and get back on the trail.
If you mountain bike and consider yourself to be an intermediate to advanced rider and haven't been to Oakridge, stop what you're doing, cancel your plans and head east of Eugene on Highway 58. Go! Right now! Seriously, the trails in Oakridge offer everything (climbing, descending, unbelievable panoramas, waterfalls, swimming holes, water crossings galore, wildflower meadows- everything!). If you're not sure where to start, don't fret. Oregon Adventures and the folks at the Willamette Mountain Mercantile can send you off in the right direction. Oregon Adventures is a shuttle company for mountain bikers by mountain bikers. Their most popular shuttle is to Alpine Trail. Make sure your brakes are tuned for this mostly downhill roller-coaster smile-a-thon ride. If you seek mileage, tack on Tire Mountain and Cloverpatch for an all day adventure.
Last summer I had the opportunity to attend Mountain Bike Oregon in Oakridge which is put on by Oregon Adventures. This three day mountain bike festival is the largest on the west coast and draws riders from around the world.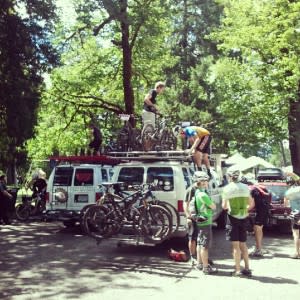 They're so popular, that there is typically one in July AND one in August. It's not quite a camp, there are no skills sessions, it's not quite a beer festival in spite of  having one of the best Beer Gardens. It is best described as a big party with a bunch of like-minded people who all share a love for fat tires.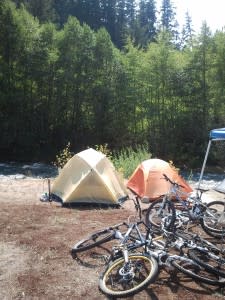 You arrive on Thursday, stake your claim of one of the prime camping spots next to the Willamette River and in the morning after a hot breakfast and a couple cups of coffee you load up on a bus to head out on the trail. Half a dozen buses are loaded up. They head out to the area trails by 10 a.m. full of anxious riders. Each of the rides has Guides - "gearitual" experts who will prevent you from getting lost, get you un-lost, advise you on how to work around broken bike parts (visualize Fred Flinstone) and to make sure you find the most scenic spot for your lunch break.  One of the biggest challenges in taking up mountain biking  is that the propensity for getting lost is high. At MBO you can explore and discover hundreds of miles of trails and never have to worry about getting lost. It's the way to go. One day of MBO could fill your well, so you can imagine what two more days of riding and fun would be like. Epic!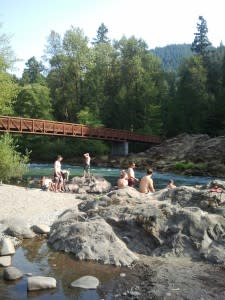 Most people just get one big ride in per day. Ambitious riders can tack on another shuttle, up to Larison Rock before dinner. For everyone else, it's time to relax, get showered or cool off with a dip in the Willamette River in preparation for a catered dinner and entertainment in the GOATS Adult Beverage Garden. Night one features the Junk Bike Toss and night two is the world-renowned Mini Bike Crit followed by one of the best raffles around where the prizes range from t-shirts to custom bikes.
Mountain Bike Oregon is family friendly too. There are quite a few families that attend. Dad and son hit the trail during the day while mom goes hiking or gets some trail running in. There are massage therapists and acupuncturists on site as well as a yogi to help you limber up for multiple days of riding. If I wasn't riding I would be floating the river with the Upstream Adventure rafting folks. It's a great vacation destination. Camping, biking, food and fun at a great value.