Back To Previous Page
Falling Sky Pour House Reigns with Good Food & Beer
Published: September 02, 2013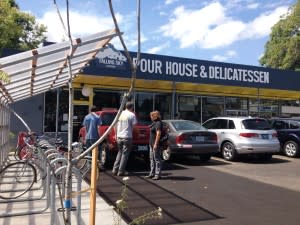 My stomach is so happy right now. I swear it's smiling. It could be the amazing corned beef Reuben sandwich I just had at the new Falling Sky Pour House & Delicatessen or it could be that that I'm just overflowing with excitement for this new addition to Eugene's Whiteaker neighborhood (aka brewery and winery central).
The Pour House is Falling Sky's second Eugene gastropub. The first location just south of downtown is a favorite hangout spot for my friends and I. Needless to say, I'd been craving a trip to the new spot, and it did not disappoint.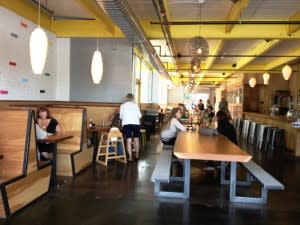 From the second I walked in the doors, I was struck by how big the space was and by the amazing attention to detail. Once you walk in, the first thing you see is a huge 100 foot communal table divided into several sections. Owner Rob Cohen explained that it was once a massive downed Douglas fir. He came across the tree a few years ago and couldn't wait to find a space that could handle something of this size. Each lampshade was handmade just for Falling Sky by architect professors at the University of Michigan.
According to Rob's research, the Falling Sky Pour House & Delicatessen is the first brewery plus delicatessen combination in the country. They brew their own beers, cure their own meats and bake all their own breads in this Jewish-style deli.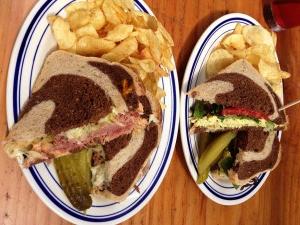 I couldn't resist the Rubin (their name for the Reuben) on house-made rye. To quench my (mid-workday, thus hop-free) thirst, I chose a homemade grapefruit soda. The sodas change daily and, come five o'clock, make a great base for one of Falling Sky's signature cocktails like the Drink A. Peach (C.W. Irwin Whiskey from Bend, OR, and chai-peach soda).
I knew lunch at the Pour House was a wise choice from first bite. The meat, softened by the perfect curing, kraut and Russian dressing, melted in my mouth. My co-worker saved me half of her smoked chicken salad sandwich.
I owe her big time. No mouthfuls of mayonnaise here. The mustard married the flavors in the smoky chicken perfectly.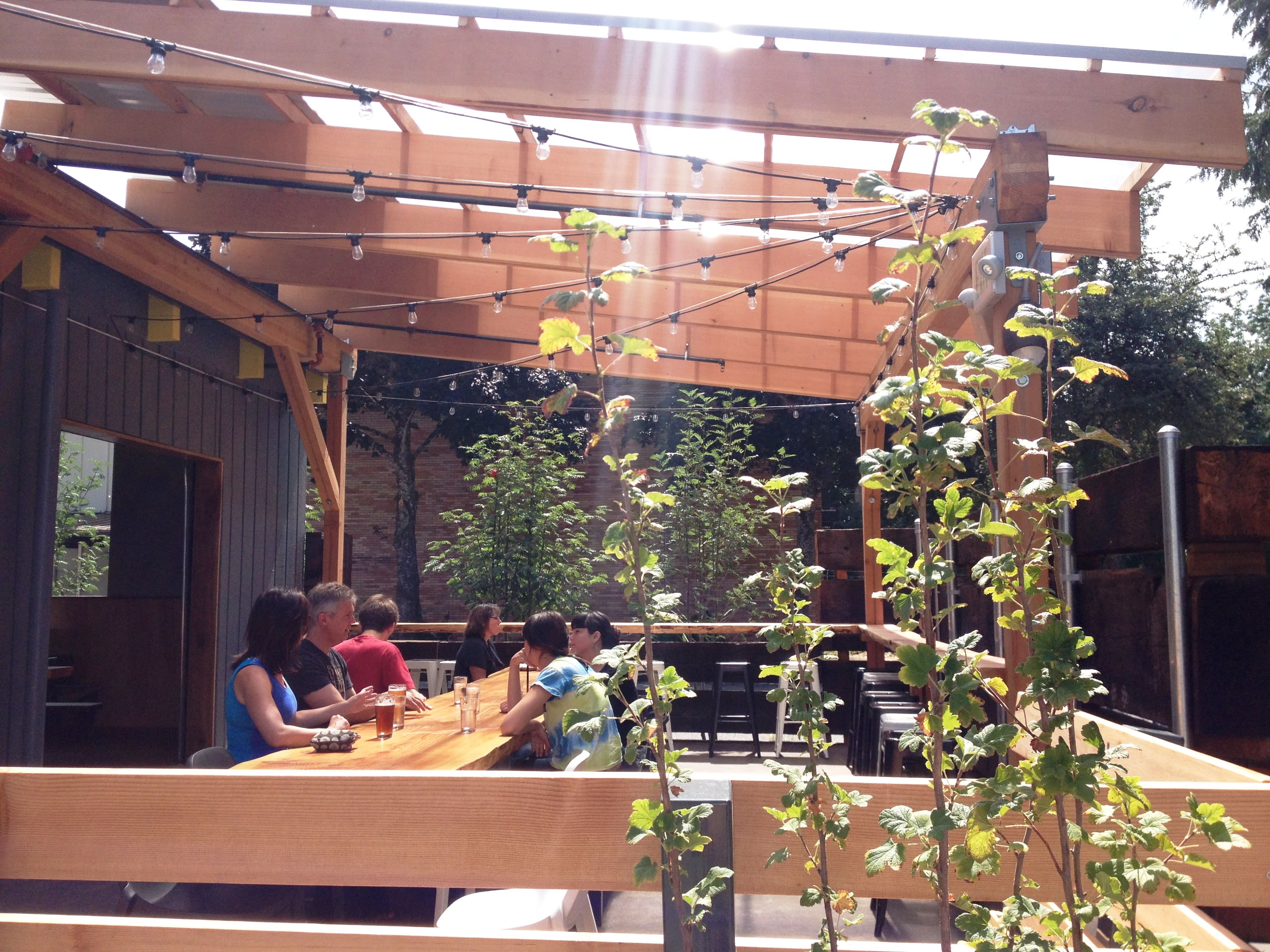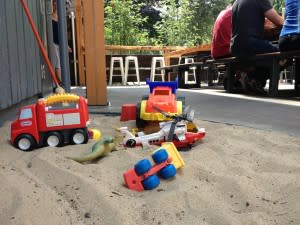 Rob designed the public house to be a place where he'd want to work, bring his two young kids and share a pint with his pals. Few breweries excel at all three concepts, and Falling Sky is one of those. It wasn't until last bite that I even saw the small sandbox on the back patio. It wasn't overly obvious but was clearly there for the kiddos. A removable wall separates the dart boards and English bar billiards table from the rest of the restaurant, making the space adaptable for larger groups, while hiding a cabinet full of games.
Falling Sky's new location couldn't be any better. The Pour House is on the southern edge of Eugene's Whiteaker neighborhood, home to all things fermentation. A few blocks north you'll find Ninkasi Brewing Company, Hop Valley Brewing Company, Oakshire Brewing, and Territorial Vineyards along with several tasting rooms and foodie-worthy restaurants.
If I were brewery hopping around the Whit, I'd definitely start at Falling Sky. Fill up on the food that goes best with beer, taste some of that beer, then head across the street to the other tasting rooms. And, don't forget to look both ways.
Cheers!