Back To Previous Page
Ready to Dine Out Again? Here's What to Expect
Published: May 11, 2020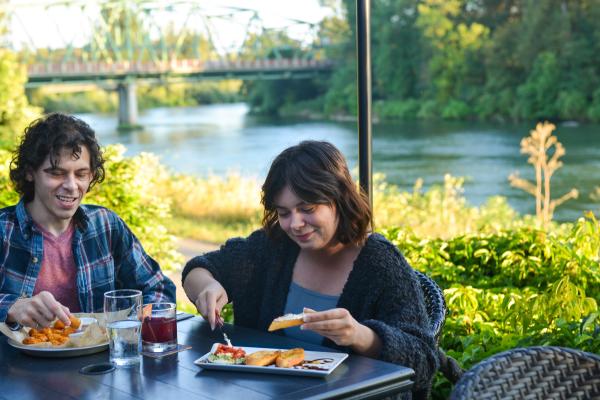 Many of our local restaurants are ready and eager to welcome locals back. And you are probably just as ready for a meal outside your house. But is it safe? What should you expect when dining out at restaurants in Oregon during Phase 2? Each restaurant may implement requirements differently, and not every restaurant is able to open yet, so it is always a good idea to call ahead. In general, here are some things you may notice:
An (Extra) Emphasis on Clean
Strict protocols on staff hand hygiene will be enforced. Glove-wearing will vary by type of establishment; in some cases, it's more sanitary and in others, it's better to keep hands bare and cleaned.
Tables, counters, seats, menus, payment devices and other surfaces touched by customers will be sanitized between parties. Doorknobs and high touch areas will be frequently cleaned. Printed menus may be replaced with menu boards and displays, single-use or verbal menus. Don't expect shared crayons or entertainments for the children unless they are strictly one-time use, like individually packaged crayons.
Payment options may be limited or handled differently. Some restaurants may only accept credit cards, advanced online orders or may require customers to complete the register transaction themselves. Exchanging cash or handling cards will be minimized or eliminated.
Additional handwashing stations may be provided at the restaurant for customers.
Roomy Seating Arrangements
Tables (for household parties up to 10 people) and single-seating arrangements will be spaced at least six feet apart. Counter and bar seating will be prohibited. Walkways may be marked to create a buffer around tables so that patrons may navigate without passing within six feet of others. Designated spaces to stand may be marked on the floor, with signage directing movement through the venue. Spacing and walkway requirements apply to outdoor seating as well.
A maximum of 50% normal seating capacity, which means that available table service will be limited. Restaurants may require spaced reservations and/or table time limits. Walk-ins will be turned away if the number of customers has reached the prescribed limit. Fun note: Downtown Eugene has created a temporary "Streatery", closing off some streets to traffic and permitting restaurant seating to utilize the streets in order to expand their capacity and provide diners spacious outside options. This program will run through October 31, 2020.
Customers may be asked to wait for their table in their cars or outside the restaurant with a restaurant-assigned beeper/buzzer.
Ordering may be done at a counter or bar, or at a table with servers six feet away. Hosts may be present to direct seating and monitor social distancing in common areas.
Face Masks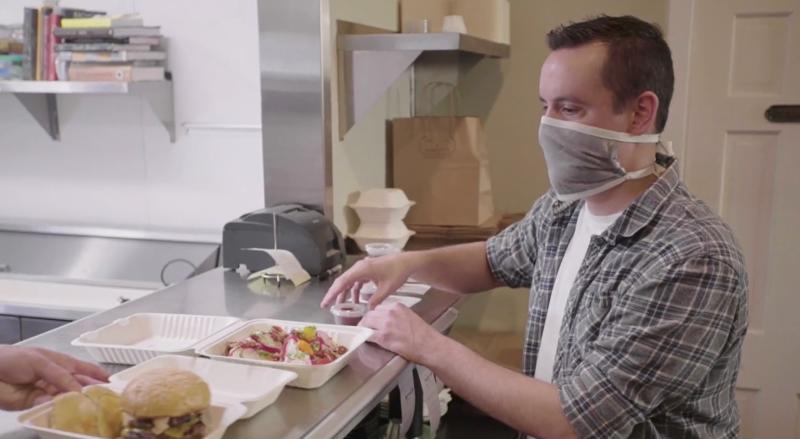 Take out safety at George + Violets Restaurant
Staff will be wearing face masks and customers are required to do so too, unless they are seated at their table. 
Personalized Service & Individual Containers
One server will handle all aspects of service for each table. Your assigned server will take your order, bus your table, serve the food and process payment. If a server moves between parties, they will wash their hands between contact.
Self-service stations will be replaced with wait service. You will note that buffets, salad bars, soda machines, refill stations and coffee stations have been removed or are not operational.
Don't look for salt, pepper, sugar, creamer or ketchup on the table. Condiments will be individual packets and presented as needed. Tables will not be pre-set with utensils, glasses or napkins. Instead, those items will be provided as needed. Some may be disposable.
Focus on the Food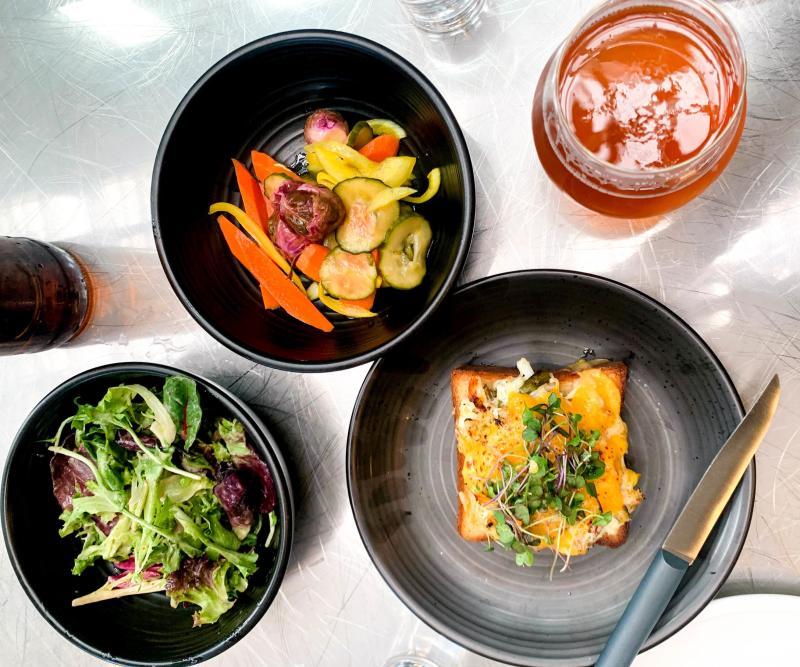 Ninkasi Better Living Room by Melanie Griffin
Don't expect a "bar scene" or communal dining to resume for a while. Dining will be a more solitary experience with your immediate party. That is great for us because our region offers amazing farm-to-table food experiences. So you'll be able to give your attention to the flavors in front of you. Jukeboxes, arcade machines and lottery terminals may be accessible if six feet apart and cleaned between customers. 
On-site Consumption Curfew
All on-site food and drink consumption, including alcoholic beverages, terminates at 10 p.m.
Tips For Being an Excellent Customer 
Beyond normal sanitation practices, some of these protocols may be challenging for restaurants to implement. Expect some awkward social moments, a decrease in clear communication and a decline in perceived service as both customers and servers navigate unfamiliar routines from behind masks. We're all in this together and are doing our best!
Kindness & Patience
We can't say this enough: kindness first. Think of your servers as your flight attendants for this return journey to "dining out." At times it may be a turbulent flight, and we're all hoping it's short and they are here to ensure your safety.
Be Generous
Enjoy your meal, but remember lingering at a table may be costly for the restaurant. Try to be respectful of everyone's time and space by not lingering too long after your meal.
If you're in a position to tip well, an extra gratuity will be very appreciated by restaurant staff who may have been without work for several months.
Limit Your Use of Restroom Facilities 
Please plan ahead and minimize use of restaurant restrooms. When you do use the facilities, give fellow diners appropriate distance. Some restaurants may be installing additional hand washing stations placed at more accessible locations.
Have Fun, Smile & Enjoy Yourself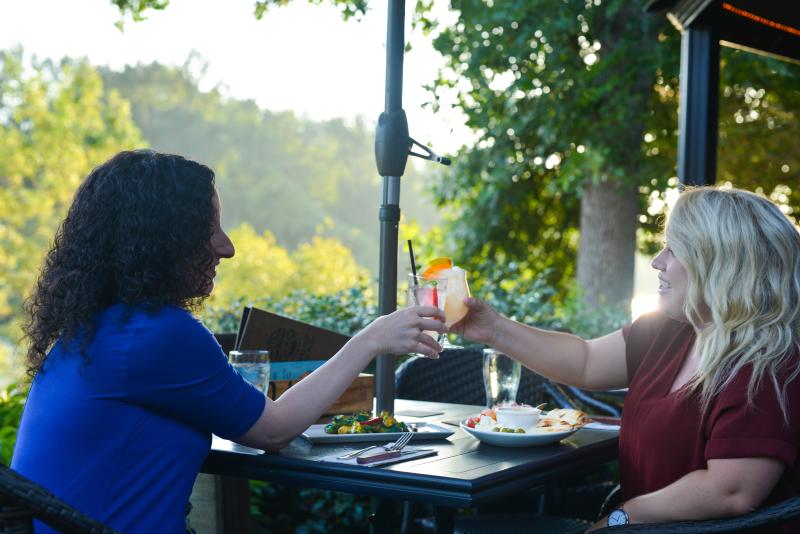 McMenamins North Bank in Eugene by Melanie Griffin  
By dining out you are supporting the community and giving a boost to local businesses and residents. It is also a break for you from the kitchen! Enjoy the fresh scenery, the service and, of course, the delicious food!
Be Prepared for Changes
Nothing stays the same and guidelines and practices may vary between establishments, communities, counties and states. Current COVID-19 case numbers, phased timelines and more may impact protocols. Restaurants may open or close without notice. Be ready with a mask and a healthy dose of patience and understanding, and you'll be ready to return to dining out!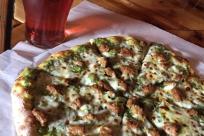 In response to COVID-19 protocols, these restaurants are providing take out, and sometimes delivery, so you can still enjoy great food…
More
›