Back To Previous Page
Roadside Wildflowers: A Bike Campout to Fall Creek
Published: April 16, 2016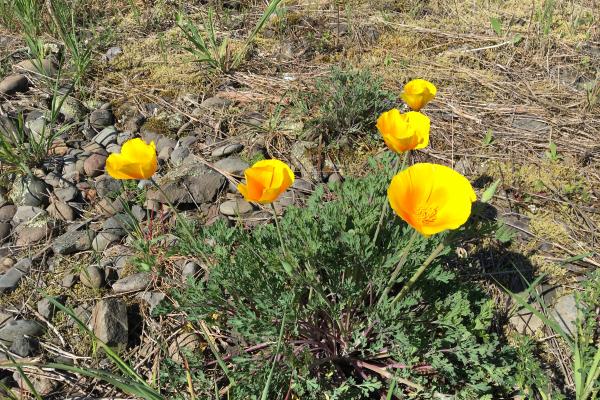 Follow Adventure Specialist and wildflower expert Gabrielle Lent through a recent wildflower bike trip to Fall Creek where she spotted Camas Flowers, California Poppies, Lilacs and more. Find more bike rides and hikes on our website, and check back here next Friday for more wildflower updates in the Eugene, Cascades & Coast region! 
I love my bicycle. One of the best things in my life is the everyday commute I make from Eugene to Springfield, a route mapped almost entirely on the non-motorized cyclist safe haven of the Ruth Bascom River Path. In total, I clock about 10 miles each trip. With spring in the air and my boyfriend by my side, I set out this last weekend to complete a bigger goal – riding out 40 miles for a bike campout in beautiful Fall Creek, a state recreation site between the small Oregon towns of Jasper and Lowell.
I love camping. Camping is not new to me, but bike camping? It would be my first time. My road bike is not designed for touring so I borrowed my mom's Trek and outfitted the back rack with two bright yellow panniers and a bungeed down Thermarest mattress. The objective was to pack light yet efficiently. Arming myself with a change of clothes, warm layers for the night, a head lamp and a small towel I headed out the door feeling ready for the world. All we'd need now were groceries.
Together, we hit the store for campfire cook-able goods and left town at our desired time, about noon. Blessed with a stunning April day, nearly 75 degrees with no humidity and a replenishing cool breeze that hit us as we took flight, we cruised the river path to its end at West D Street. Coasting through the inner neighborhoods of Springfield we were soon tackling the steady incline of S 2nd Street before reaching the path at Dorris Ranch.
You can't fully appreciate a hill until you've climbed it by bike. In the midst of my breaking sweat, I glanced over my right shoulder to admire the view.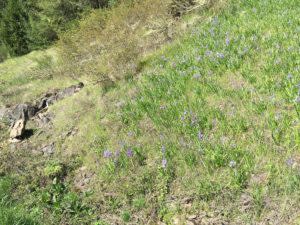 At the feet of the mighty, mossy oak trees that made up the landscape, thick leaves and tall stems of Camas flowers coated the ground. Just beyond, the Willamette River glistened in the warm light of the sun.
The rush of wind penetrated my skin as I deliciously glided down the hill and noticed for the first time the unmistakable scent of lilac in the air. I breathed deeply.
We journeyed along the river by way of the Clearwater Path and soon found ourselves on Jasper Road. Following its shoulder to 57th Street we reached Bob Straub Road. Though we could have continued along Bob Straub we opted for a longer, secret way through rolling pastures and green hillsides. The smell of lilacs still lingered all around us.
Emerging onto Jasper-Lowell Road, we stopped at the Jasper Market for provisions we still needed. Once back on our bikes, we saw signs for a local produce stand and since fruits and vegetables are always a good idea we pulled over for a snack.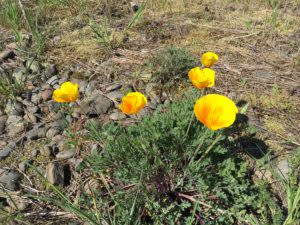 Thinking about food, I noticed the roadsides flanked with California Poppies. Their buttery yellow-orange reminded me of melted cheese. I began to get stoked on the idea of pizza as we had scoped our course by motorcycle previous to embarking and made note of a cute little store that offered just such.
We ate a delightful lunch at the Fall Creek Marketplace, sipping cold beers and taking in the sights and sounds of spring.
By this point the time was 4 p.m. and we were about an hour's ride from our destination. With renewed energy we mounted our bikes and traversed the last leg of our trip. Crossing the Unity Covered Bridge onto Big Fall Creek Road we passed a ghost town and imagined it once full of life. We came to the North Shore Boat Ramp, checked the printed map and admired a lovely blanket of little pink flower asleep in the grass.
From here the ride would be an uphill battle. Lowered gears and steady pedaling would arrive us to Mile Marker 3 where we walked a secluded, difficult path down to the shores of our home for the evening. We parked our bikes, set the tent and laid a blanket on the dirt sand. I gathered firewood that was extra dry, dodging lizards that made their home in the fallen sun bleached logs from which it splintered. My boyfriend made the fire, using his hat as a fan, because he is a cowboy who knows his hat can at any point double as a tool.
We lay peacefully atop our blanket and watched as the sun set on our camp around 7:22 p.m. Across the lake we could see Cascara Campground soaking up the rays until the exact iPhone set time of 7:48 p.m. and felt a fleeting, comical envy of their sun-prime property.
For dinner we chopped onions, peppers, mushrooms and tomato, threw it in a cast iron skillet with butter and a little water then added fresh ravioli. Our meal was outdoor gourmet, as good as cooked in any home kitchen.
In the dark, my boyfriend read out loud to me a story he'd been writing, making our campfire feel classic as we kept the shadows away with the light of its large flames. We fell asleep around 11 p.m. and awoke to birds honking and flapping in the waters of the reservoir. Breakfast would be just as good as dinner. We ate past satisfaction to minimize the weight of our load. Once the dishes were clean we broke down camp, saying thank you and goodbye to the land which housed us.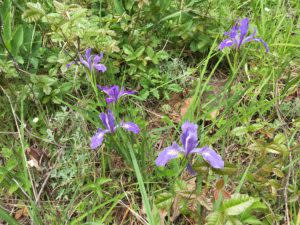 Where we had once pedaled steadily on Big Fall Creek Road we now effortlessly soared, returning quite quickly to Fall Creek Marketplace for more pizza and a brief illustrated history of Western gunslingers. On our trip back to Eugene, I was more aware of the wildflowers growing on the sides of the road. Wild Iris' were everywhere and in large quantity, more California Poppies and a big patch of Camas flowers freckled the rocks alongside the train tracks.
This time around our game was speed. Instead of the secret scenic route we took the shoulder of Bob Straub straight to Clearwater, rejoining the bike path, entering Springfield city limits and into Eugene. My body felt good, not overworked or too tired. A pair of borrowed padded bike pants had made all the difference in my comfort and contributed to a sweet tan. The streets of Eugene welcomed us home with golden light, a breeze through the leaves of the trees and a promise of sleep in our own beds.
I love my bicycle. I love camping. My first experience with the hybrid of these two things on a perfect weather weekend in an Oregon spring, introduced to me by someone I love, will be something I carry with me for a long time.