Back To Previous Page
Salt Creek Sno-Park Wonderland
Published: December 24, 2019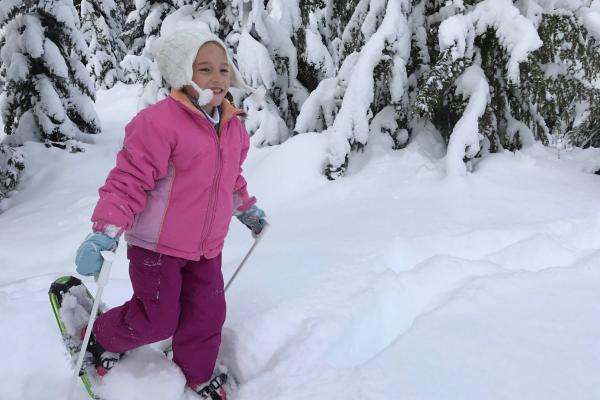 We drove up to the snow the day after Christmas with three eager children, three sleds, two thermoses of cocoa and a whole lot of excitement. It was our first exploration of a "Sno-Park," and other than buying the Sno-Park parking permit ahead of time (since permits aren't sold on-site), I really didn't know what to expect. We chose Salt Creek Sno-Park, just past Oakridge, as our destination. It took just over an hour from Eugene and was scenic all the way. The children, ages 6, 7 and 8, watched out the car windows for waterfalls and as we climbed in elevation they started spotting snow patches. The weather was glorious with blue sky, warm sunshine, frosty air and loads of white fluffy snow after Oakridge. 
Salt Creek Sno-Park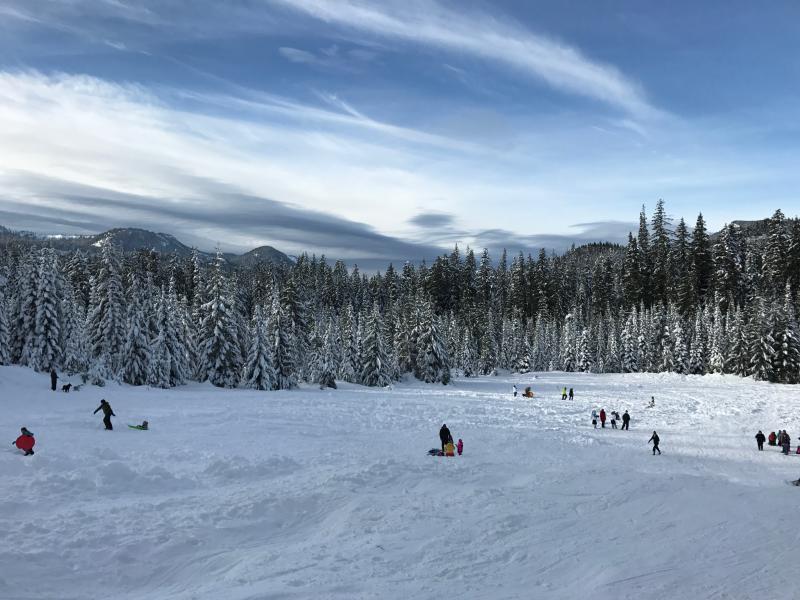 Salt Creek Sno-Park by Taj Morgan

 

We turned off Highway 58 at milepost 57 into the parking area. Signage made finding the Sno-Park very simple. Our biggest challenge was getting the children all matched up with their coats, hats, gloves and snow boots. As soon as they were appropriately bundled, they flung themselves into the snowbanks and rolled. (I was reminded of puppy dogs or horses that have just been bathed and brushed clean.) Within minutes there was snow inside boots, inside mittens and down collars and pants. But there were smiles. So, we just shook them out and herded them toward the park. 

What makes a "Sno-Park" different from just pulling over to a chunk of snow off the side of the road is that the parking lot is plowed and the area is modestly maintained so we can assume it's a reasonably safer place to play (although any snow adventure comes with its own inherent risks). And we know it's okay for us to be there. At Salt Creek Sno-Park there were vault toilets too, and every parent knows that bathroom availability is super-duper important.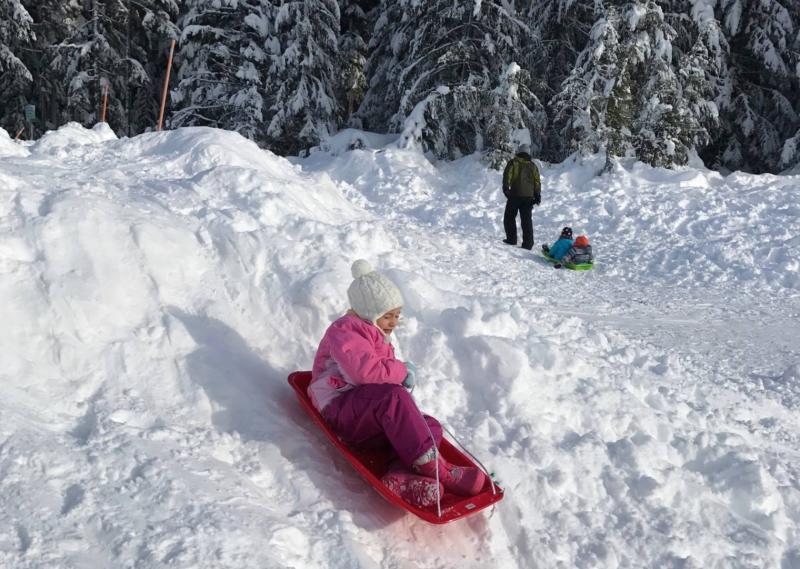 Salt Creek Sno-Park Sledding by Taj Morgan

 

The children's eyes were big when they saw the steep sledding hill (and so were mine). Only the eldest ventured up for a wild ride with her more daring mom. But there were kids much younger than ours hurling down the hillside on saucers and sleds - some in their parents' laps and others solo. My daughter, Kylie, the middle child, chose to ride her sled on the short slopes of the parking lot embankments down into the snowy flats. Over and over. While the youngest preferred to hang with his dad, just romping about in the snow.

Despite the popularity of the park that day, there was plenty of wide open space for us to do our own thing. After a little sledding, Kylie and I donned our snowshoes and tromped about. Because it was Kylie's first time snowshoeing, we didn't venture on the short trek to Salt Creek Falls – but it is on my list to do next time. The photos of that icy waterfall look spectacular! The rest of our group made snow angels and had snowball fights. But when the spills into the snow started prompting tears instead of giggles, we knew our snow time was maxed out.
Oakridge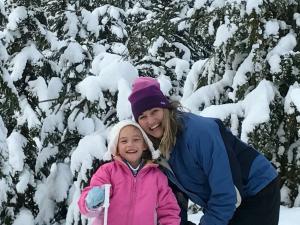 Overall we had about two and a half solid hours in the snow, and then it was time to defrost the children and feed them before anyone had melt-downs. We returned to the car for the cocoa, sandwiches, chips and oranges. After peeling off the wet layers, we were a cozy, happy crew. We drove back through Oakridge as the sky was darkening. Snowflakes made of white twinkle lights graced the highway corridor through town. We detoured down the side streets, noting the lodging for future, longer stays. There is also a wonderful little brewery called Brewers' Union Local 180 that we would have stopped by if the children weren't already asleep. Ahh...the sacrifices of parenthood.
Tips for visiting a Sno-Park: Check weather/road conditions before going (including snow levels at the park sites). Purchase your Sno Park permit ($4+ for one day) in advance at the Adventure Center in Springfield, at a DMV office or Bi-Mart. You may also be able to pick up a permit in Oakridge at Willamette Mountain Mercantile, Rascal's Market or Dink's Market. Carry chains, water, food, blankets, a first aid kit and supplies recommended for winter driving. And extra gloves, hats and changes of clothing.You might also want to pack extra toilet paper, hand wipes and a garbage bag for trash or wet clothing.