Back To Previous Page
Show Your Ticket for a Great Night Downtown
Published: October 08, 2015
Fall is here and entertainment's in full gear! In this post, learn how to get special deals by showing a qualifying Hult Center ticket at a participating restaurant. Find out more about the new "Show Your Ticket & Save" program and the list of qualifying shows here.
There's nothing quite like a fun night on the town. As the cool and crisp Autumn air rolls in, we look forward to the fabulous shows, concerts and events Eugene's resident companies put on at the Hult Center. This year, we're celebrating the season with the Show Your Ticket & Save program.
It all starts with a ticket to a show from one of the resident companies: Ballet Fantastique, Eugene Ballet Company, the Eugene Symphony, and/or the Eugene Concert Choir. No matter what your scene might be, the Hult Center's variety is sure to please!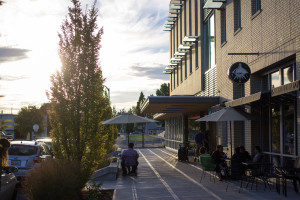 Take your qualifying ticket to any of the supporting locations four days before and/or after the ticket date and find a range of deals around the show!
We were so excited to roll out this program, we had to put it to the test on a recent outing around the Eugene Symphony's 50th Anniversary Season opening concert, An American in Paris.
Grab a Bite Before the Act
There are a handful of great local eateries, breweries and wine bars that participate in the Show Your Ticket & Save program. With plenty of options within walking distance from the Hult Center, keep in mind that parking is free after 6 PM, and in great supply.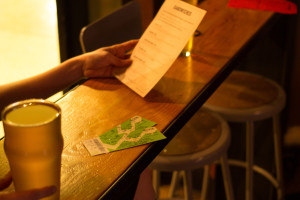 Our pick for dinner and a drink that night was the The Barn Light. Now with two locations to choose from (on Willamette St. in downtown Eugene, or on East 8th Ave.), the two offer a nice mix of atmospheres.
The downtown location offers a great beer menu, fun food options, and cool games like shuffleboard and Foosball - making it a great spot to kick-off or wrap-up the night.
Settle in for a Fantastic Show
We showed up early to the Hult Center to grab a glass of wine before settling in for a fantastic opening concert.

The show offered both timeless and timely American Works. Grammy-nominated composer Mason Bates' piece was inspired by childhood memories listening to jazz, big band and swing records in his father's man-cave.
The Eugene Symphony's performance of the piece was actually a world premiere. Quite the incredible moment to be a part of!
Following the premiere was Benjamin Beilman's Eugene debut - what an incredible, young violinist! Notes would rise and fall with ease from his fingertips while the audience fell awestruck and silent. It was truly a night to remember at the Hult Center.
Explore Breakfast Options
Since the Show Your Ticket & Save program extends to four days before and after a show, hang onto those tickets! From coffee shops to fine eats - there's something for nearly every early-morning palate downtown.
For our breakfast the next day we decided to visit a local coffee favorite, Theo's, where we received a $1 off each delicious cup.
Ready to hit the town?
Here's a full list of the participating shows this season. Time to grab a ticket, and have a blast!
September 24 – An American in Paris from Eugene Symphony 
October 9, 10, 11 – Cirque de la Lune from Ballet Fantastique
October 15 – Miguel Conducts Ginastera from Eugene Symphony
October 24, 25 – Sleeping Beauty from Eugene Ballet Company
November 12 – From the New World from Eugene Symphony
December 3 – American Spectacular from Eugene Symphony
December 6 – A Dickens of a Christmas from Eugene Concert Choir
December 11 – Yo-Yo Ma Eugene Symphony
December 11, 12, 13 – An American Christmas Carol from Ballet Fantastique
December 18, 19, 20 – The Nutcracker from Eugene Ballet Company
Comments