Back To Previous Page
Small Town Celebrates with a Big Bang
Published: June 27, 2016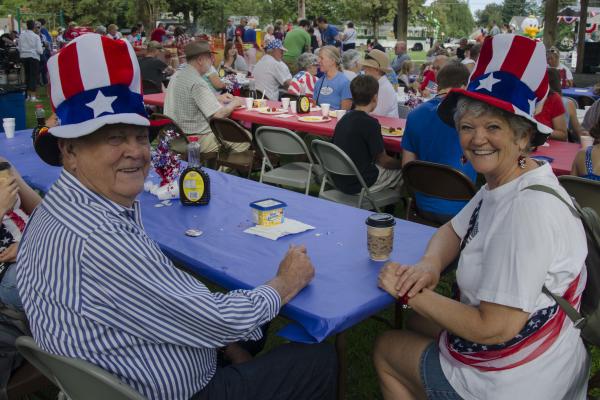 My five-year-old daughter and I are standing expectantly on the curb awaiting Creswell's July 4th Parade.
I had just discovered that we hadn't come prepared – no camp chairs, no cooler, no bag for collecting candy…and the crowd here was obviously pros. Up and down W. Oregon Avenue in both directions the street was lined with a colorful ensemble. Little girls in red, white and blue dresses, little boys sporting American flag t-shirts and everyone waving flags. Across the street the white spire of a former church-turned-historical-museum poked the summer sky.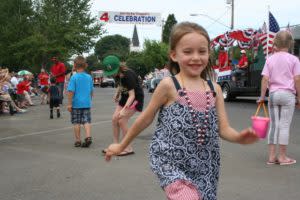 As I gazed lazily upwards, there was a sudden whir and loud swooshing above the parade route. Bi-planes were overhead, tipping their wings in greeting.
Of course! Creswell is home to Hobby Field, one of the region's most popular hobbyist airports – what a thrilling way to begin the parade!
The friendly folks around me made space for my daughter to sit but she didn't stay put for long. The parade was far too exciting.
It was jam-packed with all the traditional elements that make a small town parade so nostalgically delightful and relevant to real life all at the same time.
We ogled spiffed up and polished classic cars adorned with festive bows, sleek modern hot rods, proud stepping horses, all manner of tractors, waving politicians and beauty queens, boy scouts and marching bands. And they rolled by spewing candy. It was like one long drawn out piñata bust. As a rule we don't eat candy, but that didn't dampen my daughter's delight in stuffing my purse and pockets full. (Later she took pleasure in passing it back out to other kids, although I did let her eat one piece – I'm not a totally uptight mom.)
As it started to heat up, fire trucks and floats with water blasters cooled us down. The kids frolicked in the spray and ate popsicles. I felt like we were having the "most American" Independence Day ever. It was perfect. And then – a sudden scene change.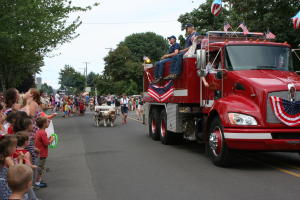 Usually I try to stake out bathrooms ahead of time but with so much else to look at, I hadn't scanned our surroundings for promising looking venues, so I was woefully unprepared when the "I need the POTTY" alarm was sounded. We had to move quickly. Luckily, there just happened to be a tented diaper changing station nearby (how great is that?) and the nice volunteers were able to point us in the right direction.
The bathroom break took us to Harry Holt Neighborhood Park which was a pleasing discovery in itself, easing any disappointment over missing the tail end of the parade. The sight of swings and slides can solve a million ills.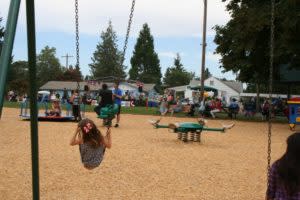 The clean park was ringed with food and drink vendors. A tuba band was playing and, joy of joys, the parade was circling back around the far side of the park. 
Turns out, there was enough to do here on this two-acre park block to entertain us for the rest of the afternoon.
And one of the best things about the park and the parade was, despite to sheer volume of people in attendance, there was still plenty of space. It didn't feel crowded.
No lines for the bathrooms, only a few rows deep along the parade route and only short lines at the food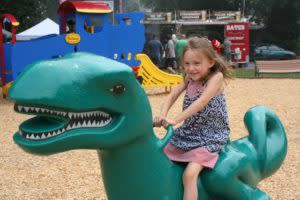 booths.
As we were heading back to the car with sticky hands, tired feet and happy smiles, in my head I heard Chicago's refrain of "Saturday, in the park, I think it was the Fourth of July…"
Tips for going: Get a hold of the Creswell Chronicle's special parade insert which includes a parade route map, don't worry about chairs and coolers– didn't need them after all – but DO bring a bag for candy, be prepared to park several blocks away and walk in, arrive early for the pancake breakfast dished up at Harry Holt Neighborhood Park, leave the pets at home and plan to spend the afternoon in town. And while you are in town, don't miss a favorite foodie stop at Creswell Bakery. Finish the day off with the fireworks display.