Back To Previous Page
"Spring on the Farm" Easter Extravaganza
Published: April 21, 2017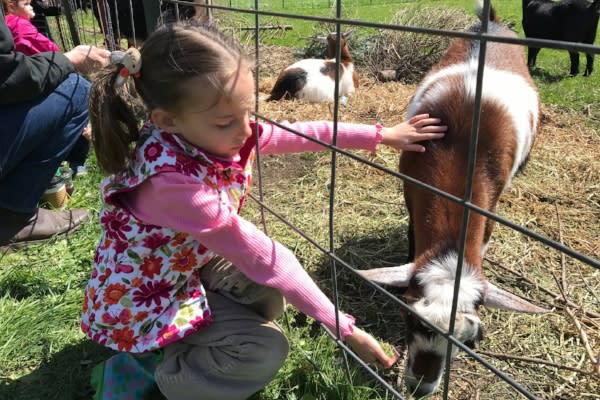 "Want to feed goats?" I asked my seven year old daughter. The answer was, of course, YES! We've been offering up fists of grain and grass to slobbering, endearing goat faces since she was two but the appeal has not dampened. And every encounter has the same rhythm - cautious observation, hesitation and then finally the confidence to feed them herself. And then we stay rooted to the spot feeding goats for a very, very long time.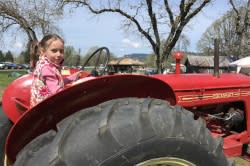 Most people head out to Lone Pine Farm's popular petting barn on River Road, but our favorite farm, Northern Lights Christmas Tree Farm, had just announced they would be open to the public for Easter weekend. Northern Lights is where we harvest our Halloween pumpkins and cut our Christmas tree each year. It's less known, but just as picturesque. Northern Lights is east of south Eugene on the banks of the Willamette River, and also offers grass-fed beef, pork, free-range poultry and eggs along with its seasonal crops of pumpkins, gourds and trees. They have a charming red barn at the center of their operations, a vintage red tracker for kids to climb on, and the owners have a knack for setting up festive seasonal displays that inspire lingering and gift shopping.
So we went to explore.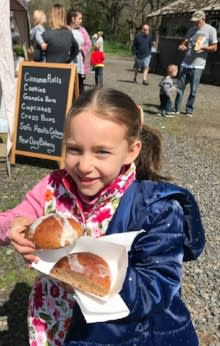 There was an admittance fee for adults (children were free) but it included a complimentary beverage like coffee or Italian soda. Plenty of delicious food aromas attracted us to the food truck and a bakery stand. In the spirit of the holiday, my daughter had a gigantic hot crossed bun and ate the whole thing. I think that was a highlight for her.
Spring had certainly come to the farm. A light misting of green was overtaking the mud and the muck. And the whole scene was bathed in sunshine, yet the crisp spring air still pushed us to warm up by the bonfire. Live music wafted across the grounds and families milled among the many vendor displays. This was the most outside vendors I'd seen at the farm before and it produced a "marketplace atmosphere." It was ideal shopping for pre-Easter, with everything from potted plants and mossy "fairy gardens" to hams and eggs to vintage furniture and hand-fashioned clothing.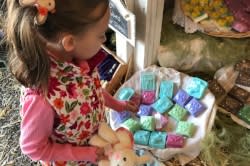 We spent time admiring the collection of McKenzie River Lavender products and various soaps in an array of designs. We ended up with a gorgeous purple soap in the shape of a flower, the kind that is too beautiful to use.
But wait - we had yet to visit the animals!
So we untangled ourselves from the wares, and entered the "Fresh Eggs" outbuilding which was serving as a chick brooder. In big metal tubs under heat lamps peeped fluffy yellow chicks and ducklings. Inside it was crowded with children eager to see and take their turn stroking a chick's soft feathers. They were also handing out free cups of goat feed... so with a few of those in hand we headed to the goats.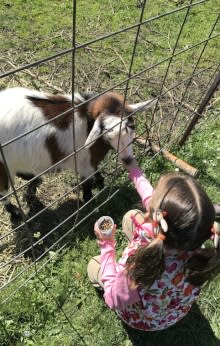 There were three goats today, two gentle brown ones and one very large and "bossy" dark one. For awhile we watched as children spilled their feed and shoved grass through the fence and the eager goats chomped. Predictably, we had to hover in the background for awhile, until toddler after toddler demonstrated the safety of goat feeding. Finally, my daughter was ready to feed one herself. She rejected interest from "Bossy" and made friends with the smaller goats, doling out tiny bits of feed for an eternity. Meanwhile, "Bossy" slurped up my feed ration quickly, leaving my hands wet and slimy. I was really glad they had a hand washing station nearby.
After a drawn-out session of goat feeding, I urged us on homeward. Had we stayed longer or rambled farther into the farm, we would have enjoyed the pigs and probably the calves, but at that time I was goat-satiated. Later, I viewed all those missed moments on friends' Facebook pages.
Next year, I promised, we'd come back for the Easter Sunday egg hunt as well as the goats. And perhaps even the Easter Sunrise Service... I can only imagine how beautiful that would be on the banks of the river, as the farm wakes up for the day. There is nothing like a farm in springtime!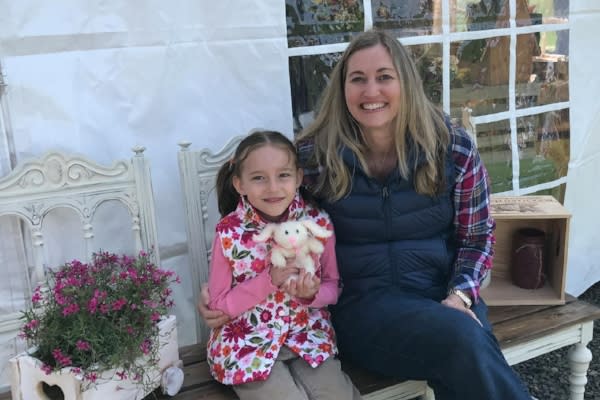 Comments