Back To Previous Page
The "Oldest and Coldest" Christmas Parade in Oregon
Published: November 15, 2019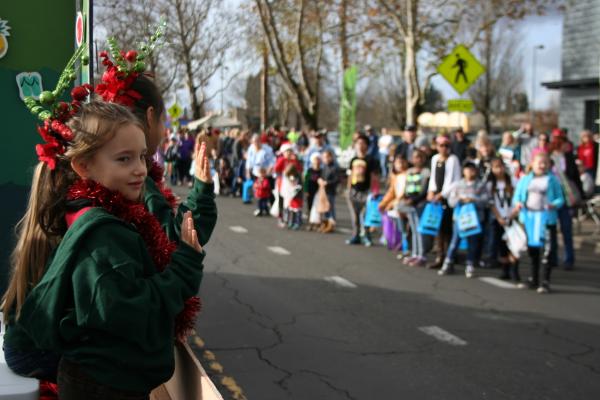 Springfield, Oregon in 1953. What was it like then? Before it was the inspiration for The Simpsons television show, and before one-time Springfield resident, Ken Kesey, wrote "One Flew Over the Cuckoo's Nest"?  
Timber industry was booming with post-war construction, and Springfield's industrial sector was expanding with new factories and businesses. There was a drive-in theater, a new hospital in the works and the Springfield News went from a weekly format to printing twice-a-week. Springfield's population was growing and civic improvements were popping up like valley wildflowers. It was a jubilant moment in time, and just right for Springfield's inaugural Christmas parade. Sixty decades later the celebration continues.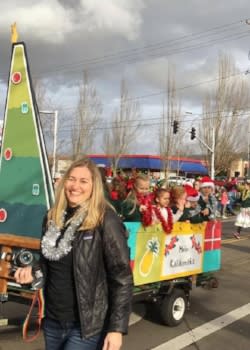 I've never marched in a parade before. But with a six-year-old daughter whom adores the performing arts, how could we not participate when her hula halau dance troop was enthusiastically assembling a float? We were about to become part of Springfield's iconic Christmas parade.
One of the first things I realized after we parked and headed toward the staging area was that this was no small parade. When the parade began in the early 50s it was a homegrown affair with approximately 25 floats. Today's event was closer to one hundred entries. We picked our way through amazing contraptions of decked out trailers and cars, costumed residents and dressed up pets. Businesses and families were still putting the finishing touches on their floats and everyone was jolly. The air was electric with anticipation. Creativity spilled off the floats. With so much to look at, I felt like I was at the Country Fair – just Springfield-style.  I immediately regretted volunteering to march – I wanted to watch!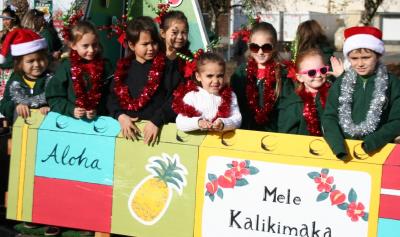 Several blocks in, we located our halau's staging area. This year's theme was the "March of the Toys" and our float was decked out in Lego Hawaiiana. The keiki were herded onto the float and I was tasked with the awesome job of walking alongside it and making sure no one fell off. Luckily it had sturdy railings and the pace proved to be slow, so other than reminding some of our smallest to hold one with a least one hand, it turned out to be a pretty easy task. Ahead of us walked our banner bearers and behind us our more advanced dancers did hula to Christmas carols. They would dance for nearly three miles!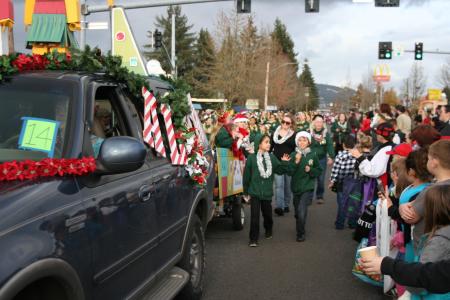 As we rolled out onto Olympic Street, I sucked my breath in – we were on stage. People were crowded onto the sidewalks, some in chairs, some standing. During the first few blocks, the bystanders could be as much as four rows deep on both sides. At a few bottlenecks the crowd was so close, I worried our wheels might graze a few toes (Okay, not that close – but it felt that way!) For the next several hours we'd have eyes on us constantly.
As we walked along I did a "reverse" parade in my head. I observed our audience and our parade route. I noted the parade "pros" who came with bags to collect candy and had their comfy chairs and coolers. Some were prepared for all weather. Apparently, this parade is also one of the "coldest" and sometimes "wettest" parades around, but this year we had crisp winter sunshine. And possibly because the weather was so nice, there was easily 8,000 people in attendance.
There were children, there were seniors, there were couples and families. And yes, there were people I knew who hollered out my name. It felt exciting.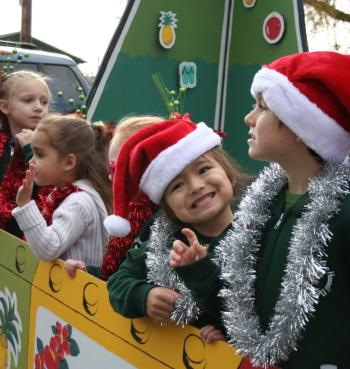 But the best thing about it, and something I hadn't really anticipated - although it seems obvious now, was the joy on everyone's face. I guess you really can't watch a parade and not smile. (It's much harder to keep smiling while you are in the parade and you've been at it for a solid few hours.)
 As we passed people cheered and shouted "Merry Christmas," (we responded with Mele Kalikimaka, of course!) snapped photos and filmed with their phones. Our route bordered Willamalane Park. This beautiful grassy acreage was dedicated in 1946, and in the early 50s the newly formed Willamalane Park District was in the midst of developing Springfield's recreational facilities – which are still shining community assets today. As we marched along this tree-lined stretched, I imagined the first parade passing freshly planted saplings instead of today's towering trees. I wondered if those early marchers had ever thought that their tiny spark of civic pride would flourish into today's robust event.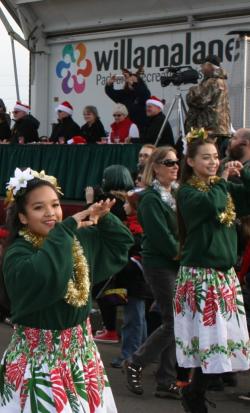 About this time, the crowd thinned out a bit and we veered onto 14th Street. My young charges on the float started asking me "how much longer is the parade?" Their smiles and waves were becoming a little limp, but our dancers behind us were still performing superbly. Just in the nick of time the parade announcers' booth came into sight. "See those judges and announcers up there?" I asked the keiki. "We are close to the finish, now is the time to power on our smiles and energy!" Our troop rallied and we rounded the bend onto Main Street with strength.
The home stretch was beautiful and classic in every way. First of all, I'm a sucker for historic buildings and Springfield's Main Street is packed with charming storefronts. I also like a good tradition, and here we were participating a totally "American" community parade. It was here I finally mastered the parade wave and smile with full spirit. As we walked, I noted the many murals adorning downtown Springfield. The big, beautiful, bright additions to the buildings towered over us. Particularly striking was the two-story high portrait of Ken Kesey on the Odd Fellows Building (Plank Town Brewing Company).
The crowd here had also rebounded, thicker again and keeping their chins up with refreshments from the sidewalk cafes. Interesting shops and buildings beckoned to me. The Wildish Theater, the Emerald Art Center and the Springfield Museum. "Wait," I promised them, "I'm almost done with this parade and can visit you later!" And then, just like it began, the parade was over. The float pulled to the side and stopped. We were lifting tired children off the back and removing their leis and hakus. We had marched in our first parade – squeezed ourselves into a little of Springfield's proud history.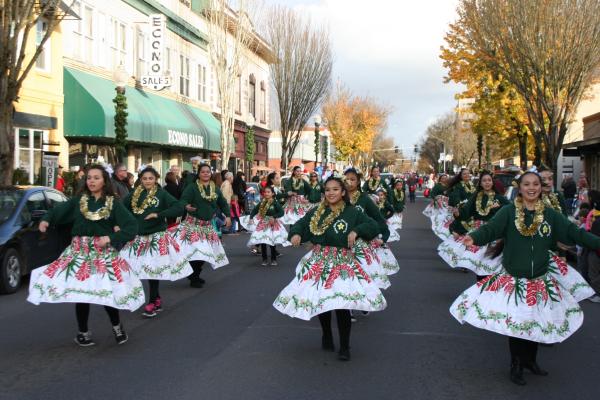 The reward? Remembering the happy looks on the people's faces as we went by, and a blackberry dessert bar from the 100 Mile Bakery adjacent PublicHouse.
And later on, finding out that our Halau Hula o Na Pua O Hawaii Nei, led by kumus Akiko Colton and Erica O'Grady, had placed first in the Senior Division Marching Unit.
First published in 2016.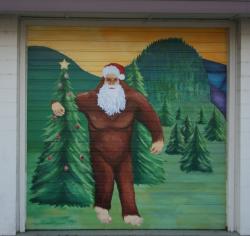 Tips for attending Springfield's Christmas parade: This is a long parade route in one direction. If you want to see the floats when there is still plenty of candy and the energy is high, gather near the parade start along the commercially-dense Olympic Street and Mohawk Boulevard. Come early, as this section fills up rapidly with both spectators' and participants' cars. For an aesthetically-enhanced setting, chose a spot mid-route at Willamalane Park or grab a café seat along picturesque Main Street. But don't forget to guessimate how long it might take for the first floats to reach your route section after the parade start or your coffee may be cold and your beer warm by the time the first marching band steps into view. Dress in layers and be prepared for all weather. If you watch from historic Main Street, follow up the parade with a visit to the Springfield Museum or take a tour of the city's murals.