Back To Previous Page
Top Things to Do This Weekend: August 22 – 24
Published: August 22, 2014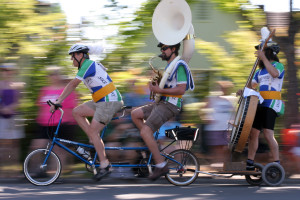 Not even the one year hiatus of the Eugene Celebration can rain on the 2014 Eugene Celebration Parade. Queen Bulbus Slimbledore, the newly crowned SLUG Queen, will lead dancers, floats, bands and pets through the streets of Eugene for Saturday's beloved event. And that's not the only show in town. Check out the rest of our Top Things to Do This Weekend.
SPECIAL EVENTS
McKenzie Art Festival Friday – Sunday, Leaburg More than 60 artists come together to show their work at this annual fundraising event. The McKenzie River corridor is known for river rafting, fly fishing, hiking, golfing, biking, a world class track, wildlife and, of course, the McKenzie Art Festival. With beautiful art ranging from wood carving and watercolor, oil paintings, and local lavender products, plus free admission, there is much to see, experience and do!
Eugene Celebration Parade Saturday, Downtown Eugene The Eugene Celebration Parade is a Eugene tradition showcasing the spirit of the community. Floats, bands, performers and businesses will strut their stuff from South Eugene High School to downtown Eugene. The Pet Parade begins at 10:30 a.m. between 12th and High. The Parade Award Ceremony will take place at the Eugene Celebration Tribute Concert held at the Cuthbert Amphitheater at 6:30 p.m. Admission for the concert is $5.
Festival of Eugene Friday – Saturday, Skinner Butte Park (Eugene) This is a first year event celebrating the uniqueness and diversity of Eugene. There will be artisans, demonstrations, face painting, balloons, live bands and of course all of the fun-n-funky that Eugene has to offer!
Simpsons Mural Dedication and Community Party Monday, Emerald Arts Center (Springfield) A Simpsons mural, approved by The Simpsons' creator Matt Groening and 20th Century Fox will be unveiled during a block party dedication in downtown Springfield. Special guest Yeardley Smith, comedic actress and voice of Lisa Simpson, will help dedicate the mural and sign autographs. Munch on donuts and enjoy Tuba music.
ART
Create! Eugene Plein Air Paint Out Thursday – Sunday, Eugene The Plein Air Paint Out is all about outdoor painting, as artists take their canvases around town and paint "en plein air" (in the open air). There are multiple components to Create! Eugene's Plein Air Paint Out and ways for everyone to participate. Take a plein air workshop, watch live demos and socialize with painters and supporters at local breweries and galleries. During the month of August, Create! Eugene will feature a variety of artists' workshops and exhibitions throughout the City of Eugene.
CONCERTS
TASTE at Route 5 NW Wine Bar Saturday, Route 5 NW Wine Bar (Eugene) One of Eugene's great summer traditions is listening to live music on the Fifth Street Public Market's shady patio, wine in hand. Stop by for great live music, food and wine.
Eugene Celebration Concert Featuring Hell's Belles, Zepparella & Foreverland Saturday, Cuthbert Amphitheater (Eugene) Hell's Belles, Zepparella and Foreverland headline the Eugene Celebration Concert at the Cuthbert Amphitheater. Tickets are just $5 and can be purchased through TicketsWest.
SPORTS/OUTDOORS
Let's Go Camping – Jessie M. Honeyman Memorial State Park Friday – Sunday, Jessie M. Honeyman Memorial State Park (Florence) This weekend's camping adventure is perfect for families new to camping. The tents, sleeping bags and other essentials for the journey will be provided with the cost of admission. Experts will be present to help around the clock with any questions you may have. There will be lots of fun activities for adults and kids planned throughout the event. Space is limited, pre-registration required.
For more things to do, visit ourcalendar of events.
Comments