Back To Previous Page
Top Things to Do This Weekend: July 31 – August 3, 2014
Published: July 31, 2014
Art aficionados, craft beer lovers, rock 'n' rollers, sports fans and cyclists - there's something for each of you on this weekend's calendar of events. Check it out!
SPECIAL EVENTS
Downtown Eugene's First Friday ArtWalk Friday, Downtown (Eugene) Visit various art galleries and venues at the August First Friday ArtWalk. Meet at 5:30 p.m. at Harlequin Beads and Jewelry for a guided tour. Stops also include a pop-up stop in Kesey Square for Create! Eugene, featuring live music and plein air painting demos.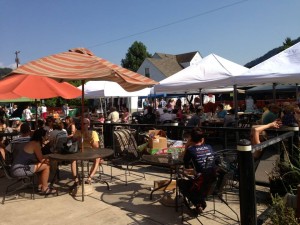 Additional stops include a live spray paint demos at The Octagon. And, Urban Waxx will be projecting "Light on Life," a photographic exploration by Portland artist Mark Sacks.
Oakridge Ukulele Festival Friday – Sunday, Oakridge Lodge & Guest House (Oakridge) The Fourth Annual Oakridge Ukulele Festival features ukulele classes, jam sessions, instructor performances, an open mic and a vendors marketplace. In the uptown neighborhood of Oakridge, a group of nationally acclaimed instructors will teach 22 workshops over the course of the weekend. The schedule includes a free beginner's class on Friday afternoon plus workshop choices for the intermediate and experienced player.
Oakridge Keg & Cask Festival Saturday, Brewers Union Local 180 (Oakridge) Join the festivities in Oakridge as you enjoy a Victorian pint of refreshing, handcrafted beer. Bask in the amber glory of a cool pint of ale as you take in the scenery at the forest foothills of the central Cascades. Don't forget to stamp your Eugene Ale Trail passport for the bonus prize!
Sand Sculpting Demonstration Saturday, Sand Master Park (Florence) Learn how to sand sculpt from the pros. Expert sculptor Jesse Austen will share techniques for creating epic sand-castles in this hands-on demonstration. While you're there, take a sandboarding lesson at the world's first sandboard park. ART
Create! Eugene Starts Friday – and continues through August 31 (Eugene) Create! Eugene kicks off on Friday and continues through the entire month of August. It includes more than 100 hands-on workshops at various locations throughout Eugene and Springfield, including painting, dance, photography, cartooning, hip hop and poetry. Highlighting Eugene's vibrant and celebrated cultural scene, the festival presents an opportunity to engage and enhance awareness and support for all creative endeavors.
CONCERTS
Rod Stewart + Santana Summer Tour Thursday, Matthew Knight Arena (Eugene) Rod Stewart and Santana, two of music's most influential hit makers and dynamic live performers, joined forces to embark on an 18-concert North American tour this summer. These legendary musical trailblazers have helped define the sound of popular music for the last five decades through their combined love of rock, soul, world rhythms, funk, jazz and blues.
Oregon Festival of American Music (OFAM) – Son of Hollywood: The Songbook at the Movies, 1940 – 1959 Friday – and continuing through Sunday, August 10, John G. Shedd Institute for the Arts (Eugene) The Oregon Festival of American Music's summer series will focus on the 1940s and 1950s, as the Hollywood film industry developed its relationships with music in the face of changing tastes and popular culture. SPORTS
Eugene Emeralds vs. Everett Aquasox Thursday – Sunday, P.K. Park (Eugene) Thursday is Animal House Night, so wear your toga to the ballpark. Saturday is Levi's mystery giveaway night. Watch the game for hints! Sunday is Baseball Card Giveway. The deck features players from the 2014 season.
Tour de Lane Bike Rally Friday – Sunday, Richardson Park Campground (Junction City) This fun and exciting three day, non-competitive bike rally offers three supported rides daily that will take riders to the foothills of the Cascades, through Oregon Wine Country, and by lakes and rivers. Included in one of the rides is the Bike Builders' Tour, where riders will tour the facilities of local bike manufacturers throughout the area.
For even more events and things to do, visit our event calendar.
Comments