Back To Previous Page
Tour de Mike sets off on Expedition from Eugene to Pendleton
Published: April 13, 2016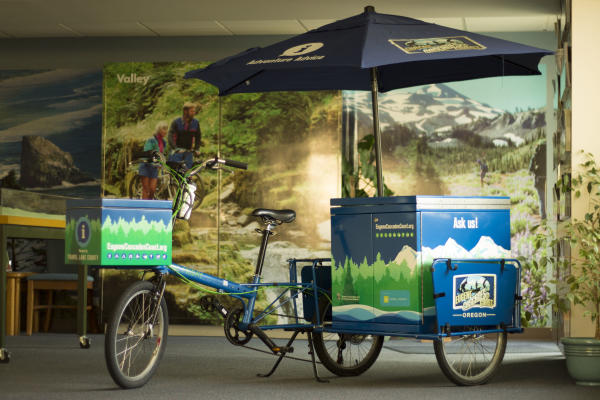 Kicking off at the Eugene, Cascades & Coast Adventure Center on Sunday April 17th, Travel Lane County will begin a six day, 360-mile bike ride to the Oregon Governor's Conference on Tourism. Follow #TourDeMIKE and/or #ORGC to track the ride!
Scenic bikeway proponents, Oregon bicycling enthusiasts and destination marketing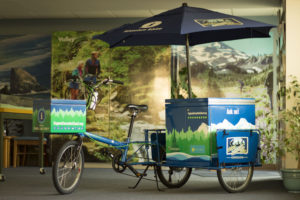 Organizations from across the state will be joining Travel Lane County on this voyage to Pendleton. Helping to inspire the name of the ride, Tour de Mike, Travel Lane County's mobile visitor center, MIKE the Bike will be joining in on this expedition. MIKE is the first bike of its kind in the industry, crafted to provide visitors with information while they are out exploring.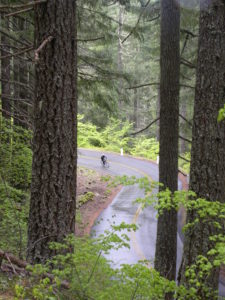 Over the six legs of the tour cyclists will be climbing over 22,000 feet in elevation while traversing parts of five Oregon Scenic Bikeways – McKenzie Pass, Sisters to Smith Rock, Madras Mountain Views, Painted Hills and Blue Mountain Century.  Each day will be concluded with participants and cycling communities along the route connecting to celebrate Oregon's bicycle tourism over Oregon's craft beer and wine.
Help send off the riders at 8:30 a.m. on April 17th with coffee, breakfast treats and a quick sendoff toast. Following will be a short ride in Springfield to the edge of the McKenzie River Corridor for supporters to help send off the cyclists.
Make sure to follow the journey with the #TourDeMIKE and #ORGC tags on Twitter and Instagram to see firsthand photos of what it look likes to journey across our beautiful state!
Event schedule is as follows: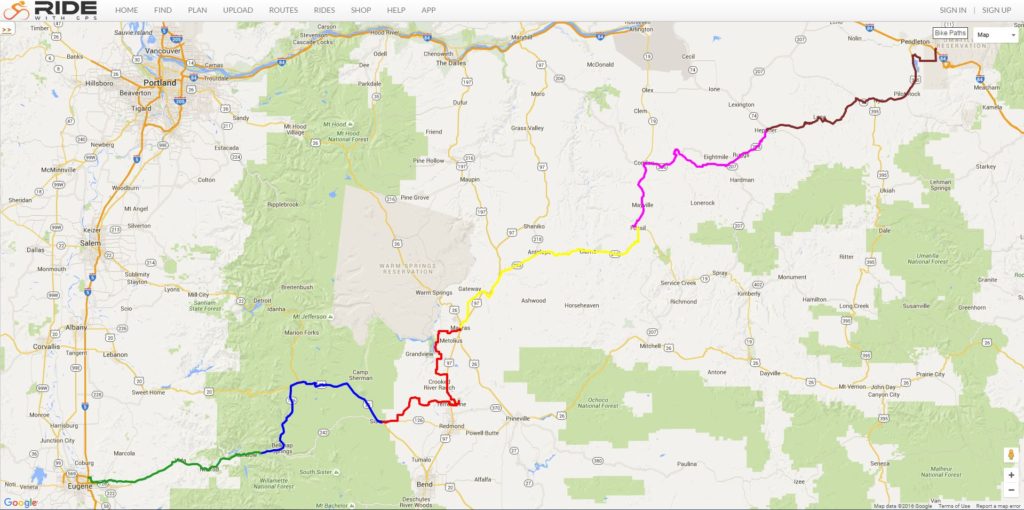 When: Sunday, April 17 at 8:30 a.m. Where: Adventure Center, 3312 Gateway St, Springfield, Oregon
When: Sunday, April 17 at 6 – 8 p.m. Where: McKenzie Outdoor Center, 54771 McKenzie Hwy, Blue River, Oregon
When: Monday, April 18 at 6 – 8 p.m. Where: Blazin Saddles Cycle N Style, 413 W Hood Ave, Sisters, Oregon
When: Tuesday, April 19 at 6 – 8 p.m. Where: Wild Winds Station, 107 NE Cedar St., Madras, Oregon
When: Wednesday, April 20 at 6 – 8 p.m. Where: OPLI Building, 333 W 4th St, Fossil, Oregon
When: Thursday, April 21 at 6 – 8 p.m. Where: Gateway Café, 168 N. Main, Heppner, Oregon
Comments