Back To Previous Page
TrackTown USA Trumps Calf Cramps in 2013 Eugene Marathon
Published: May 02, 2013
TrackTown USA showed up for this year's Eugene Marathon. With perfect racing weather, a record number of entries, and a community ready to ring cowbells til their wrists fell off, the 2013 Eugene Marathon put on a spectacular show and proved why it was recently voted "Best New Marathon" by Runner's World Magazine.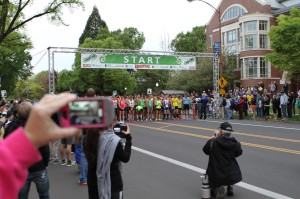 I knew finishing at Hayward Field would be special, the west grandstand filled with fans cheering on exhausted runners, and I was prepared for the physical demands of the 13.1 mile fairly flat (except you, mile 8) course. But, I wasn't prepared for the euphoric, multi-sensory experience that would overwhelm me after running in a town I love, surrounded by people I love.
I signed up for the Eugene half to say thank you to my community. Running is my way of fully experiencing where I live. I discover new neighborhoods, plants, sidewalks, cafes and hills (yes, Eugene has more than just the two buttes). I meet people just like me, back of the packers (BOP'ers as we call ourselves) who run to earn their Oakshire IPA and Cornucopia burger.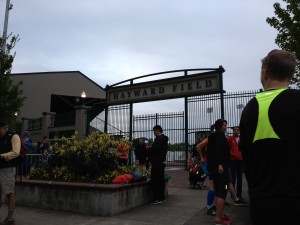 The Eugene Marathon starts outside Hayward on the University of Oregon campus. It's like a tease – you have to earn running through these gates. The half and full marathon runners start together and stay together for the first 10.5 miles, so the streets are full of runners, funny signs ("You trained longer than Kim Kardashian's Marriage" wins Best of 2013), families, bands, locals and energy to carry you through leg cramps and self doubt. Confession: I probably could have trimmed a few minutes off my time had I not given so many high fives to kids along the course.
I was doing great, until mile 10. We'd just crossed the Knickerbocker Bridge over the Willamette River. The full marathoners were about to leave us. Usually, this stretch of Pre's Trail is one of my favorite places to run – a bark trail lined with lush green grasses, a canal, and wildflowers. Today, Pre's Trail meant a break from the fan-lined streets, and I wasn't sure my fatigued quads could take it. I told myself, "Molly, you just need to make it to Agate." Agate Street leads to Hayward. I knew once I got there, the cheers would carry me into the stadium and across the finish line.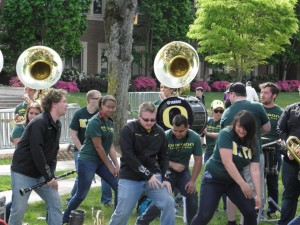 I ran back across the river, up to Agate, saw the Mile 13 marker and faces galore, some I knew, most I didn't. It really doesn't matter in a marathon-atmosphere because you are all in it together and everyone wants you to finish.
I sprinted that last 200 meters and crossed the finish line with an ear to ear grin on my face and overflowing with pride not in myself or my PR, but in Eugene. The spirit of TrackTownUSA truly carried me through the 2013 Eugene half Marathon. The energy, rooted in history and gleaming with the promise of personal victories is real whether you are a five or a 15 minute miler.
The great thing about the half marathon is once you finish and rehydrate, you get to go watch the marathoners finish. You get to do what others did for you – hoot and holler 'til your throat hurts and encourage runners through the last and likely hardest, legs of their grueling race. You get to give back.
Kudos, Eugene Marathon and TrackTown USA. Where do I sign up for2014?
Note: Big congrats to Travel Lane County CEO Kari Westlund for her Boston qualifying time in her first marathon & to Adventure Center Manager, Samara Phelps, for her awesome finish in the half.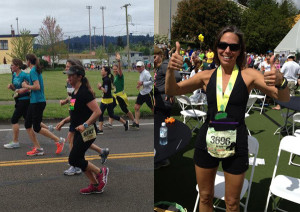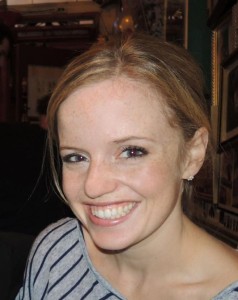 About the author: Molly Blancett is the PR & Social Media Manager for Travel Lane County. The Seattle-native considers herself a born-again Oregonian. Work brought her to Eugene, but her love for the city and the region kept her here. When not promoting the Eugene, Cascades & Coast region, Molly is enjoying it - running Pre's Trail, sipping wine at Sweet Cheeks or hiking to a new waterfall.
Comments