Back To Previous Page
Unleash Your Inner Artist at Create! Eugene
Published: July 25, 2013
I thought about it long and hard, mulling over Monet, Manet and Matisse. Or, do I go with van Gogh? I needed a name to use during my plein air art class. This may seem like a trivial detail to some, but given what a big deal this opportunity was for me, I needed to come up with the perfect nom de paintbrush.
Though the child of an abstract artist, my creative outlet has been my words, writing news stories for a few years and then press releases and PR pitches after that. I always loved how writing set me free, and I wanted to get that same release with a paintbrush.
I was so excited when I heard about Create! Eugene, a month long series of 195 workshops covering every kind of art you can imagine – dance, drama, drawing and plenty of painting.The Plein Air Paint Out is a special week devoted entirely to the art of painting in the open air. You can take classes, watch free demos and enter the Plein Air Paint Out Competition, a one-day event where paintings will be judged, displayed in Kesey Square and showcased at DIVA Gallery.
In anticipation of the August 1 launch of Create! Eugene, my co-workers and I arranged to take a Plein Air Painting class by Create! Eugene artist Victoria Biedron. Victoria is hosting  free Plein Air Demos August 16 & 21 at the Eugene Park Blocks.
We bought a few low cost canvases at a local store, put on our paint clothes and met Victoria at an Amazon Park picnic table. We could see the South Eugene foothills, Amazon Creek, vibrant green grass and trees 50 shades of green.
Victoria started painting, and we watched her. She told us how to sketch out what you see and use view finders to frame your painting.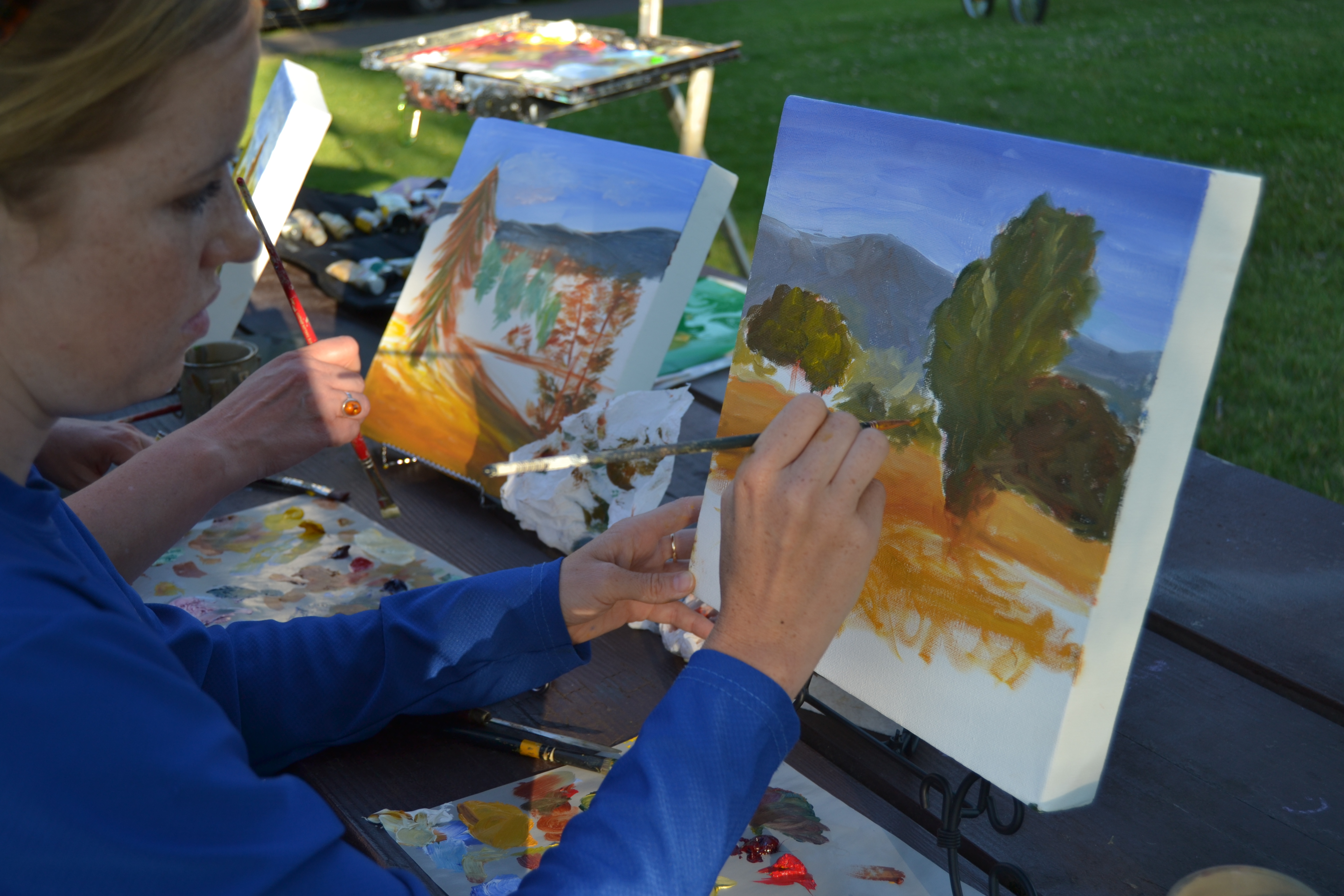 Then, it was our turn. My goal was to just have fun. To not worry about what my colleagues were doing. To play with the paints, relax and enjoy the beautiful, cloudless, Oregon evening.
Expectation nowhere near the pallet, I dabbled away, focusing on the various colors, light and trees before me. I used to work in the south hills and I run there weekly, but I had never seen them like this. They had more color and contrast. The trees I once thought were just green, were actually browns, blues and bits of yellows. The light just above the hills, white with a hint of green, and the hills themselves blue! Unbelievable.
Plein air painting brought out the natural beauty in a place I already deemed beautiful. Painting brought out a creativity and freedom in me that I didn't think I was capable of.
I didn't want to leave the park that night. My painting wasn't done. I wasn't done. But perhaps this was just the beginning of my journey as Salvador Molly.
About Create! Eugene If you want to want to explore your inner artist, sign up for one of the 195 workshops during Create! Eugene.
Save on lodging during Create! Eugene with these great deals.
Comments