Back To Previous Page
What's SUP?
Published: August 30, 2018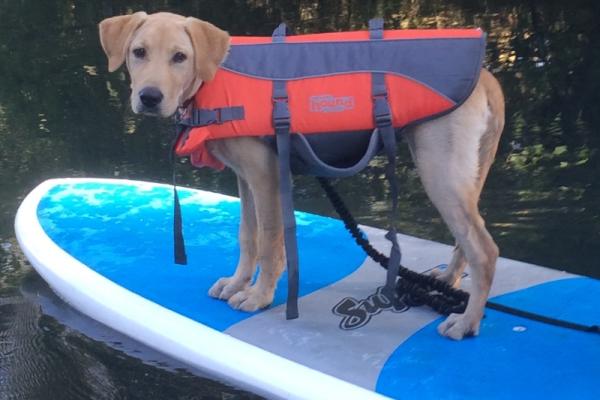 It's been a long day at work today.  Where are we off to tonight? 
These hot temperatures got me thinking it might be fun to try stand up paddle boarding.
I'm all for standing up, but what's a paddle board?
Well Baxter, think of the kayak you rode on but without sides.
I fell out of that kayak and sank into that wet stuff, so something without sides sounds dangerous.
First, that "wet stuff" is water and once you had your legs under you it was all good. Second, we'll be in protected canals and ponds that will make it easy for us to have a good time.
I've seen this parking lot – are we going to the dog park?
Focus Baxter. It is the dog park parking lot and no we aren't going to the dog park tonight. SUP2UOregon rents paddle boards here in Alton Baker Park on summer weekends, so this is where our adventure begins.
Whoa, Whoa, what's this guy strapping around me? 
It's called a life jacket and this one is made for dogs. I know you can swim, but it will keep you safe and it even has handles to allow me to easily pick you out of the water if, or should I say when, you fall in. Look, I'm going to wear one too.
Hey, there's our friend Allie. Hi Allie! 
Allie has experience paddle boarding and she's going to take pictures of your adventure.
Why did they hook this long line to me? 
It's called a tether and I'll have one too. It keeps us connected to the paddle board if we fall off. 
This feels a little wobbly.
I'll try to keep it steady if you'll stay up front and be still.
I want to see what's in the back. Whoops - splash! - here we go again with this stuff you call water.
I've got you.
The water does feel refreshing. Hey, look over there - what are big things floating in the water?
Those are geese and often they lay their eggs along these canals and ponds in the spring and then raise their young here. There are lots of other birds, like ducks, and we may even see a Blue Heron. 
What are those people doing over there?
They are running and riding bikes along the bike path. There are miles and miles of paved paths along the river between Eugene and Springfield. We'll go running when you're older.
There are a lot of people on paddle boards, but that guy's paddle board looks different.
Paddle boarding is popular because it's relaxing and it's something anyone can do because you can kneel and paddle or stand up and paddle. That man is in a pontoon boat and he's fly fishing. These ponds are stocked with trout, which makes it a fun place to bring kids who want to learn to fish or for guys like this who want to enjoy a nice evening casting flies.
Are we done already?
Yes, our hour is up. Maybe next time we'll do a two-hour rental. The folks at SUP2UOregon took really good care of us tonight.
They sure did. I'm going to recommend them to the dogs in our puppy class.
Follow Baxter on Instagram at @Baxteradventuredog and if you're in the neighborhood stop by the Eugene, Cascades & Coast Visitor Center at 754 Olive Street. Ask for Baxter and if he's in you can meet him and grab a photo!
Check the SUP2UOregon calendar for their summer on-site park rentals. Year round boards are available to be picked up and dropped off.